04.12.17
Gemini version available ♊︎
…But it's perfectly natural for Battistelli to allow it (oppositions and appeals systematically crushed), for the sake of 'production'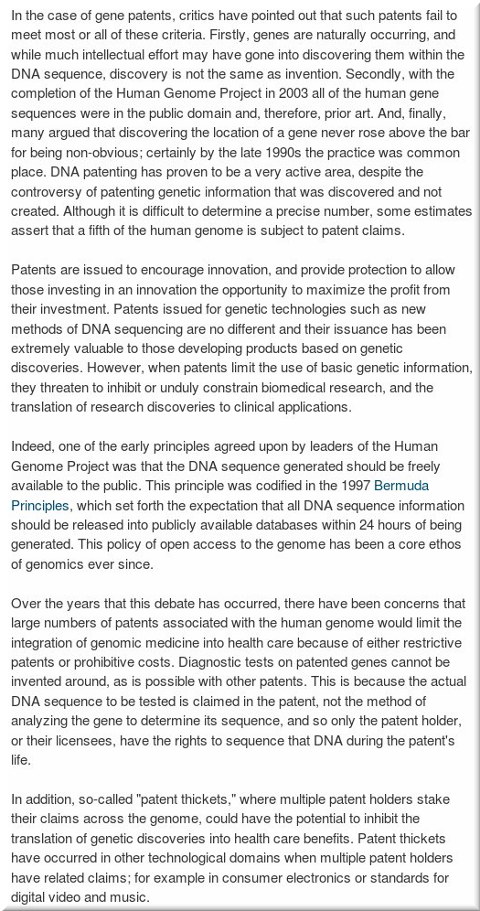 Reference: genome.gov (US)
Summary: Europe is being discredited when companies like Monsanto (now in European hands) are being granted a monopoly on life/genetics/food by the European Patent Office; the backlash comes both from within and outside Europe
WITH patents on beer, on genome, on food and plants (even animals!) the European Patent Office has begun attracting all sorts of 'awkward' questions that not even the USPTO is attracting. Is nature up for privatisation? Are naturally-recurring things "inventions"? Are they "owned"? Almost a decade ago we covered protests against the EPO, staged by angry farmers in Germany. Yesterday we found this new article/press release titled "Stop patents on bread and beer now!"
To quote a portion:
The patent applications were filed to cover conventional breeding without any method of genetic engineering being involved. Currently, more and more patents are being filed in Europe on the conventional breeding of plants and animals, despite EU institutions having declared that this is something they want to stop. Unless political decision-makers take action, many of them have a good chance of being granted by the European Patent Office (EPO).

Research undertaken by the initiative No Patents on Seeds! shows that in 2016 around 60 patent applications on the conventional breeding of plants were filed at the World Intellectual Property Institution (WIPO) in Geneva. Around 50 further patents concern conventional breeding and methods of genetic engineering were filed in addition. Altogether, around 30 percent of all patent applications filed in the plant breeding sector were on conventional plant breeding. All in all, around 340 patent applications were filed in this sector. Most of these patents will be examined by the EPO.

"We are seeing companies such as Monsanto, Bayer, DuPont, Dow AgroSciences and Syngenta file more and more applications on conventional plant breeding in Europe. These companies are not simply wasting their time and money – they have an expectation that these patents will be granted", says Ruth Tippe, researcher for No Patents on Seeds!
The press has begun paying some attention. A few weeks ago the EPO responded with the usual publicity stunts together with CPVO. But when will this whole madness end?
Writing to us about "EPO and patents" the other day, J. C., a European Patent Attorney who had written a book on "how the EPO is emasculating the European patent law," drew our attention to the Biotech Directive in G-1/98. He became involved in these matters after he had noticed the EPO's awkward behaviour and wrote: "the problem is not with Tomatoes II but with the EBoA's craven reaction to the Biotech Directive in G-1/98. Correctly decided then, the problem would not have arisen now…"
For those who have not paid attention, the EPO is under growing pressure to obey the law (including EPC rules), to listen to politicians etc. The EPO rarely does it at the end (Battistelli does virtually anything he wants, like a Mafia Don protected by the complicit police forces), but people are noticing, they write about the subject, and the image of Europe (not just European Patent Office) suffers profoundly.
We must remember why patents were introduced in the first place, well after life existed on the planet and even after beer was 'invented' or 'discovered' (to use inadequate terms intentionally). █
Permalink
Send this to a friend