01.06.18
Gemini version available ♊︎
What would the world look like with billions of computer-generated patents (as some people have suggested)?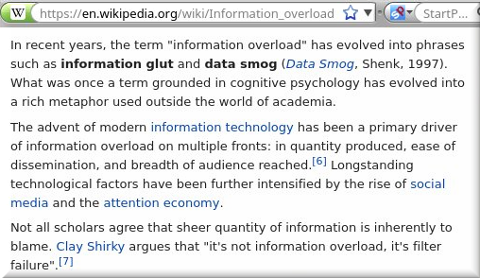 Reference: Information overload
Summary: The distortion of the patent system at the hands of the patent 'industry', which leads to granting of millions of patents that oughtn't be granted due to duplication, prior art, and/or lack of merit
THE PATENTLY FALSE assumption that maximisation of the number of patents is both essential and desirable is a real problem. We see it everywhere in the patent microcosm, i.e. the 'industry' associated with patenting (rather than doing things on which patents get granted). The EPO is all about maximisation right now; the USPTO always had this problem, more so after the Reagan years. China too is moving in this direction, as we shall explain later this weekend.
Let's go back to the basics. What are patents anyway? Patents are an exchange. A person gets granted a temporary monopoly in exchange for publishing his or her (or their) method, typically demonstrated using some physical device. Examiners used to be shown the claimed inventions (in real life, in person). The motivation is sharing of knowledge or contrariwise, avoiding the loss of technical advancement due to someone's death (taking one's trade/technical secrets into one's grave). Patents are not bad per se; it just depends on how we view them and their original (intended) purpose. The same goes for copyrights and trademarks.
A few days ago someone wrote that the "USPTO trademark filing record shattered again in 2017, with more than 437,000 new applications, an increase of at least 12% in filings over 2016."
It's rather odd that trademarks and patents are both being dealt with by the same US-based office. Regardless, patents too are on the increase; the pace of granting increases, not necessarily because innovation is picking up pace (no empirical evidence of that). We wrote about this many times over the years; it's a commonly-explored area in scholarly literature, too.
The other day CCIA noted that while courts eliminate many software patents, there's no evidence that it affects the patent office all that much and it certainly has not slowed down granting. As the author put it, "the impacts of the Alice cases on patent examination have been relatively insignificant," which is true. He cites WIPO data:
Third, the World Intellectual Property Organization (WIPO) released their annual Global IP Indicators report. There's a lot of data in here on IP and patents worldwide. One interesting observation in the report—despite the "sky is falling" rhetoric about Alice and IPR, filings in the U.S. continue to increase. What's more, grant rates were actually higher in 2014-2016, after Alice, than in 2010-2012. As I pointed out last year, the impacts of the Alice cases on patent examination have been relatively insignificant compared to the rhetoric surrounding them.
The WIPO figures alluded to above came out not too long ago. In fact, WIPO published this nonsense about "Innovation Hotspots"; what WIPO neglects to say us tgar one has to be rich to pursue patents worldwide; it's not about innovation at all but mostly about protectionism, which some nations are better able to afford.
"These are the world's top 10 invention hotspots, based on the number of international #patent applications filed," it said in Twitter. Well, "international patent applications" are extremely expensive.
The same sort of flawed logic could be seen here at Kettering University just a few days ago. Kettering promotes the utterly baseless theory that inventorship doesn't exist until/unless there's a patent . "The study," it says, "by economists from Harvard University, MIT, the London School of Economics, Stanford University and the U.S. Treasury, analyzes the backgrounds of patent-holders nationwide to determine shared characteristics of inventors. In a portion of the study looking at the education of patent-holders, Kettering University was fourth in producing alumni who hold patents – trailing only MIT, CalTech and Harvey Mudd."
But does that not miss the point? Are people "inventors" only if they have patents? What about places like India, where most people are not wealthy enough to pursue patents (never mind India's renowned limit on patent scope)? IAM and Spicy IP wrote a few days ago [1, 2] about IPAB. The outline from Spicy IP says "Justice Manmohan Singh Appointed as IPAB Chairperson under Potentially Illegal Tribunal Rules – Continues to Hold the Post of Chairperson of Appellate Tribunal for Forfeited Property" (IPAB was covered here before).
Remember that patents are only worth as much as quality control or the effort required to come up with them and assess them. Otherwise it's just fool's gold. Recently, Brazil nearly committed reputational suicide (damage to all granted patents) by 'pulling an INPI', i.e. just granting a patent for every outstanding application. Thankfully, plans have changed since then and it seems as though it's not under consideration anymore. To quote the one single report we saw about it:
A potential procedure to fast-track the approval of more than 230,000 pending patent applications in Brazil, which some expected before the end of 2017, has not yet been published

A potential procedure to fast-track the approval of more than 230,000 pending patent applications in Brazil has not yet been published.
By "fast-track", based on a prior report, they just mean approve. They apparently used words like "emergency" to justify such an extreme measure. It's not only shady but also dangerous; we have only begun seeing just how broad a damage similar managerial approach has caused at the EPO. █
Permalink
Send this to a friend