02.22.18
Gemini version available ♊︎
Expect more of that in weeks/months to come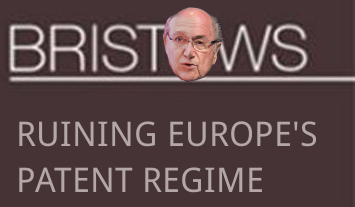 Summary: In their characteristic fashion, firms that created the UPC for their self-enrichment purposes, along with publishers/writers who deem it their role to promote the UPC and set up lobbying events for the UPC, look for ways to downplay if not intentionally distort what happened in Germany yesterday
THIS was predictable. Judging by how much lying we have seen so far — coming from Team UPC and EPO management — it would be shocking if they didn't lie about it. So okay, bring it on. Let's compare fiction to reality before the next wave of spin gets crafted.
As we noted yesterday morning, this whole 'gamble' on UPC may be costing a lot of jobs. UPC would not only threaten many productive jobs (e.g. cost of fighting trolls in courts or paying them 'protection' money, draining SME budgets); it actually threatens the jobs of examiners. This too was predictable and even though the UPC will never materialise (it's very unlikely), it does a lot of damage to examiners. Regardless. What a blunder. Another casualty is patent quality, as we shall explain in a moment (judges are wrongly assumed to be substitutes for examiners).
"Be ready for lots of spin from Bristows and other Team UPC members," I wrote last night. "They hate reality and they hate facts."
It didn't take long for the spin to come. Minutes maybe!
"Kluwer Patent blogger" (i.e. Bristows) is already spinning this latest news from Germany; it's possible that this account gets shuffled among UPC proponents, but based on the style, context and wording one can make a pretty safe guess. It's almost certainly Bristows. The firm does not want to be held accountable for lying, having written very briefly about this development in its private blog shortly after the news came out (we mentioned their short blog post on Wednesday night).
Here they are downplaying what happened, for example:
According to a spokesman of the FCC, cases on the list haven't necessarily been admitted for decision. An exact date of decision cannot be derived from the list either. Actually, the complaints concerning the EPO were on last year's list as well.
So they're denying the facts. They did this after the complaint had been submitted and, as usual, were soon proven wrong. Is it like a job requirement at Bristows? To be a liar? Maybe anonymously?
They never ever apologise for lying, let along for being wrong. Is that too a job requirement?
Managing IP, another UPC pusher, did not cover the actual news but instead (re)used Team UPC's spin right there in the headline: "German Constitutional Court plans to decide UPC case in 2018″
But the body does not even agree with the headline as it says right there in the summary that "it is not certain a decision will come in 2018 and, even if it does, the timing will be vital in determining whether the UPC is in effect before Brexit…"
It can take several years. Like we said yesterday, there's no hard deadline.
For actually mature and responsible coverage see this morning's article from Kieren McCarthy (writing about the German Constitutional Court from somewhere in San Francisco). To quote:
The German Constitutional Court has agreed to hear a case about the legitimacy of the European Unified Patent Court (UPC), raising doubts over the future of a single patent court for Europe.

Among the 36 cases that the Bundesverfassungsgericht has said it will decide on this year is a constitutional complaint – BvR 739/17 – against the UPC that argues it breaks German law.

The actual complaint remains unpublished but it has been possible to piece together the main arguments leveled against the UPC: that the vote to approve it in the German Parliament was not proper; that the UK's decision to leave the European Union (Brexit) breaks the agreement; and that recent reforms at the European Patent Office (EPO) have undermined its independence and hence the legitimacy of the UPC.

It wasn't clear if the court would hear the complaint, and based on filings from organizations asked to provide their expert view it remains highly possible that the case will still fail. But the decision to hear it will push the creation of the UPC far past its planned launch this year (which was delayed from last December) and possibly into 2019 or even 2020.

That may complicate matters even further as the UK is still on track to leave the European Union in March 2019. The UK, Germany and France all have to ratify the UPC for it to come into force. So far only France has done so; it's unclear whether the UK can or will ratify the agreement while Brexit hangs in the balance; and the German Constitutional Court has the authority to effectively tear the agreement up.

[...]

But the fact that it has even reached this point should serve as a wake-up call to the lawmakers and the patent industry that something has to change if confidence in Europe's patent system is to be retained.
Check out the first few comments. One person said:
it is not clear whether the German Constitutional Court is in a position to rule against either the EPO or the UPC.
Sure it is. The primary argument revolves around the article of the German Constitution which states that only a German court's decisions have validity over German subjects. This has been interpreted as "court with German representation". ECJ, ECHR, etc are OK as they all have German representation.
UPC fails that tests – its panels can be convened in a way where a country has no representation. That is pretty much end of story – the convention in its current form is a classic case of some IPR lobbies thinking that they are above all law and can invalidate criminal, civil legal code and even constitutions with impunity.
The "Professional Jobsworth" product of Ecole d'Administration is just an icing on the cake.
By the way, I suspect Germany is not the only country in Europe with a constitution clause like this. I am pretty sure that some digging will turn up at least one or more countries to raise a similar court case.
The next (second) comment spoke about patent quality: "That would require that there was some minimal quality requirements in the past. As the EPO receives over 400 patent applications per day, the considerable backlog can be dealt with by replacing all the patent examiners with a monkey with two rubber stamps. This should have no impact on patent quality while at the same time releasing a large number of highly qualified professionals to do something constructive instead."
Bingo!
What is the point of patent examination if it's not done properly? Companies that are counting too much on EPs being valid see their shares collapse (example from 3 weeks ago). How about the bubble of CRISPR patents? Here's a press release from yesterday:
As mentioned above, Cyclacel Pharmaceuticals is having an overwhelmingly strong start in the pre-market hours this morning, and for good reason. The company announced that it has been granted a new patent. In a press release issued early this morning, the company announced that it has received notice from the European Patent Office, or EPO.
But what would happen if the patent was later deemed invalid? That happens. Of course the shares would collapse in a major way.
How about all those software patents that are granted by the EPO in defiance of the rules?
Even attorneys who promote software patents in Europe admit limitations. Yesterday one of them wrote a blog post about it to say:
Software patent news from the EPO: Programming language constructs cannot be patented – not the commands, not their syntax and not their operational semantics, according to this recent examination appeal decision.

The patent application related to MATLAB's SPMD command. In case you don't know, according to Wikipedia SPMD (single program, multiple data) is a technique employed to achieve parallelism, where tasks are split up and run simultaneously on multiple processors with different input in order to obtain results faster. SPMD is the most common style of parallel programming.
So they lost the patent. On appeal. Spotting the trend yet? Imagine how much it would cost if it went to court (such as UPC). Patents are risky in litigation (both plaintiff and defendant pay a lot of money), which Battistelli and UPC are facilitating along with other nations (making it easier to sue Europeans from abroad, even distant continents). The terrible assumption is that judges and courts can make up for low-quality patent examination.
Fasken's Armand M. Benitah and Mark Vanderveken have just published this article about "Patent Prosecution" ("Domestic and Global Trends"; it's about how companies can press ahead/push forward with patent applications and lawsuits far away, speeding up the examination process with PPH. To quote:
The PPH program continues to expand at the Canadian Intellectual Property Office ("CIPO"). The PPH allows an applicant to fast-track the examination of an application by submitting a request to have positive work product from a PPH partner considered during examination, at no cost. CIPO entered PPH agreements with Chile, Colombia, New Zealand, and Poland in 2017, and with the Visegrad Patent Institute on January 6, 2018 under global or bilateral pilot agreements. This brings the total number of Canada's PPH partnerships to 28. In addition, CIPO and the European Patent Office have recently decided to extend their pilot PPH agreement for an additional three years. Notably, the most recent additions to the PPH program point to expansions in South America and eastern Europe, whereas key industrialized countries were originally emphasized.
There are quite a few famous patent trolls in Canada. We wrote about them many times. When CIPO and the European Patent Office get together to work on PPH and UPC what they are basically setting up is a cross-Atlantic 'fast lane' for trolls that want to prey on European firms, most likely SMEs that lack budget for legal defense (and would thus rather settle without any challenge). That would be blackmail.
Nobody who actually understands what the UPC is (and let's face it, almost no politician who signs in favour even brothers reading any of it!) would support it; unless of course one stands to profit from the litigious calamity UPC would cause… █
Permalink
Send this to a friend