03.20.18
Gemini version available ♊︎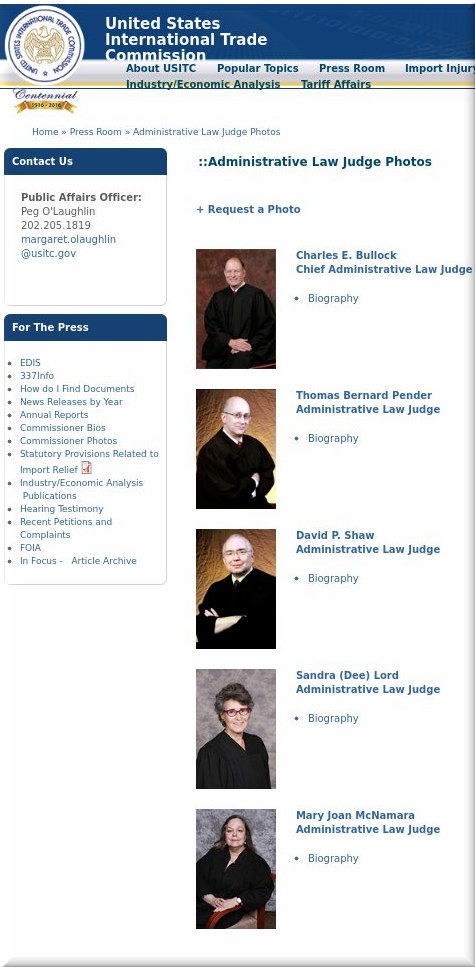 Reference: Administrative Law Judge Photos
Summary: The USITC/ITC, which mostly serves to impose embargoes (sometimes in shocking defiance of PTAB decisions), is being invoked by a firm connected to the world's largest patent troll, Intellectual Ventures
WE occasionally mention the ITC in relation to sanctions. The ITC mostly services technology giants in the US, protecting these from foreign competition. A decade ago, for instance, Microsoft used the ITC to embargo imports of rival mice, using nothing but patent allegations rather than claims of counterfeiting (which would be more severe).
Yesterday the Docket Navigator picked a case in which the ITC had gotten involved.
"What we find most interesting in all this is that here, for a change, a large company from the US is being targeted and the instigator is connected to a very notorious patent troll.""The ALJ [Administrative Law Judge]," it said, "denied respondents' motion to certify for judicial enforcement its prior art subpoena to two nonparties whom complainants sued for infringement of the same patents in district court because the documents sought were protected attorney work product."
Days prior to this we found this report about Rovi Corporation, which is connected to the world's largest patent troll and is suing a lot [1, 2, 3], using the ITC against Comcast. "The US International Trade Commission (USITC) has instituted a section 337 investigation into Comcast over the alleged infringement of Rovi Corporation's patents," the report said.
What we find most interesting in all this is that here, for a change, a large company from the US is being targeted and the instigator is connected to a very notorious patent troll. A new form of sanction/extortion? █
Permalink
Send this to a friend