05.24.18
Gemini version available ♊︎
Related: Leaked E-mails From the EPO's Roberto Vacca Reveal That Patent Quality at the European Patent Office Has Become Farcical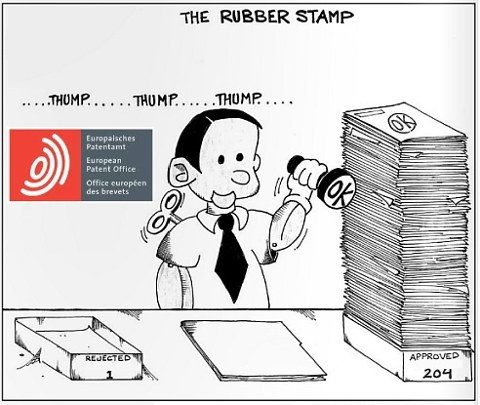 Summary: Cartoon which circulates in EPO 'circles', encapsulating the concern many people have about the quality of granted patents and unrealistic expectations from the management
Battistelli crushed the EPO and ended patent quality while appeals are being made even harder. See yesterday's "Comments To The Revision Of The Rules Of Procedure Of The Boards Of Appeal Of The EPO," an article by Johannes Lang (Bardehle Pagenberg). To quote:
Although the proposed revision aims at improving "the efficiency and predictability of appeal proceedings before the Boards of Appeal of the EPO", it appears doubtful whether these objectives will be achieved. The result may well be overloading first instance proceedings as well as subsequent appeal proceedings by precautionary submissions, and merely shifting the dispute in appeal proceedings from substantive to formal procedural matters without any efficiency gains. Furthermore, the revision runs the risk of losing sight of a reasonable trade-off between predictability and flexibility required in patent granting proceedings.

[...]

Hence, all in all, the new Rules significantly limit the possibilities for amendments already at the beginning of the appeal proceedings, reduce them even more after the initial stage, in particular by requiring prima facie-allowability, and remove them completely after the period set in a communication has expired or the summons to oral proceedings has been notified. Any desirable flexibility of the procedure is now transferred to, and limited by, the Board's discretion which, however, is to be exercised under strict criteria, notably procedural economy. As a general result, the battleground in appeal proceedings will be shifted even more from a discussion of the merits of a case to formal issues. As has already been pointed out above, we believe that this does not necessarily improve the efficiency of the proceedings. Moreover, it appears that a vital amount of flexibility has been sacrificed in the name of predictability.
What's worth noting is that even stakeholders like law firms (which typically — at least in the short term — benefit financially from patent maximalism) do generally recognise these issues, not just patent examiners and applicants. Patents that cannot withstand a court's scrutiny (see US trends over the past couple of years) drain even plaintiffs — not just defendants — financially. Sooner or later applicants lose interest in patents, causing systemic collapse. █
Permalink
Send this to a friend