06.20.18
Gemini version available ♊︎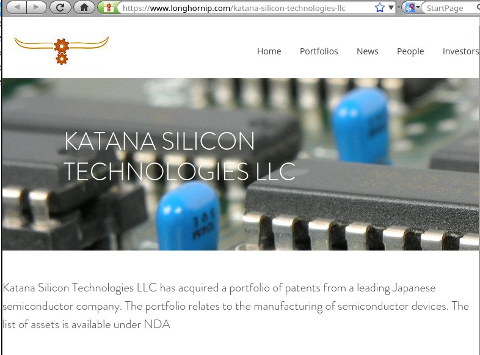 Summary: Proxies of Longhorn IP and KAIST (Katana Silicon Technologies LLC and KAIST IP US LLC, respectively) roam Texas in pursuit of money of out nothing but patents and aggressive litigation; there's also a Microsoft connection
THE decision on TC Heartland (SCOTUS) dealt with the venue at which companies operate and what this means for the venue of litigation (where patent lawsuits get filed). Weeks ago there were some new cases related to this, especially when it comes to foreign (non-US) companies from somewhere like South Korea or Taiwan. We wrote about that.
For those who haven't been keeping track, KAIST has generally become a patent parasite masquerading as "education" or "research" (that's how it's known or recognised around Korea or Seoul, like CSIRO in Australia). Jacob Schindler of IAM (the patent trolls' lobby) now celebrates litigation in the Eastern District of Texas by KAIST's proxy in another country (KAIST IP US LLC). It's a shell entity of an entity that produces nothing. This shell has won the case, but we certainly hope that Samsung will appeal this decision to the Federal Circuit, overriding the notorious biases of the Eastern District of Texas (biases which is openly advertises). As IAM makes clear, the Patent Trial and Appeal Board (PTAB) was already involved prior to this. From the summary (outside the paywall) it's made apparent that a nontechnical jury decided on this technical case (we explained many times why such trials may be unsuitable for patents):
Last Friday, a jury in the Eastern District of Texas ordered Samsung Electronics to pay $400 million to the IP licensing arm of South Korea's top technology university. KAIST IP US LLC, an affiliate of the Korea Advanced Institute of Science and Technology, saw its patent survive multiple IPRs and a dispute over its proper ownership en route to a courtroom victory over South Korea's most prominent technology company. While US litigation watchers will be wary of a reversal on appeal, the big award signals that top Asian university IP owners like KAIST cannot be ignored.
We have meanwhile seen/come across yesterday's article titled "Samsung Threatens U.S. Prosperity By Disregarding Intellectual-Property Rights" (this author apparently doesn't know that Samsung has the most US patent grants per annum and held the same title at at the EPO in the past).
Anyway, what's worthy about the above case is that a Korean entity used the US courts to go after another Korean entity, but only because it's the Eastern District of Texas, which openly brags about being friendly towards plaintiffs, welcoming patent trolls such as Dominion Harbor with many Asian patents (almost expired).
It has meanwhile emerged, also based on the patent trolls' lobby (IAM), that a Japanese company has had its patents passed to patent trolls. Guess where…
"Foxconn transfers former Sharp patents to Texas-based NPE," said the tweet and the article said:
Longhorn IP, the Texas-based NPE, has launched its fifth portfolio, a collection of semiconductor patents originally owned by Sharp. The licensing company, run by Khaled Fekih-Romdhane and Chris Dubuc, is calling its new vehicle Katana Silicon Technologies LLC – a name hinting at the Japanese source of the patents, which USPTO assignment records reveal is Sharp.
Notice how Longhorn IP uses shells, as is so typical in Texas (Dominion Harbor does this as well). There's a bit of a connection between those two; at the end of last year IAM said that "Dominion Harbor and Longhorn IP [had] both formed partnerships with Beijing East IP…"
The "Founder and Managing Member" of Longhorn IP/Katana Silicon Technologies LLC used to work for the Microsoft-connected Acacia, according to this page. Dominion Harbor receives the lion's share of patents from the Microsoft-connected Intellectual Ventures. Guess where the other founder came from; he was "Licensing Program lead at Intellectual Ventures." █
Permalink
Send this to a friend