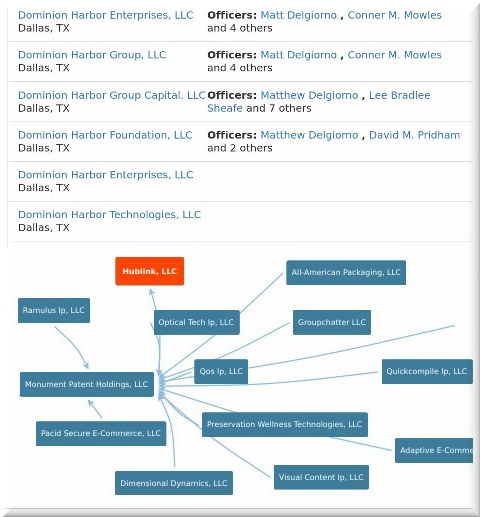 Hublink, LLC, a Dominion Harbor subsidiary, is based in Texas and is part of a cryptic network of shells (Dominion Harbor receives its patents from Microsoft's patent troll, Intellectual Ventures)
Summary: Another quick look at actions of patent trolls, especially in the Eastern District of Texas where courts are notoriously trolls- and/or plaintiffs-friendly
EARLIER today (this morning) we wrote about Microsoft and Intellectual Ventures, which Microsoft uses to pursue patent litigation 'by proxy' (Intellectual Ventures has thousands of obscure satellite firms/shells).
Here goes --
yet again
-- Microsoft's patent troll, filing patent lawsuits against companies that use Android (Linux) or at least attempting to shake these down using patents (threats of lawsuits). That's why the Patent Trial and Appeal Board (PTAB) got involved. Remember that Intellectual Ventures is feeding patent trolls
near and around the Eastern District of Texas
, but sometimes (in more recent years in particular) it files lawsuits directly. In a case dated May 29
th
, according to
today's short post
, an inter partes review (IPR) dealt with a patent of "Intellectual Ventures I LLC" (there are many variants of "Intellectual Ventures"). To quote:
The Patent Trial and Appeal Board's conclusion following inter partes review that a cellular communications patent directed to frequency hopping owned by Intellectual Ventures I LLC was invalid and anticipated was not supported by substantial evidence, the U.S. Court of Appeals for the Federal Circuit had held. Among other things, the Board erred in invalidating independent claim 1 based on irrelevant disclosures in the specification.
This actually reached the
Federal Circuit
, which can be expensive. The large patent troll
Dominion Harbor
(connected to Microsoft through Intellectual Ventures) barely even gets this far.
What we see here is ongoing abuse from Intellectual Ventures, which is losing a lot of money (that money comes -- in the form of big investments -- from Microsoft itself).
Speaking of Texas, Blue Spike is a patent troll or "lawsuits factory" [
1
,
2
,
3
] based in Tyler, Texas (yes, think
Eastern
District of Texas) and it is suing once again, this time demanding $210,000,000 from Frontier. So far a couple of news reports about it [
1
,
2
] could be in this niche's media/sites. To quote:


US operator Frontier Communication is being sued by data patent holder Blue Spike in Texas for over USD 210 million, Law360 reported. Blue Spike claims the operator's FiOS TV service infringes 11 patents related to watermark embedding technologies. Blue Spike also alleges violation of a 12th patent, related to Frontier's business Wi-Fi service.

Blue Spike, based in Tyler, Texas, holds more than 100 patents for forensic watermarking, signal abstracts, data security, software watermarks, product license keys, ASLR and deep packet inspection, FierceCable reported.
Blue Spike does absolutely nothing but lawsuits. It'a an anvil or a yoke to the economy.
Staying down there in Texas, a Korean university known as KAIST (acronym) has a trolling entity in the US and it's still acting like a
classic
patent troll in the Eastern District of Texas (where
else
?), as
Kaist IP US LLC v Samsung Electronics Co.
serves to show. The
latest twist in this case
was covered yesterday as follows:
The court denied plaintiff's motion to strike portions of the rebuttal report of defendants' damages expert because his theory capping the value of a patent-in-suit based on prior licensing negotiations was not unreliable.
KAIST is one of those very few Korean entities which are litigious. It does a lot of that in the US, not in Korea, where software patents for example are difficult to pursue (compared to Texas).
Earlier today we saw Velocity
bragging about a new patent in Japan and Canada
. The patent alludes to "software providing aggregated application metadata that reveals emerging patterns, performance issues, human productivity insights..."
Courts in Japan and Canada, however, would likely
not
permit such software (and thus seemingly abstract) patents. It sounds totally bunk, abstract, at least based on the press release. Those countries -- unlike China -- don't quite tolerate such patents. China's SIPO is ranked very low for patent quality and this new Chinese patent
boasted about by BioMarker
might actually endure scrutiny (but only in China, which is
like the 'new' Eastern District of Texas
). It's very rare to see English press releases in which companies brag about Chinese patents. Seeing the fast-changing litigation climate in the US, perhaps they have plans in the far east.
⬆