06.21.18
Gemini version available ♊︎
SLAPP tactics by Željko Topić have a long tradition in Croatia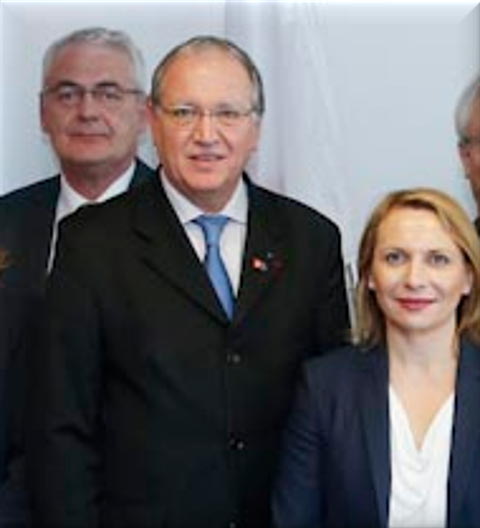 From left to right: Željko Topić, Benoît Battistelli, and Elodie Bergot
Summary: The SLAPP action against Judge Patrick Corcoran, who has so far won all cases involving the EPO, is finally dismissed in Germany; what remains is an ugly legacy at the EPO, wherein everyone bold enough to say something about corruption at the top is having his or her life — not just career — destroyed
IN JUST over a week António Campinos inherits a mess at the EPO. He inherits it from the man who has, in essence, arranged the job for him, having actually caused this whole mess. Campinos, based on sources of ours, is totally accepting crooks and thugs inside his management, perpetuating all the same dysfunctions as before. There's a new article titled "EPO Staff, Users List Priorities For Incoming President" (full version is available from SUEPO [PDF]). It's quite gently worded, maybe for "diplomatic" reasons.
"Campinos, based on sources of ours, is totally accepting crooks and thugs inside his management, perpetuating all the same dysfunctions as before."Do not expect Campinos to even bring up the subject of Judge Corcoran, who is said to be in hospital (victim of 3.5 years of mental torture). We don't know the cause for sure, but rumours suggest it may be related to the trauma and financial damage caused by the Office. Recently, for example, a German magazine quoted Corcoran's lawyer as saying she's thankful he's still alive, which we assumed meant that this whole ordeal took a tremendous toll, maybe even thoughts of suicide.
Serious criminality can be seen right at very the heart of Europe, committed by an organisation that was erroneously placed above the law, the EPO. Curiously enough, at least in Topić's case, there are suspicions that he uses the EPO's diplomatic immunity to dodge prosecution in his home country, Croatia (where he faces many criminals charges). Quite a team you got there, Mr. Battistelli, eh?
"Curiously enough, at least in Topić's case, there are suspicions that he uses the EPO's diplomatic immunity to dodge prosecution in his home country, Croatia (where he faces many criminals charges).""There exists apparently a second case in which an EPO employee was found innocent and acquitted of all (criminal) charges by the highest Dutch Criminal Court but yet found guilty by the EPO and ILOAT," an insider wrote yesterday, reflecting or relating to this news from Dr. Thorsten Bausch, who courageously (considering the risk of consequences to his career or retribution from the employer) continues to cover these affairs.
"If you hurry, you can still take part in our free #webinar on how to access court decisions on patents across Europe with ECLI," the EPO wrote yesterday as if it actually cares about court decisions. The EPO repeatedly refused to obey court orders, including in Judge Corcoran's case. The EPO truly acts like a criminal organisation, which nobody seems capable of compelling to obey the law, let alone enforce court rulings.
Bausch's latest (in Twitter as well) states this:
Breaking News

All of the above decisions of the ILO and the EBA went in favour of Mr. Corcoran for procedural reasons only. This made me curious whether there is anything to the accusations raised against Mr. Corcoran on the merits, or whether – using the EBA's words – "unsubstantiated or groundless, made-up allegations were used as a pretext for getting rid of an irksome judge". It took me several months and a request to the Regional Court of Munich (Landgericht München) to get closer to the bottom of this issue. Finally I received an anonymized copy of a decision 24 Qs 18/17 in criminal proceedings between the EPO President (private plaintiff 1) and his VP4 (EPO Vice-President), Mr. Željko Topić (private plaintiff 2) against Mr. Corcoran (defendant). An English translation is provided here.

To put it succinctly, Mr. Corcoran was acquitted of all charges both by the Local Court (Amtsgericht München) and on appeal by the Regional Court of Munich (Landgericht München). The decision is final and I encourage readers to read it thoroughly. Not only has the procedure instigated against Mr. Corcoran been unlawful, Mr. Corcoran is also innocent on the merits!

Comment

Reading the Landgericht's decision, my first impression was that the President's and VP4's criminal action failed absolutely spectacularly, both for formal reasons and on the merits. It is particularly worth noting that the three judges of the Landgericht, who could have taken the same easy way out as the Amtsgericht and the ILOAT decisions by just deciding the appeal based on formalities, did not stop there but actually considered the merits of the case as well.

In doing so, the Landgericht thoroughly destroyed the complaint, designating plaintiffs' evidence as "assumptions" or "suspicions" far away from the high probability or near certainty necessary for entering a judgment against the defendant, and held that there is no basis for the accusations (a) that Mr. Corcoran wrote a certain allegedly defamatory email about Mr. Topić, (b) that he sent this email out, (c) that it was received by any of the alleged addressees, and (d) that the email was even defamatory to the Plaintiffs. I would call this decision a first class acquittal.
There are some decent comments there (so far). "Michel" wrote: "Do you honestly think that Mr. Ernst, who is about to be appointed vice-president of the Office, will do anything to restore Mr Corcoran's situation or reputation? You must be kidding. The Administrative Council was behind Mr. Battistelli, and they were fully aware of what was going on. This is why it has become almost impossible to clean the Augean stables of the Office. The Organisation as a whole has gone berserk."
Yes, this isn't going to change. Someone then starts asking what we asked several times before:
Thinking about it, here two questions :

1 – how much did the private court cases of Mr Battistelli and Topic cost in total?

2 – who paid for these private court cases : Battistelli and Topic themselves (don't die laughing) or… the EPO (Applicants' money) ?
"Very good question for the AC to ask the plaintiffs," Thorsten Bausch responded. Don't expect them to ever answer these questions. We asked these in past years and nobody seems to have know the answer in this very 'transparent' EPO.
"Darius III" then says: "I don´t expect the AC to offer any apology. They are well aware of their huge reponsibility in Mr Corcoran´s situation and they seem to – wrongly – believe that the only way for them to avoid being held accountable is to destroy him entirely, mentally and physically."
"Cynic" adds: "That this decision came on 6.11.2017 and yet the EPO still continued to pursue the BoA member after that (and the Administrative Council met in December) is unforgivable. Vindictive and malign."
Irreversible damage has been done and no doubt the judges in the German FCC will take this into account. Here's a long comment about budget and Campinos (whom we don't expect to do anything to correct this):
Well the transfer of DG3 to Haar cost a fat 2 digits amount of million EUR of good old applicants' money (the price of mismanagement since Battistelli did it as a smoke-screen to cover the tracks of his erratic actions (which de facto put the question of possible lack of independence under clear light).

For what result?

None since your point is valid: DG3's budget remains dependent from the president and the damages done to DG3's reputation (with the active support of the Council) will probably not be reversed by later whilst re-instating Mr Corcoran soon (I hope to be wrong on this one).

All this is very sad but indeed the next president soon to arrive will perhaps do better.

One of the main issue for Mr Campinos is that all top managers responsible for the current EPO debacle (not only in DG3 but overall) have been placed at key positions all across DG4, DG5, DG1, presidential office, investigative unit etc.

They will still be in place after Battistelli's departure.

So cleaning the Augean stables of the Office will only be possible, IF and only IF, Mr Campinos gets rid of them (or they will of course continue to act in collusion first to protect themselves then to protect Battistelli's legacy since he made them and they owe him). They are not many but will Mr Campinos have the guts to take the only decision which is to be taken: hold them responsible for their abusive and illegal actions and draw the logical consequences?

One only has one chance to make a good first impression. Mr Campinos will have to act – and be seen to act – to restore the severe damages or else, it will only be more of the same.

Let's hope Mr Campinos remembers this for the sake of preserving the EPO.
Campinos is taking over a complete mess, including a disgusting, dodgy person like Topić as a Vice-President. Disillusioned workers might still choose to believe that bright days are ahead, but all we're able to see over the horizon is reputational damage and layoffs. This is of course the fault of everything Battistelli has done since 2010. Even back then, as we showed around Christmas time, he already attacked staff representatives, muzzling them after he and Topić had done similar things elsewhere. Sociopaths have taken over the Office, bringing with them some more crooked people who are loyal to them. The only solution may be to flush the entire management of the EPO and start afresh. █
Permalink
Send this to a friend