09.11.18
Gemini version available ♊︎
Battistelli and CIPA lobbying for the UPC, a Trojan horse for software patents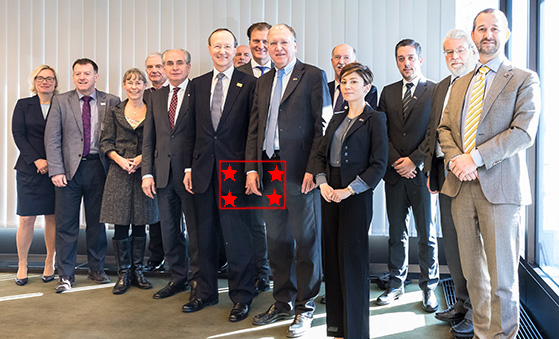 Stephen Jones (IP Kat) next to Battistelli
Summary: The rogue EPO, which has lowered patent quality and is broadening patent scope much further under the leadership of António Campinos, isn't even hiding its strong ties to the litigation 'industry' (not anymore)
WHILE the USPTO drifts further and further away from software patents (granting them only to see them repeatedly rejected by courts), the neighbours across the Atlantic warm up to these, at least as far as the EU (not pertinent member states) is concerned. It's problematic. It's troubling because it used to be the other way around.
"No day would be complete without the EPO blatantly pushing/advocating software patents…"Yesterday was just another typical day of advocacy by the EPO for software patents in Europe. It got a lot worse (more frequent) since António Campinos took over.
No day would be complete without the EPO blatantly pushing/advocating software patents (thrice yesterday!). Here is the EPO talking about such patents in the context of "mobility & automotive": "Patentability issues will be a key focus, particularly those arising from the increasing reliance of mobility & automotive innovations on CII and AI, at this EPO seminar in Chicago."
Then came a second (consecutive) tweet in which the EPO called software patent "AI" to controversially if not illegally grant patents on algorithms. The EPO said: "Panellists at the EPO's Patenting #ArtificialIntelligence conference identified three types of AI patenting."
Another tweet then spoke of "ICT-related patent applications," which is another way of alluding to software patents ("ICT"). What we have here is EPO and patent zealots from CIPA (in Chicago it's patent zealots from IPO) conjoined for a toxic agenda. They're just pushing lots of buzzwords in: "Our upcoming free-of-charge ICT seminar will focus on patentability issues & the major aspects of filing and prosecuting ICT-related patent applications at the EPO."
CIPA are liars. They're a front group looking to harm Europe so that they can make money from litigation (extortion of European businesses). Here is their President, a mate of Battistelli, who also led IP Kat for a while (when IP Kat stopped covering EPO scandals). Their new tweet suggests that they're still pushing the UPC agenda: "CIPA President Stephen Jones @Patman1978 provides our guests from the Taiwan Patent Attorneys Association with an update on Brexit and UPC, today at a roundtable meeting together with colleagues from…"
Remember that this is the guy who posed for photo ops with Battistelli and (co-)ran IP Kat for a while.
Speaking of Battistelli, his mates at IAM (where he's a guest author, keynote speaker etc.) has just published this article from Raymond Millien (Vice president and global chief IP counsel, Volvo Car Corporation) and Jan Schnitzer (General counsel and head of IP, u-blox AG). It's unusually outside the paywall because it's promotional. It's lobbying.
The patent trolls' lobby (IAM) pushes the EPO to get involved in software patents FRAND; they'e using misleading terms such as "IoT" and "4IR" (more buzzwords for software patents). To quote a portion:
In the Fourth Industrial Revolution – The Internet of Things (IoT) – there has been a push by car manufacturers to provide customers with what is known as "connected cars". These provide, through a telematic control unit (TCU), the ability to connect to the Internet and share such access with any mobile devices located within the car. Such access facilitates not only connected services such as emergency dispatch, concierge, maps, weather, traffic, driving analytics and satellite radio, but also various autonomous driving (AD) functionality.
IAM is still a front group with a Web site. They have become a lot more secretive a fortnight ago. They don't really want to be seen, except by insiders.
Yesterday we also saw this article about "Automotive IP", just like the above. Gordon Harris (Gowling WLG) fails to note that UPC is pretty much dead, instead going along with the fiction that it is inevitable. To quote:
At present, there are two systems pursuant to which a patent may be granted covering the UK: the national system, in which an application is made to the UK Intellectual Property Office (UK IPO); and the European system, pursuant to which an application is made to the European Patent Office (EPO). (Either system may be preceded by, or may provide the receiving office for, an application under the international system). Generally speaking, questions of infringement or validity of a patent covering the UK granted under either system are litigated in the courts of the UK.

A no deal Brexit will not impact significantly the existing patent systems, both of which are largely outside the remit of EU law. However, a no-deal Brexit would be a considerable obstacle to the UK's involvement in the UPC. This is because the UPC system draws upon aspects of the EU's legal system, such as the Article 267 TFEU mechanism for reference to the Court of Justice of the European Union (CJEU) and the 'Brussels' regime governing jurisdiction and enforcement.
These people know that UPC is somewhat of a Trojan horse for software patents and litigation with them. Do they mind? Well, sure they do. They make money from both, so the more to merrier (to them). █
Permalink
Send this to a friend