03.22.19
Gemini version available ♊︎
Last month: Bogus European Patents Kill Cancer Patients, But EPO Still Has the Audacity to Ride the Wave of World Cancer Day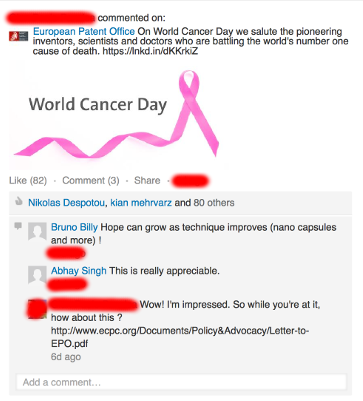 Summary: Patents that pertain to health have always posed an ethical dilemma; the EPO apparently tackled this dilemma by altogether ignoring the rights and needs of patients (in favour of large corporations that benefit financially from poor people's mortality)
THE European Patent Office's (EPO) villains and the proponents of UPC have long lobbied for patent trolls and for patents on life. It's all about money, not scientific advancement, and it's preying on the lives of ill people.
There was some major news yesterday. Bristows' Annsley Merelle Ward wrote about it (dubbing it "blow to SPC owners" [sic]) and the sole comment on these words was a critical one; watch these liars being challenged: "Why is 20 years of patent protection not sufficient to protect new formulations Amerikat? The risks and timelines are notably different from engaging in medicinal chemistry. Do you have economic data to support that? There are opposing interests in terms of access to medicines and the protection of national health budgets. That balance should be assessed by the legislature on the basis of economic assessments and should not be court driven on the basis of only one consideration. I think that it is a very sensible decision and an important one in terms of maintaining the correct balance in the industry."
This has since then also been covered in Kluwer Patent Blog and there's news that may indirectly relate to that (already included in our daily links):
The eagerly-awaited judgment of the Court of Justice of the European Union (CJEU) in the SPC referral Abraxis Bioscience (C-443/17) has been handed down today.

In the case underlying this referral, the UK IPO had refused an SPC application filed by Abraxis Bioscience for the product "paclitaxel formulated as albumin-bound nanoparticles" (nab-paclitaxel; marketed as Abraxane®) for lack of compliance with Article 3(d) of the SPC Regulation (EC) 469/2009, given that the marketing authorization relied upon by Abraxis was not the first authorization of the active ingredient paclitaxel.

Germany's Stada Arzneimittel group says it will be one of the first manufacturers to launch generic…
Kevin E. Noonan, a proponent of patents on life, has just spoken of a new "Guidance for Industry relating to the biosimilar application process set forth in the Biologic Price Competition and Innovation Act of 2009 (BCPCIA)."
These biosimilars are essential for generics.
Is the EPO still granting patents on antibodies (see what we wrote last year: "Antibody Patents Should Not be Allowed, Nor Should CRISPR Patents")? A few days ago this new press release said:
AroCell announced today that the patent nr. 3083698 and titled" Monoclonal Anti-TK1 Antibodies" is granted by European Patent Office and will be published on April 10, 2019

The patent is referring to AroCell's proprietary technology of specific and sensitive immunological measurement of Thymidine Kinase 1 in serum. More specifically, the monoclonal antibody, XPA210-Ar1, is covered in the patent

"We are delighted that the EPO has granted this patent. This reinforce AroCell's position and increases our attractiveness as a business partner. We will continue to develop our portfolio of proprietary assets to further expand its business opportunities." Says Michael Brobjer, CEO AroCell.
This is really not my area; perhaps those who better understand the science behind it can explain to us why there are nowadays so many patents that revolve around the body's natural immune system. Who benefits from such patents (on the whole)? Whose side has the EPO taken? █
Permalink
Send this to a friend