04.29.19
Gemini version available ♊︎
The patents being granted due to that injustice also cause deaths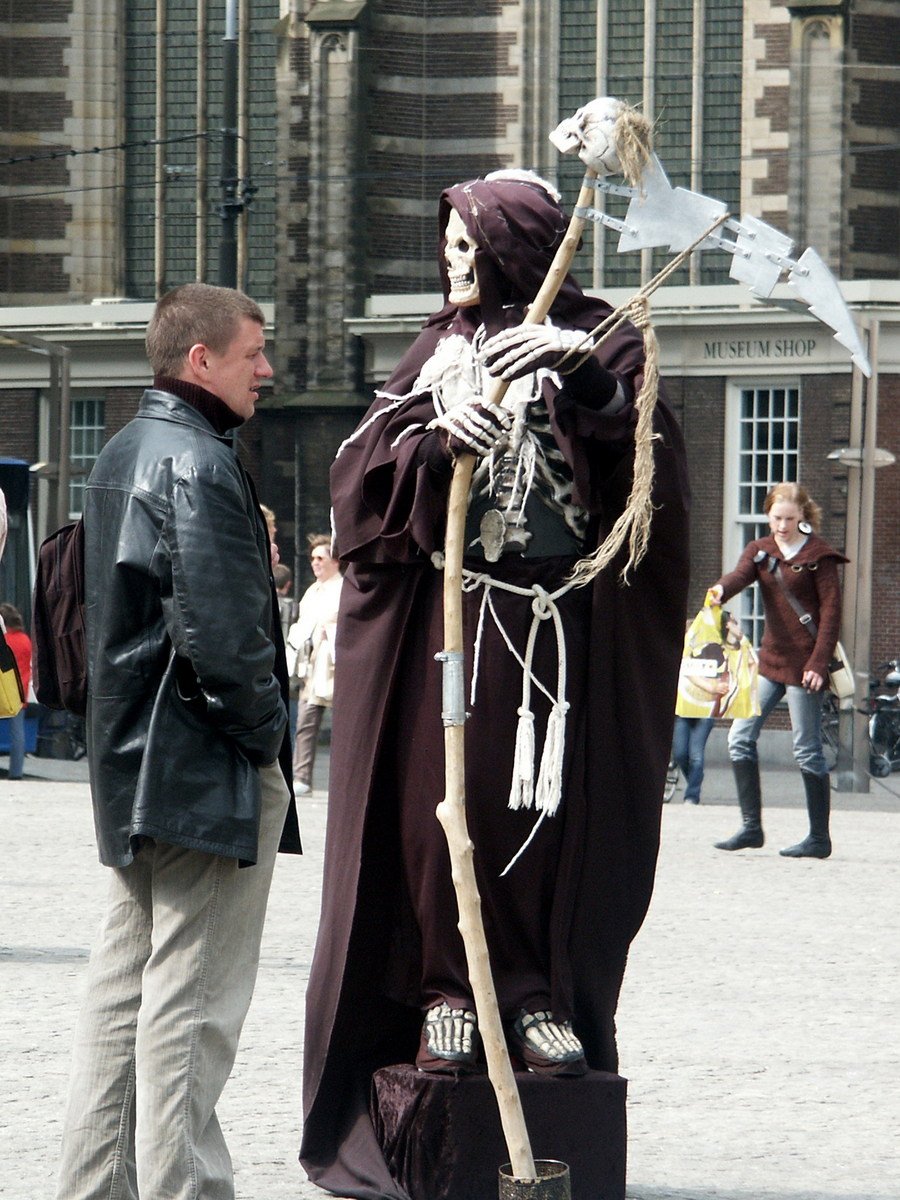 Summary: Justice remains absent in Munich (or Haar, which we're supposed to believe is part of Munich); this means that invalid European Patents (which courts will deem invalid) may be granted for years to come and there's a considerable human toll that large law firms are indifferent/apathetic towards
Earlier today IP Kat allowed (after moderation) this new comment. Occasional commenter The Convention (EPC) watchdog wrote about the European Patent Office (EPO) breaking the law or the EPC, noting that "nobody in and around Munich would agree that Haar is part of Munich, including the inhabitants of Haar."
The comment in full:
As annonymous correctly states, comparisons are imperfect. This also applies to the City of London comparison. The City of London together with the 32 Boroughs is part of Greater London which is a common administrative unit and presumably it is the one competent for the essential local matters. There is no common unit for Munich and the Landkreis, the next higher level of administration is the district of Upper Bavaria, one of 7 districts building the Land Bavaria. More important may be the common understanding of the terms. No Londoner and no foreigner would think Westminster could be outside London. However, nobody in and around Munich would agree that Haar is part of Munich, including the inhabitants of Haar.
Further up in this thread they argue that the EPO's corrupt President wasn't allowed to send all the judges to Haar (after one of them had allegedly passed information about corruption — as a moral person should). This President's 'son', António Campinos, has done absolutely nothing to fix this. Nothing. Hardly even lip service…
Why is this so major a problem? Well, the judges in question are being asked to deal with interpretation of the EPC (which was violated when they were sent to 'exile') as it relates to patents on algorithms (mathematics), nature and life. As long as they're governed by wrath/fear of the Office, how can they do their job properly? There are empty rooms at the EPO's main building in Munich while millions of euros get wasted each year renting space in Haar for these judges. This isn't about independence but threats and collective punishment.
Patent maximalists, deep inside perhaps, couldn't be happier. The last thing they want is a bunch of judges telling the EPO to its face, so to speak, that the EPC is being violated and many European Patents are bunk (as SUEPO claims).
Looking at the so-called 'news' over the weekend (all of this 'news' is composed by law firms, not journalists), we're seeing Andrew Bentham of J A Kemp, a firm that aggressively promotes patents on nature. Bentham is moaning that the European Commission does something right, for a change, by banning patents on life and nature. This is what he wrote earlier this month (it has just resurfaced again): "Recent weeks have seen important developments in the debate on patent-eligibility of plants in Europe, with the EPO's Boards of Appeal and its President, Administrative Council and member states pulling in opposite directions. The President has now referred questions, published today, to the Enlarged Board of Appeal, but the admissibility of the referral is uncertain, so it is unclear how or when the Enlarged Board will react. Applicants in this field will therefore face further delay and uncertainty. More generally, this is also a highly unusual, polarised situation that highlights the potential for conflict between different branches of the European patent system. Fortunately, however, this issue only directly affects some plant-related applications, not all that generally relate to plants in some way."
Bentham also published today: "As reported recently, the President of the EPO has in the last few days referred questions to the Enlarged Board of Appeal on the controversial issue of patent-eligibility of plants obtained by essentially biological processes. The referral is now pending as case G3/19 but it is uncertain at present whether or not this referral will be admissible in the absence of any clear conflict in the case law on this point. The Enlarged Board could do anything from rejecting the referral entirely to accepting it and reversing its "Broccoli and Tomatoes II" (G2/13 and G2/12) decisions from 2015, in which it held that, although essentially biological processes for the production of plants are patent-ineligible according to Article 53(b) EPC, the products of such processes are not ineligible just because the processes could not be patented. As a reaction, Rule 28(2) EPC was introduced in 2017 and has since then been used to reject claims "in respect of plants or animals exclusively obtained by means of an essentially biological process". In December 2018, EPO Technical Board of Appeal decision T1063/18 then held Rule 28(2) invalid as in conflict with Article 53(b) in light of Broccoli/Tomatoes II. This was then reinforced in case T2734/18. The President's referral is held out as an attempt to clarify the law but in fact seeks to reverse this and demonstrate that Rule 28(2) is valid, such that plants obtained by breeding are not patent-eligible."
Also mind Watchtroll's "Accelerating Generic Entry: A Proven Solution to the Problem of Prescription Drug Pricing" (yesterday) and Amy Crouch's (Simmons & Simmons, Team UPC) coverage of generics coming under attack from patents. We remind readers that almost each time this is done the net effect is very simple: poor ill people become casualties of corporate greed. Here's the situation in Germany, as opposed to Britain (the UK Supreme Court recently threw out another European Patent):
Klaus Grabinski (Federal Court of Justice, Karlsruhe) started the discussion by outlining infringement of second medical use patents in German case law. An important difference from the approach taken by the UK Supreme Court in Warner Lambert v Generics is that in Germany second medical use claims (whether Swiss form or EPC 2000 form) are always purpose-bound product claims, rather than method claims.

Recent case law of the Düsseldorf Court of Appeal has extended the protection to forms of use beyond "manifest arrangements" when the use can be related to the protected purpose of the substance. This requires (i) that the substance is suitable for the protected second medical use, (ii) the use is of some significance and (iii) the implementer knows about it or "blinds himself" and in this way takes advantage of circumstances that allows the substance to be used for the protected purpose. In the recent Fulvestrant case it was found that there was no expectation of a future infringing use and therefore no injunctive relief was granted.

Unrestricted injunctive relief is not available when such an order would not only cover the second medical use but also use not protected by the patent. So how can the injunction be tailored to the second medical use alone? It is a controversial legal issue whether inclusion of a statement that the product must not be used for the second medical use in the patient information leaflet is compatible with EU law on the authorisation of medical products. Alternative injunctive relief that has been requested is only allowing marketing of a product after alleged the infringer has contacted professional associations of doctors or pharmacists, although at the moment there is no legal basis for requiring associations to comply and it entirely depends on their willingness to cooperate.
Amy Crouch (Simmons & Simmons), writing from this echo chamber of patent maximalists, in her next part talked about patents covering recipes of nature, as well as attempts to work around these 'magic' monopolies. It's noteworthy that each and every one of these so-called 'panels' are stacked (patent maximalists only). To quote:
Moderator John Lee asked if life is simply much harder for a biosimilar? Brian thought that it is, yes, because so many of the relevant patents are process patents which makes the situation more complicated. After the dance is over, sometimes 30 different patents are listed – and that is in a normal situation rather than the even more extreme Humira patent thicket. The BPCIA is complicated, allowing patentees to assert so many patents and ultimately may be slowing down the uptake of biosimilars in the US as compared to Europe. A statutory fix may help but it is unclear what such a fix should be.
Biosimilar patents were covered here before; these aren't necessarily patents on lifeforms but they are problematic as they cover things that can save lives (of lifeforms) and thus become a barrier to life itself. █
Permalink
Send this to a friend