08.08.19
Gemini version available ♊︎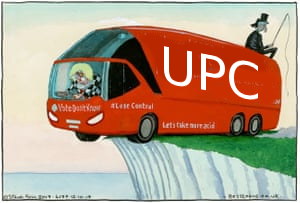 Summary: Brexit one of many factors dooming the UPC or anything resembling the UPC; the German government/Federal Ministry of Justice comments on the matter
THE European Patent Office no longer mentions the UPC, knowing that it's likely dead. Even Team UPC recently admitted that it was only trying to create and maintain an illusion of progress. It used the media to lobby for it — a form of corruption and bribery.
There's this new article in German. No English version. Bearing in mind that "tweets" as sources aren't as reliable as journalism (people spin or abbreviate articles and sometimes take out of context pertinent paragraphs for their personal agenda), we can still quote Dr. Thorsten Bausch on Twitter (he's a pretty honest person):
German government says that the factual and legal consequences of #Brexit first have to be clarified and agreed on a European level before ratifying the #UPCA. https://www.finanzen.net/nachricht/aktien/regierung-sieht-brexit-als-bremse-fuer-europaeisches-patentgericht-7841696 …
"There are many more issues — apart from Brexit — and not only in Germany so it would be a massive self-nuke if they attempted to ever ratify," I told him.
We recently commented on the impact of the Johnsons.
Team UPC attempted to provide a translation:
"The question of Britain's withdrawal from the EU plays "an important role" in the further implementation of the agreement on a Single Patent Court, according to a response by the Federal Ministry of Justice to a question from the FDP parliamentary group"
I asked them: "What about the half a dozen other issues with UPC?
"This whole thing should be canned for good."
"Germany also needs to arrest EPO executives past and present for their crimes." Battistelli and his circle broke the law many times. Germany's reluctance to take action (total impunity) makes Germany look bad. █
Permalink
Send this to a friend