11.01.19
Gemini version available ♊︎
Money is squeezed out of Europe (to reach the pockets of few perpetrators)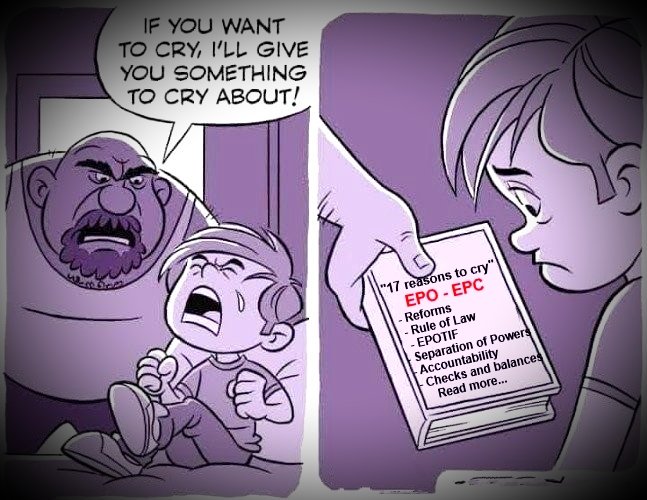 From working for Europe to not working for Europe and nowadays to actively working against Europe. Photo/image/meme: Source tweet
Summary: The EPO fiasco needs escalating to European politicians for something to actually happen; under the guise/veil of "diplomatic immunity" serious crimes take place and nobody does anything to hold the criminals accountable
THE European Patent Office (EPO) likely defrauds the European public and even EPO workers. That alone ought to revoke the immunity of António Campinos and put Battistelli under investigation if not arrest (like Sarko, his ally); Battistelli committed many other crimes at the EPO — crimes that we've named here over the years, e.g. bringing weapons to the Office.
"Something must be done. The sooner, the better."It's not hard to see who the EPO really works for; look what happened near Romania's State Office for Inventions and Trademarks (OSIM) earlier this week. We wrote about it as recently as yesterday (regarding EPOPIC).
The European Patent Office is again — as days earlier — promoting "AI, self-driving vehicles" patents (warning: epo.org link), i.e. software patents (even in Europe), citing U.S. Patent and Trademark Office (USPTO) directorship as if the EPO works for the US law firms (it works for large US corporations and law firms, which oppose 35 U.S.C. § 101).
Europeans, please contact your MP/MEP about this. Something must be done. The sooner, the better. It's not going to happen as long as 'Establishment' media and blogs in the pockets of law firms continue to ignore/deny the problems because they financially benefit from a rogue status quo. █
Permalink
Send this to a friend