02.10.20
Gemini version available ♊︎
What have patent propagandists (maximalists) sunk to?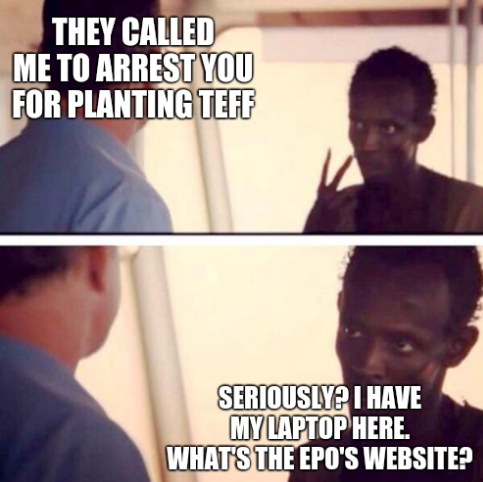 António Campinos is "The Captain Now"
Summary: The EPO's patent maximalists are damaging the reputation of the institution and harm its perceived legitimacy (people are getting fed up instead of fed)
THE European Patent Office (EPO) has seen many protests, not only from its own staff but also the public. There were protests against software patents in Europe, many against patents on life/nature, and Battistelli worked to crush protests, being the authoritarian he always was.
About a week ago we said that "The EPO Would Declare It a Success Story If It Granted a Million European Patents a Year"; we said that the EPO further discourages challenging invalid patents. Battistelli raised the prices of appeals and Campinos does the same again. 'New' boss, as the saying goes, is the same as the old one… (and chosen by him)
As one patent person put it over the weekend: "EPO Announces Changes To Official Fees From 1st April 2020Most fees increase by about 4-5%, but appeal fee rises by about 20% for appellants that do not qualify as a natural person, an SME or a non profit organization (from €2255 to €2705)."
Wow, what a 'bargain'…
This money will go into Battistelli's notorious gambling venture and the cost will discourage scrutiny of the EPO's work. A win-win… for Team Battistelli.
This old FFII page ("Unitary patents and software") has meanwhile been recalled and Jan Philipp Wilhelm, writing in mainstream German media, touched the subject of ridiculous patents on teff. DW (Germany, land of Bayer/Monsanto) promotes — right there in the headline ("The fight against biopiracy") — the malicious lie that planting seeds is "piracy" i.e. it's so morally bad that it's like Somalis who murder seamen. To quote:
Teff, also known as dwarf millet, is to Ethiopia what maize is to Mexico and rice is to China: the country's most important foodstuff, the basis for the national dish injera — a soft, spongy, pancake-like bread — and an important part of its cultural heritage.

Farmers in the Ethiopian highlands started cultivating teff 3,000 years ago.

Perhaps understandably, many Ethiopians are annoyed that a Dutch company holds a patent on processed teff flour. To this day, in some European countries, no flour from the gluten-free and nutrient-rich super grain may be sold without paying royalties to the Netherlands. This could soon change, and it if it does it will be partly due to the private initiative of a German lawyer.
Why on earth (or Earth) are patents being granted on seeds in the first place? The EPO only makes itself more enemies each time it does so; then it does photo-ops in Ethiopia to distract from all the bad publicity [1, 2]. █
Permalink
Send this to a friend