05.17.20
Gemini version available ♊︎
The Office maintains its illegal control over judges who are supposed to be independent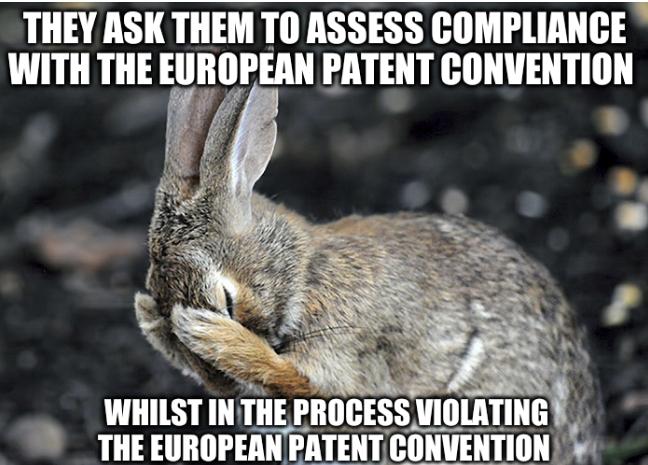 Summary: In clear, direct and overt violation of the European Patent Convention the European Patent Office (EPO) continues to 'wag the Board' and you wouldn't know about it based on media in the pockets of patent litigation fanatics
THE decision that was announced on Friday was rather weak. It doesn't quite apply retroactively and it does not deal with loopholes, having had its question (referral) watered down by the Office. This is in violation of the EPC and it serves to reaffirm the Boards' lack of independence. People have pointed this out in comments, but nobody actually investigated this. As usual, the media was a lapdog, not a watchdog. The same can be said about blogs that cover patents; they were sold to or infiltrated by patent litigation fanatics.
We already published 3 posts earlier on [1, 2, 3] and there are 3 more articles we've seen since. Mostly from sites controlled by patent maximalists. Here they go:
The EPO's Enlarged Board of Appeal declared yesterday that plants and animals exclusively obtained by essentially biological processes are not patentable, contrary to a 2018 decision from the office's Technical Board of Appeal that such products were eligible for patent protection.

The decision was the latest in a series of attempts over 10 years to clarify whether patent protection can be obtained for plants in Europe, and falls in line with the EPO's guidelines from 2017 that excluded plants from patent protection.

In its opinion on case G 3/19 (Pepper), the EBoA held that under Article 53b of the European Patent Convention, the non-patentability of essentially biological processes for the production of plants or animals also extends to plant or animal products that are exclusively obtained by an essentially biological process.

To ensure legal certainty and to protect the legitimate interests of patent proprietors and applicants, the EBoA also ruled that the new interpretation of Article 53b would not have retroactive effect on European patents containing such claims that were granted before July 1 2017.

The interpretation will also not be extended to pending patent applications seeking protection for such claims that were filed before that date.

"I'm a bit surprised about this outcome from a purely legal point of view, but happy about it because this has been our business's political position," says Franck Coutand, former patent manager and current head of quality and safety at Limagrain, a plant breeder, in France.

The European Patent Office (EPO) concluded yesterday (14 May) that plants and animals exclusively obtained by essentially biological processes are not patentable.

Plants and animals that are produced only by "essentially biological processes" are not patentable, the European Patent Office has ruled, a decision that has been hailed as a victory against agribusiness giants while prompting a warning that "existing loopholes" still need to be closed.

In a 70-page opinion Thursday, the EPO's Enlarged Board of Appeal held that the European Patent Convention, which governs patents issued by the office, excludes plants and animals that are "exclusively obtained by means of an essentially biological process."

The appeals board's reading of the EPC does not apply to patents granted before July 2017 or pending…
Why not? Does the European Patent Convention become applicable only in particular periods of time? Also, where's the discussion about what happened prior to this decision? Maybe they prefer their readers not to know…
Putting aside posts from AstraZeneca (patents on Big Pharma monopolies), there are some better comments attached to them, actually highlighting EPO abuses. The latest comment (Saturday) says: "I see the merits of all the above comments, but would just like to add that the Enlarged Board should not be seen as simply subservient to a 'conference of ministers'. Its power and usefulness comes about by being able to generate new law based on its expertise. The more we allow it to operate 'independently' the more it can attune itself to the need of the time. No one has spelled out in the comments the advantages of dynamic interpretation which justified the change in position. Surely this is a good thing when done by those that know most about patents, i.e. the Enlarged Board? Putting aside the complexities of the present case, surely a dynamic interpretation is best suited to our rapidly changing times?"
"It says as much about the media as it says about the EPO."It's kind of sad in a way that nowadays IP Kat deletes comments that speak of EPO corruption or mention António Campinos and Benoît Battistelli. They're in effect helping the EPO's management cover up the abuses instead of covering abuses. Sophie Corke at the Litigation Kat even reassures us that the Kats in 2020 are little but a mouthpiece of highly corrupt EPO management (see bottom section).
In a similar vein, the other site founded by the founder of IP Kat (then sold) is still publishing sponsored spam as 'articles' and still chatting with patent trolls and judges like Rodney Gilstrap who welcome their abuse (example from a few days ago). This site is a think tank of bad actors. It's also a lobby for UPC, which died despite their lobbying. It says as much about the media as it says about the EPO. █
Permalink
Send this to a friend