11.22.20
Gemini version available ♊︎
Ever noticed how the 'Kats' completely stopped talking about the Unified Patent Court (UPC)? They know it's dead. They just know it.
Summary: UPC proponents (profiteers) aren't enjoying support anymore; not only has progress stalled (come to a complete stop) but the whole debate about the UPC (or anything conceptually like it) turned toxic and negative because facts come out, overriding lobbyists of litigation giants
THE predictions from Team UPC have long been a source of amusement. Some have given up making fake predictions. Few have not. Some retired early. Some left their employer. UPC promotion is a big risk/liability to one's reputation. Some began doing it anonymously. How very telling.
"They wasted their money promoting a dud which in retrospect makes them look incredibly dishonest."These frauds and charlatans thought that repeatedly lying to the public and to our elected officials would accomplish something. They wasted their money promoting a dud which in retrospect makes them look incredibly dishonest.
Now there's this new paper (exactly a month and a week old), signed by Alain Strowel (alain.strowel@uclouvain.be), Fernand de Visscher (fernand.devisscher@simontbraun.eu), Vincent Cassiers (vincent.cassiers@uclouvain.be), and Luc Desaunettes (luc.desaunettes@uclouvain.be). "If you agree with the position papers or the simple motion," they say, "please contact one of us." They urge a "pause" to the whole thing. I'm not adding my name to it because I think that not only the UPC is wrong; anything even remotely like it is wrong. We know where the idea came from and who/what for.
"It's time to put the brakes on this hopeless chase. It's a total waste of politicians' and courts' time."Here are the two originals (updated 2 days ago). We're aware that most people don't like PDFs and won't bother opening any, so we've reproduced below, as images, both papers/statements, which are mostly signatures (notice Professor Xenos among the signatures below, along with many other names). The images below are added for readers' convenience. They're not reproductions of the underlying text.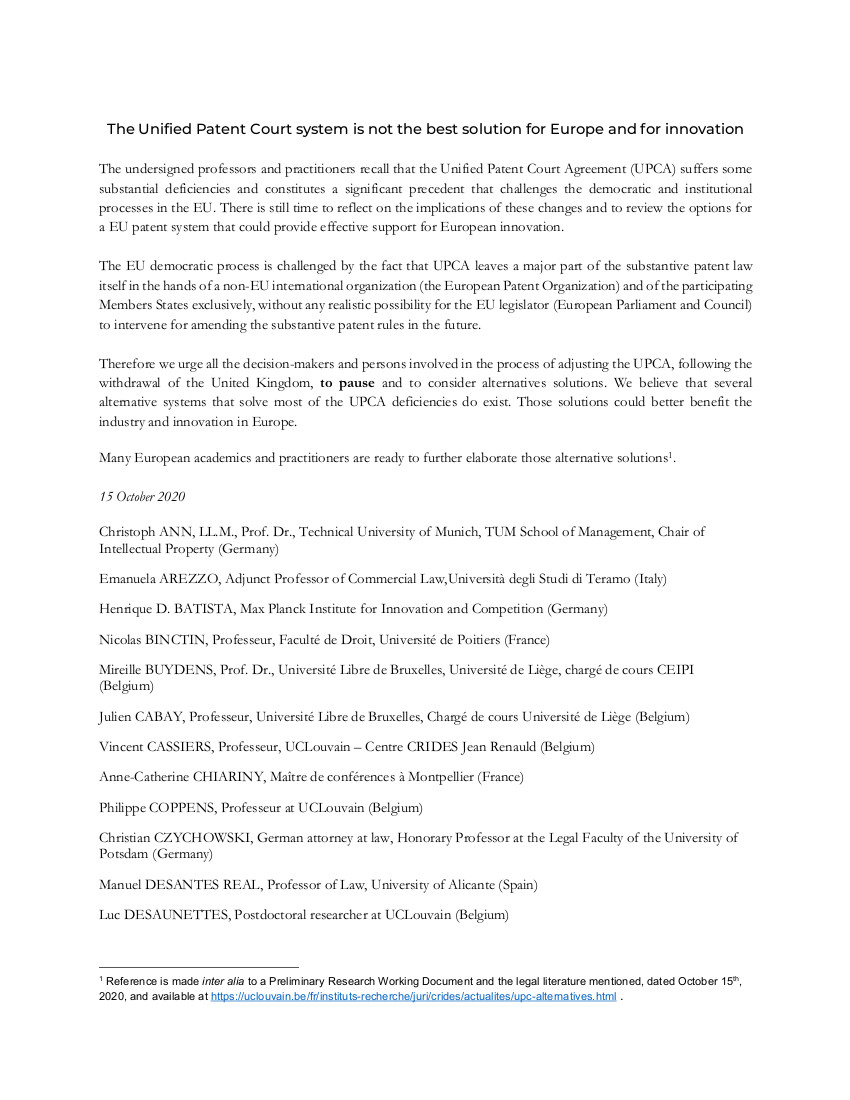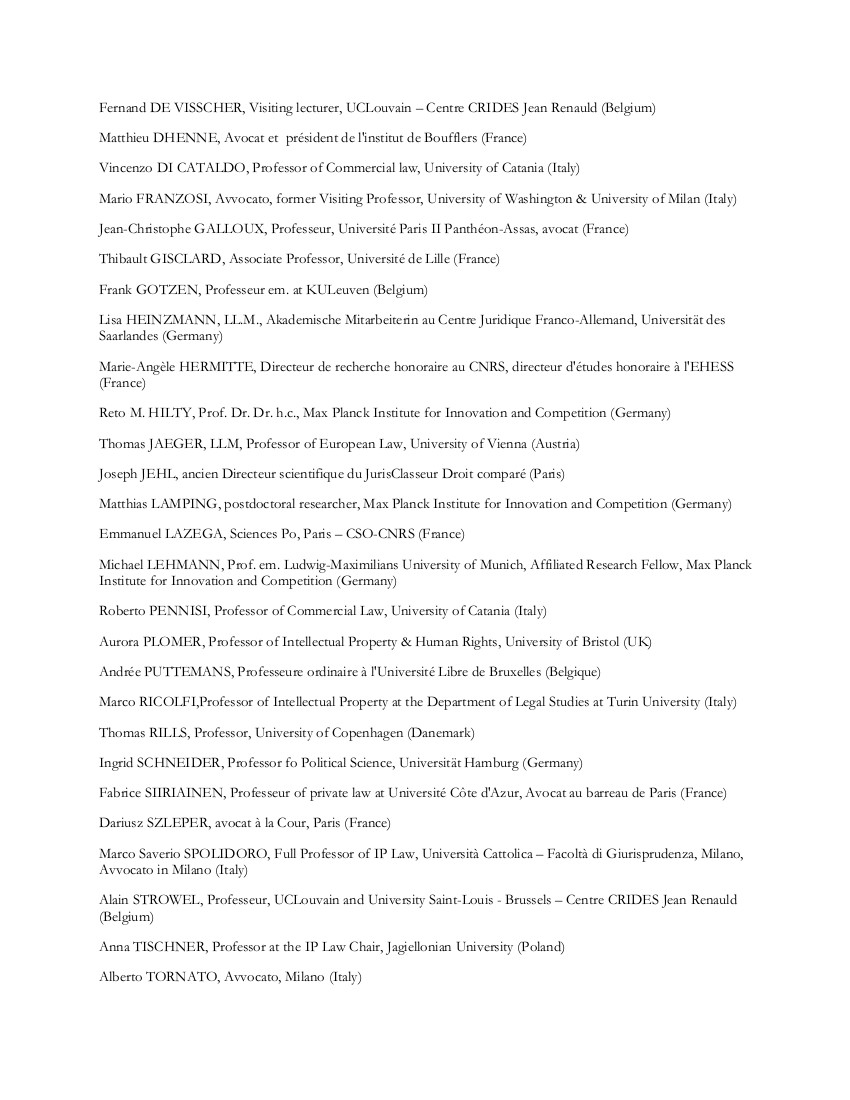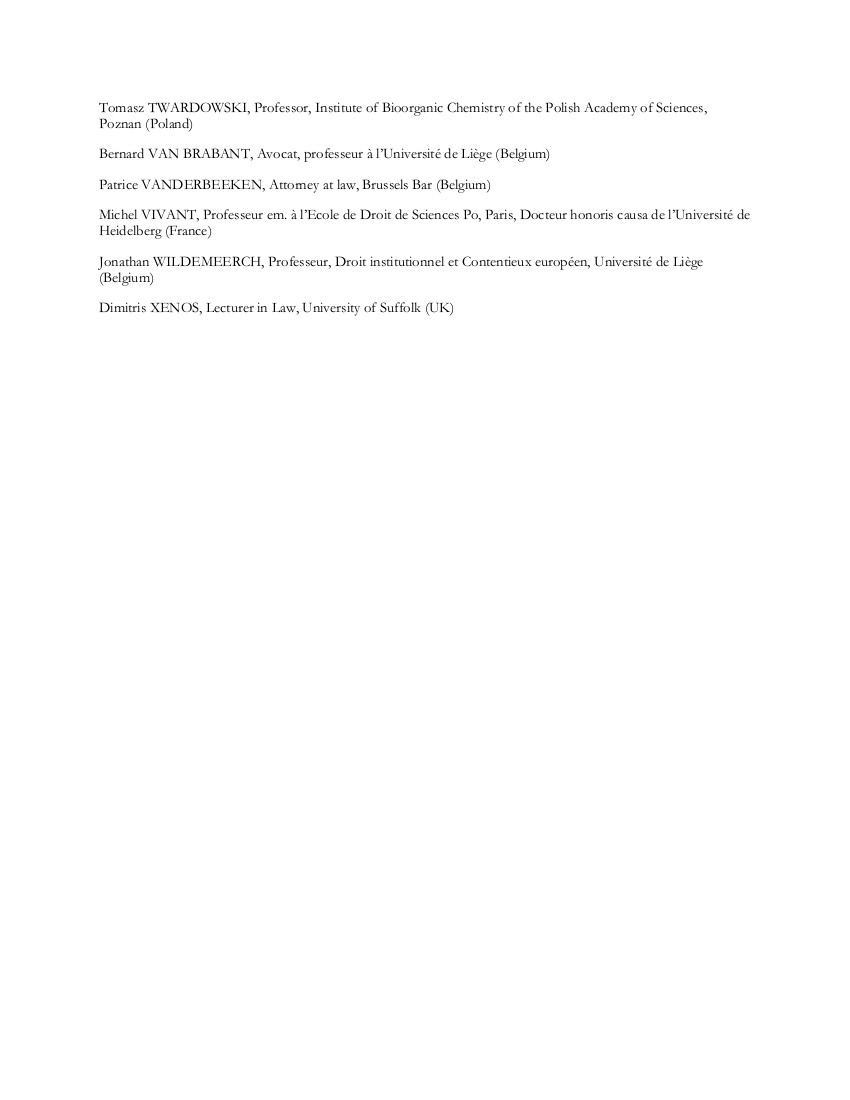 ---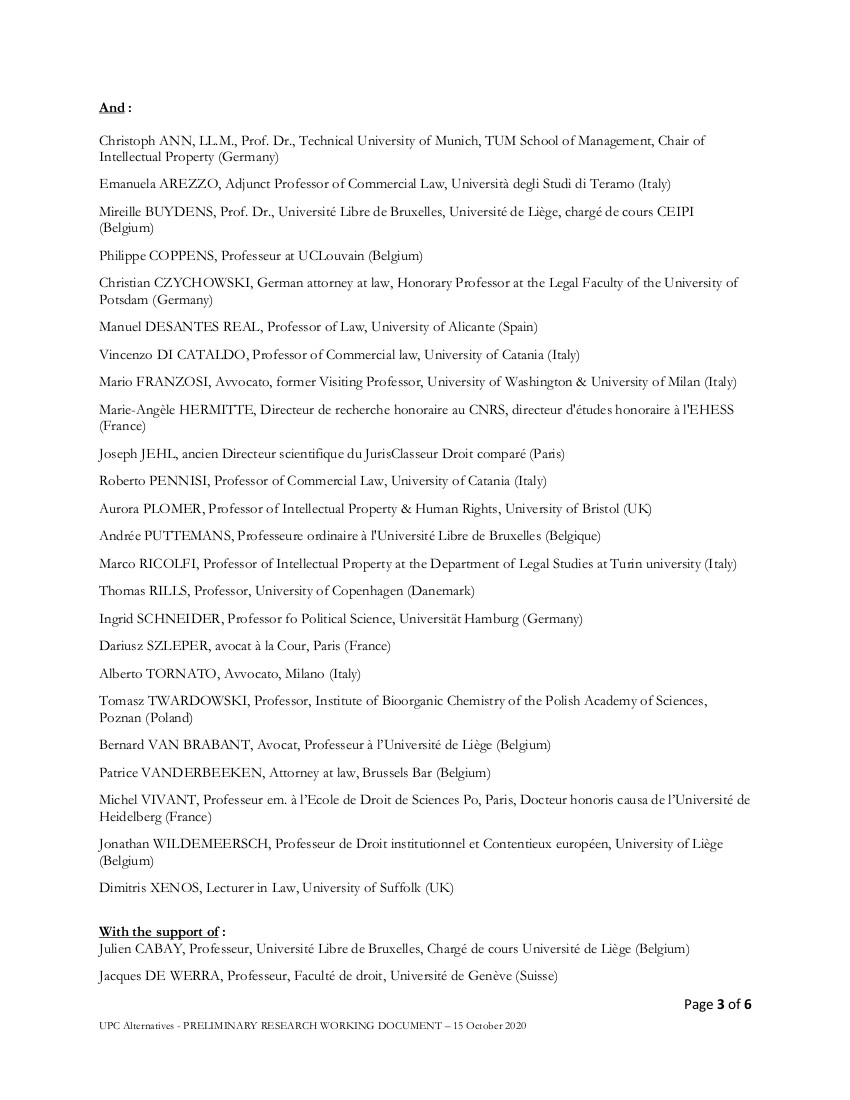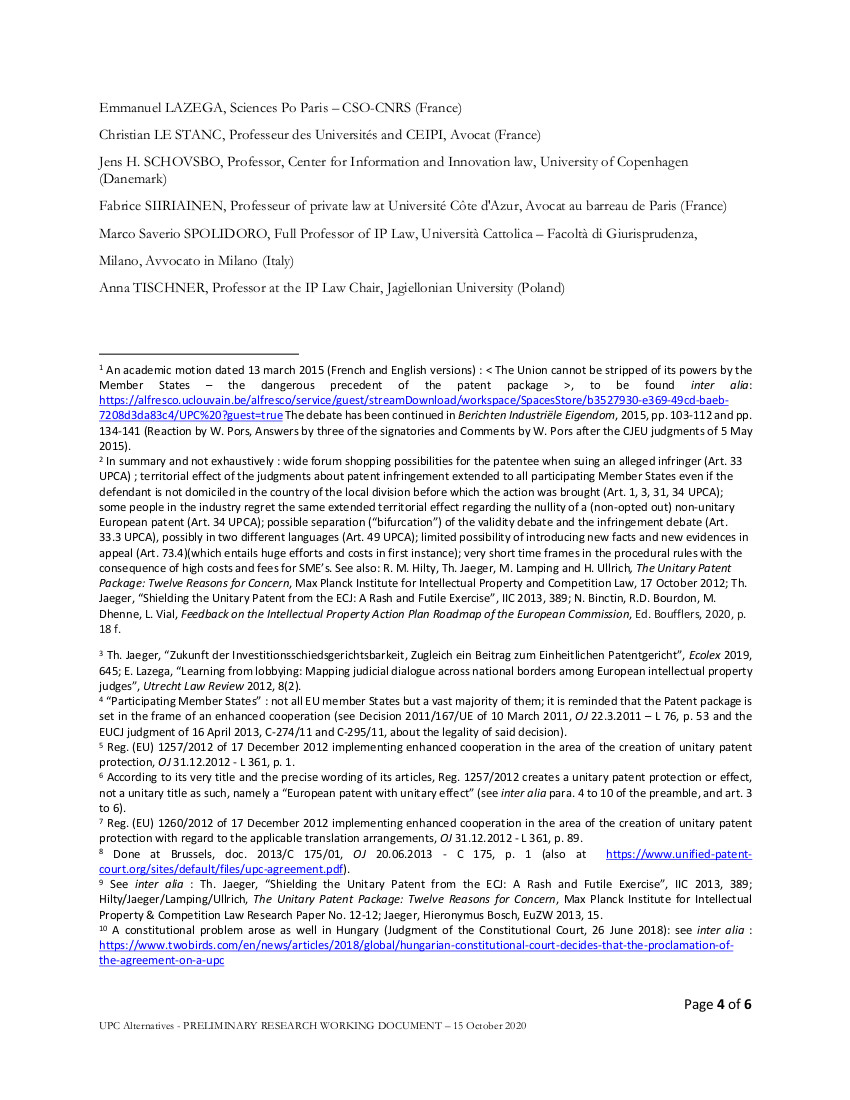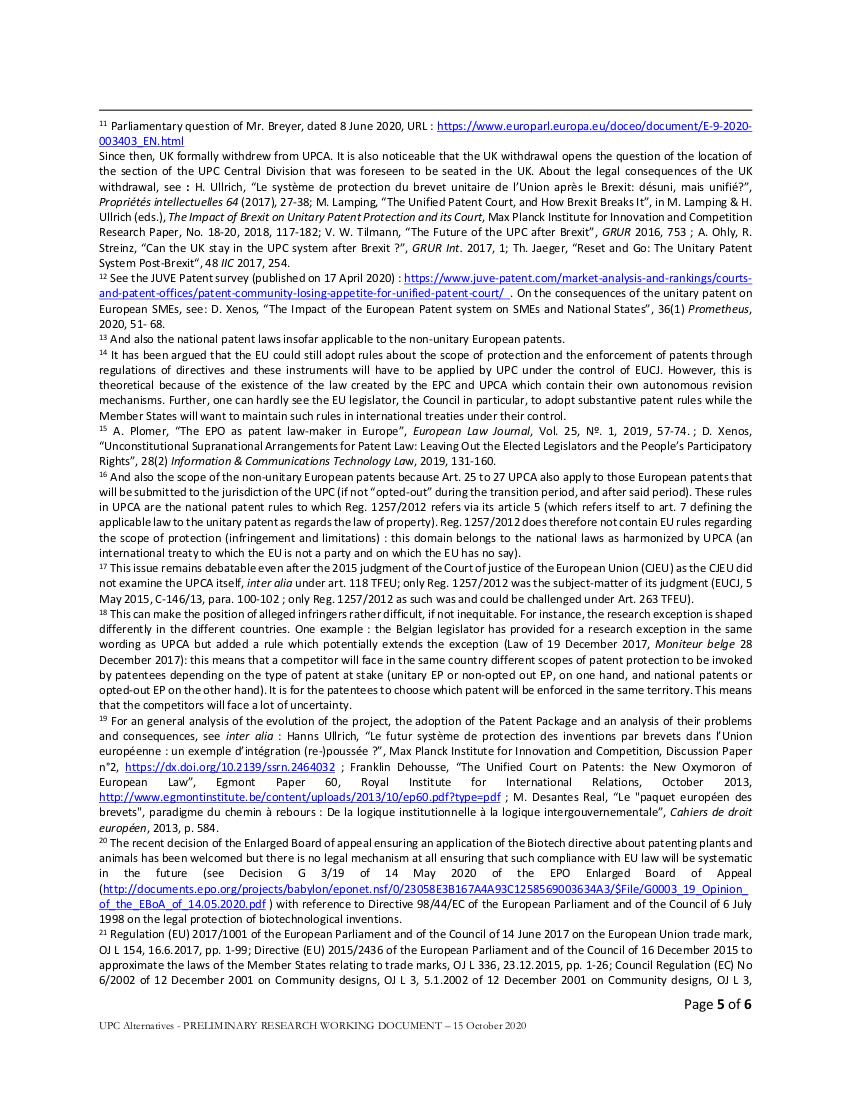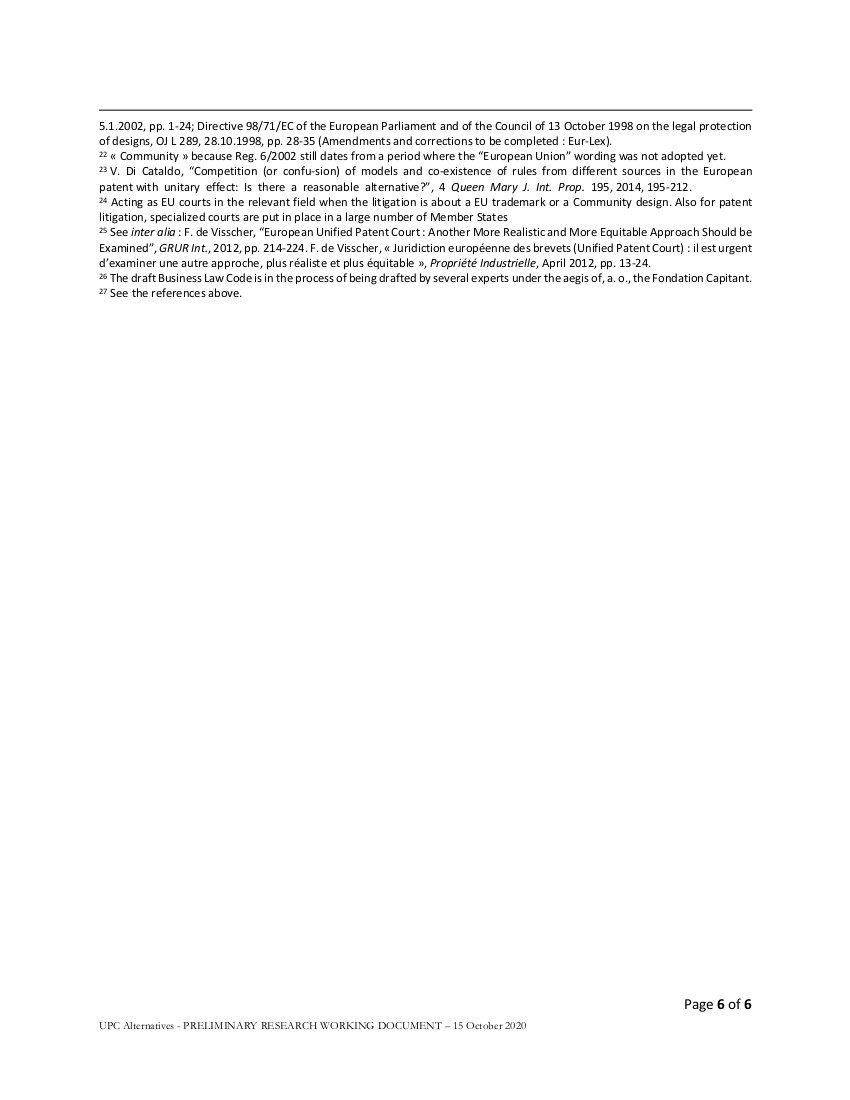 From the corresponding page:
The Unified Patent Court system is not the best solution for Europe and for innovation, and there are alternative systems to consider after Brexit.

The intellectual property group within CRIDES is behind an on-going initiative to rethink the system for adjudicating patents in Europe.

A position paper and a motion on the Unified Patent Court system, already signed by some experts, practitioners and academics, are available below.
We found this because of UPC boosters, who added an "UPDATE: This article was updated on 21 November 2020 [Saturday] to include the position paper of European academics and practitioners"
As usual, comments there are more informative that the Bristows diatribe. Here's the latest comment, which speaks about the ridiculous prose from Team UPC's 'useful idiots' in the German government:
Well, I think that we can conclude that my powers of prediction are very strong indeed. On 2 November 2020, I stated that:
"we can already predict with 100% confidence what the responses will be, namely "Everything is in order. Nothing to see here". We can also be certain that the responses will amount to nothing more than hand-waving, smoke and mirrors and half truths".

Well, the answers provided by the German government match this prediction PRECISELY. My personal favourite is the answer provided in connection with questions regarding the absence of a cost-benefit analysis for the UPC and the possible impact upon SMEs. This is because the government's "excuse" for not conducting any analysis is that they were happy to rely upon two prior "studies" that were conducted … in 2009!

The trouble with this is that, back in 2009, the legislation relating to unitary patents was COMPLETELY different. This is because the flavour of the day back then was the ECPC. That proposed system was struck down by the CJEU as being incompatible with EU law. Thus, unsurprisingly, the provisions of the UPC Agreement look rather different. There is also the matter that neither of the 2009 studies includes anything close to a comprehensive cost-benefit analysis.

Thus, the German government's "excuse" for not conducting a full cost-benefit analysis is effectively that other people did some "back of a fag packet" calculations more than a decade ago in connection with a proposed legal system that was really quite different to what we have now.

Well, in the face of such compelling reasoning, I am sure that no one will doubt any of the government's other assertions, such as:
"The compatibility of the UPCA with the Basic Law, in particular the fundamental rights, as well as with Union law was comprehensively examined"; and
"The federal government does not see any further constitutional deficits".

I mean, there is no way on earth that these statements could be viewed as being deliberately misleading, right?
So, irrelevant 2009 (yes, 2009!) 'studies' are the basis of the lies; back when UPC was mostly a concept, just a little beyond hypothetical. Let's focus on the 2020 scholarly position (based on experts who produced more than just a study), which explains that the UPC is unsuitable, truly unfit for purpose. It's time to put the brakes on this hopeless chase. It's a total waste of politicians' and courts' time. A lot of taxpayers' money was already put into that. What do they have to show for it? Nothing. █
Permalink
Send this to a friend