03.16.21
Gemini version available ♊︎
EPO spreads 'candy' to hacks and media operatives in 'journalist' clothing…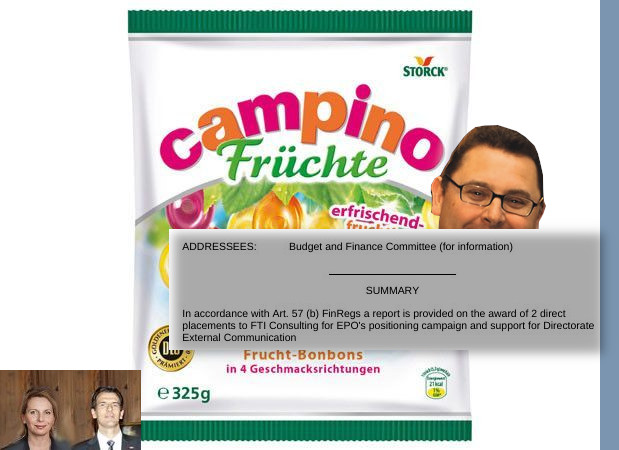 Summary: The EPO's corruption of the media (or subversion of journalism) is an ongoing and unresolved problem; they've meanwhile proceeded to also bribing scholars, so critics are rare and barely visible
IT should be no secret that the EPO has much of the media which covers patents in its back pocket (as the old saying goes). To some degree, the same is true regarding corporate media, especially in Europe and with focus on Dutch and German media (media where EPO is physically based). Money was paid. We saw the 'receipts'. There were strings attached to this money. There's potential for more money. Over the years we too came under financial pressures to obstruct our publication; some of them we've covered here before…
To give just one example (alluded to in the image above), EPO management is paying IAM via PR firms such as FTI Consulting (IAM even admitted that FTI Consulting had paid it). IAM isn't alone!
"Hopefully, perhaps some time soon, they will also run out of immunity."The sad thing is, publishing houses are dooming their own credibility by sucking up to António Campinos in exchange for "access" (like softball 'interviews'). They constantly pretend that Benoît Battistelli is a resolved problem and everything at the EPO is more or less fine now.
For those who wonder about "Merpel", don't blame Jeremy or Birgit or any of the original 'Kats'. They too had come under pressure, but the sad thing is that they sort of gave up and left the blog in hands that slap down comments, especially those which allude to EPO corruption.
"Reunion with Alexandre Benalla and Nicolas Sarközy is definitely a possibility when impunity is over and investigations begin."EPO is a classic example of Mafia-like institutions that have so much to hide that they're willing to engage in Mafia-like tactics to silence the media (or any potential critic/exposer for that matter). Microsoft does the same thing (we've been covering many examples over the years).
Please keep the input (or the leaks) coming. We're not afraid of the EPO's "Mafia" and they have virtually no control over us. They've tried all sorts of dirty tricks. They're running out of ideas. Hopefully, perhaps some time soon, they will also run out of immunity. Reunion with Alexandre Benalla and Nicolas Sarközy is definitely a possibility when impunity is over and investigations begin. █
Permalink
Send this to a friend