03.19.21
Gemini version available ♊︎
Summary: The World Wide Web/Internet monopolies are encouraging people not to explore negative views regarding Europe's second-largest institution, the EPO, and a lot of that is to do with money (how it's used to shape the media)
SEVERAL years ago we explained that a lot of so-called 'news' about patents tends to come directly from law (or litigation) firms, their front groups, media they subsidise for bias/agenda, and sometimes the EPO, its front groups (associated institutions), media that EPO pays for puff pieces and so on. That can easily cloud people's judgement and sooner or later that bias is taken for granted and is considered "normal"; people refer to any patent as "property" (it is not), people who share become "pirates", algorithms are "hey hi" (AI), and EPO is presumed European (even if the EU adds up to about 30% of European Patents, i.e. less than a third).
To make my point a little more clear and concrete I've decided to show what happens when one searches Google News for "EPO" (at least here in the UK/GB). This is the kind of thing British delegates who 'attend' next meeting may see as a little bit of 'research'; it's not news, it's paid-for perception management and shameless self-promotion wrapped/dressed up as "news".
Has anyone other than us even mentioned the EPO outsourcing to Microsoft? No. Never mind if staff representatives have spoken a lot about it (since last year).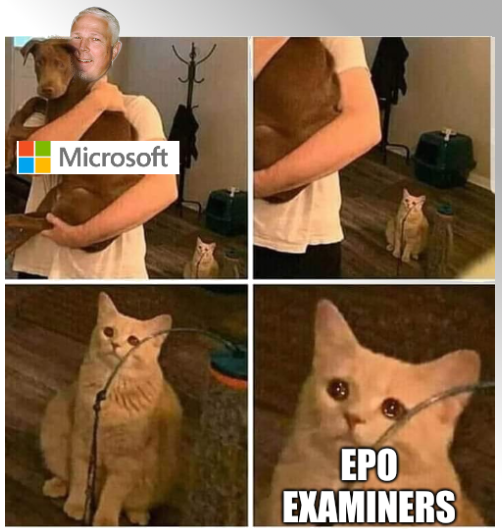 In the video I said I'd make suggestions of sites to follow directly, over RSS feeds. Many good sites/blogs have perished or vanished completely. But Patent Progress (CCIA) is possible to follow on http://www.patentprogress.org/feed/, Kinsella is on http://www.stephankinsella.com/feed/kinsella-on-liberty/, Unified Patents is on https://www.unifiedpatents.com/insights?format=rss, FFII is on https://ffii.org/feed/, and FOSS Patents is on http://www.fosspatents.com/feeds/posts/default. You would likely need an RSS reader (Google does not like RSS feeds, so browsers based on Chromium would not cope well); I recommend QuiteRSS and our own feed is on http://techrights.org/feed/. █
Permalink
Send this to a friend