06.07.21
Gemini version available ♊︎
Summary: IBM is striking partnerships with the world's biggest patent trolls, it's pushing software patents, and it is killing any remnants of hope (a much-needed policy change)
If you speak to IBM insiders, they will admit that the company is dead meat. They worry about it and it causes anxiety. Even IBM veterans whose pensions are tied to IBM's financial performance should be worried.
My personal opinion is that key Red Hat employees need to do to IBM what some Nokia employees did to Nokia with Jolla. As Red Hatters exit IBM they take with them a lot of valuable skills. Where will their experience/knowledge be unloaded and vision implemented? Hopefully not GAFAM…
The above video explains what at IBM has gone awfully wrong, especially in the past decade or so (IBM wasn't so bad before that). With blog posts like "How Red Hat and Microsoft helped Andreani Logistics Group address rapid increase in demand" (screenshot below) and "Visualizing performance with RHEL 8.4 Grafana Dashboard for Microsoft SQL Server" earlier today in Red Hat's official blog (second time they promote Microsoft SQL Server in recent days) one gets the idea that IBM would do just about anything for money. It's like Novell a decade and a half ago, after it had appointed a former IBMer (Hovsepian) as its CEO.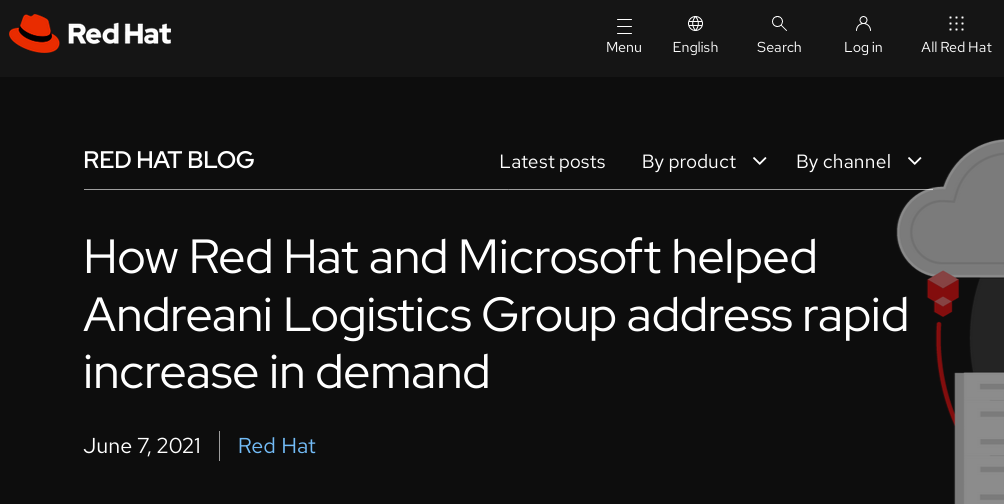 IBM is destroying Red Hat for a quick buck. This is the blog post I was struggling to find while recording this video. It's an hours-old blog post.
Judging by the latest threads, including this one, IBM has been a total and complete catastrophe lately. IBM's disgruntled employees flock to these boards and point out that contrary to what HR says, it's a bloodbath on many fronts (redundancies, not hirings; losses, not recovery). And as one person put it today, "the total revenue always decline… it is always smoke and mirrors with IBM… reason why this company is just dead."
IBM is being accused (by people who seem to know IBM from the inside) of 'creative' accounting, cooking the books, and a financial shuffle that makes it look like there's growth in "strategic" areas (like Microsoft, IBM rebrands many things 'cloud').
And resurfaced in Planet Fedora earlier today is a departure letter from Stephen Smoogen, who was "Leaving Fedora Infrastructure" (core operations). He's not alone. IBM is ruining communities/userbases like CentOS and nowadays we see the same in Fedora. As many feared would happen…
Greed and Free software are not compatible. IBM just doesn't understand Free software and communities. Another Novell-SUSE scenario…
"Why not rebrand as International Bully for Microsoft?"As psydroid put it in IRC some hours ago, "first they replaced proprietary UNIX and then they became proprietary UNIX The Next Generation. I don't really get the point…"
MinceR said it's "more like proprietary anti-Unix," as Unix never had systemd. It was instead modular.
To top it all up with another self-harming move, IPwe CEO Erich Spangenberg is now hooking with IBM. This is the person who was sending me death wishes by E-mail for pointing out that he's a malicious patent troll [1, 2, 3, 4].
IBM became everything we stand against. It's time to leave IBM behind and think of a different kind of future for GNU/Linux — one where communities, not monopolies who man the Linux Foundation's board, decide on the direction. Things like systemd are more like vendor lock-in (deliberate complexity), not freedom.
As for IBM, it is arming Microsoft-connected patent trolls and now it's hooking up with the world's worst patent trolls. "I like this statement from the article," AdmFubar said in IRC, quoting the following: "IBM's own patent business has found it more difficult to monetize its patent portfolio in recent years, according to Bloomberg. Its revenues have slipped to just over $600 from a high of $1.6 billion."
OK, IBM's management has decided, so let's work with trolls… who 'monetise' patents. This is awful on so many levels and it sheds light on IBM's truly awful strategy, which isn't compatible with programming, let alone with Free software. Why not rebrand as International Bully for Microsoft? █
Permalink
Send this to a friend