10.16.21
Gemini version available ♊︎
Guest post by Ryan, reprinted with permission from the original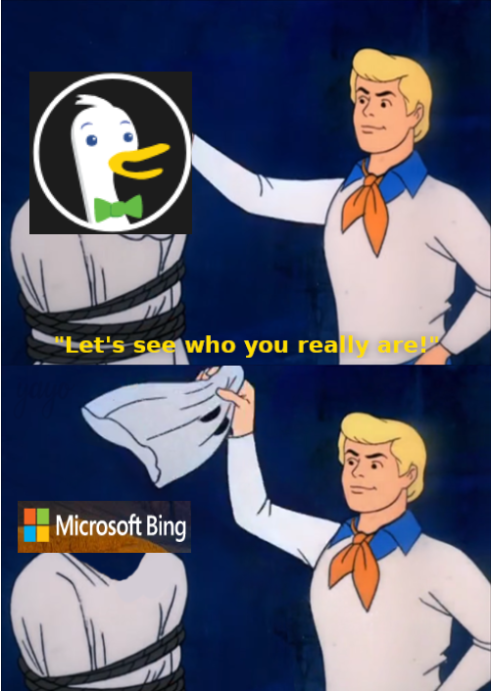 I've been writing lately about how DuckDuckGo is shady and their business is questionable.
It seems that some donations went the EFF's way and now they plan on killing off HTTP Everywhere permanently.
$25,000 a year buys them the Tor Project and $150,000 keeps the EFF in their back pocket. But where does the money for this come from, and what does DuckDuckGo get from it?
No company gives out millions of dollars a year and expects to get back nothing.
Is it just DuckDuckGo's own advertising paying for this?
DuckDuckGo pretends they're a startup, but that's not true. They admit that they have been profitable since 2014, have over 105 million searches a day sometimes, and are growing rapidly.
They're not small. They have very close ties with Microsoft, which also dumps money into these sorts of organizations in order to corrupt them and shield itself from criticism.
(Relatively speaking, the chump change that Microsoft pays off the "Linux Foundation" with corrupted and silenced that organization too.)
In fact, the number one factor in DuckDuckGo's search results is what Microsoft Bing returns to DuckDuckGo.
So I think it can fairly be said that DuckDuckGo is a way for Microsoft to gain market share with people for whom the Microsoft brand itself is toxic, due to their many decades of law breaking, bad software, spyware, advertising network, and corrupt business practices.
Microsoft itself tries to get away from its own brands too, but even though Edge is named differently than Internet Explorer, and uses a different rendering engine now, they haven't had much luck in getting people, on Windows, to use it.
This despite malware tactics to steal back default settings and scream at the user that Firefox and Chrome and the others "aren't safe" (Oh, but Edge is? Well, pardon the hell out of me!). Not that this has stopped their shills from recommending it to people on GNU/Linux, who actually have a choice about what's on their computers. (Hey, and it ain't gonna be Edge!)
Anyway, it seems the corruption (the intended effect of DuckDuckGo's money, which is potentially gleaned from *cough* some other source), is convincing the EFF to shut down its own security applications and pitch DuckDuckGo's products instead.
DuckDuckGo used to have an application for Android that merely let you search it from your Home screen.
Now, the only app they make for Android is an entire web browser, where DuckDuckGo is in a position to monitor everything you do in it. It's also not particularly convenient because there's no desktop version of it to sync with.
But just last year, it was caught tracking its users, and they had an explanation for the tracking when they got caught, like they always seem to. "Just a bug." Was it?
DuckDuckGo also has a Chrome and Firefox extension called "Privacy Essentials", and the EFF is also recommending users move from HTTPS Everywhere to DuckDuckGo's extension.
As HTTPS Everywhere goes into "maintenance mode", users will have the opportunity to move to DuckDuckGo's Privacy Essentials or use a browser that has HTTPS by default.

Electronic Frontier Foundation
But DuckDuckGo certainly isn't a charity. They want all of this software on your computers for a reason, and if that reason was only to bolster their search engine, they're already in every major web browser, and you can already use them for search that way.
They have other things to be gained from having more of a presence on your computer, or they wouldn't be writing this stuff in the first place.
It would be better to have nothing of the sort installed on your computer than to replace HTTPS Everywhere with a DuckDuckGo application.
As the corrupt EFF itself points out, Chromium is moving in the direction of HTTPS by default, and Firefox today has an HTTPS-Only Mode (you can make exceptions), without stuffing this ducking nonsense into your computer and letting their "Whoops it's another bug that lets us track you, but pay no attention to the man behind the curtain!" position keep coming up.
(Note: I had to pull that Reddit post about Gabriel Weinberg out of the Internet Archive because Reddit, a platform for censorship from "Conde Nasty", removed it. Reddit operates with bans and shadowbans and removes posts all the time.)
It's unlikely that DuckDuckGo keeps getting caught violating their own privacy policy (and these are just the times they get caught) and that it's "just bugs". At this point, it is more likely that their privacy policy is bullshit and a lie.
The EFF has gone from being a good cause to not being worth a bag of beans in the span of a few short years. █
Permalink
Send this to a friend