02.21.22
Gemini version available ♊︎
Video download link | md5sum 3737f94b862e49a2f50f445e9de32886
EPO Infrastructure Torn Apart
Creative Commons Attribution-No Derivative Works 4.0
Summary: Catastrophic situation at the EPO persists; somehow, incredibly enough, not a single publisher has written about this (we've checked English- and Dutch-speaking media using several search engines), so transparency is well overdue and today may be the perfect timing (the EPO's mainframe was removed this past weekend, resulting in anxiety)
THE 'supervisory' collective at the EPO has been asleep at the wheel while privacy was being violated. By the time they realised what was going on they had already decided to cover up the crisis (yet another "crisis" — a word that even they themselves used in the past) and then came a bunch of phony PR stunts to distract from these abuses and crises. That's the EPO in a nutshell. Cover-up has become the norm under Benoît Battistelli and António Campinos, his French compatriot who brought truly clueless people to manage the EPO, including the EPO's "IT" systems, in effect replacing examiners with "Google" and replacing actual IT systems (of the EPO) with "clown computing" hype and NSA surveillance/espionage, which translates into industrial espionage in the context of patent processing. They're outsourcing almost everything over time, but at what cost? At what cost to compliance?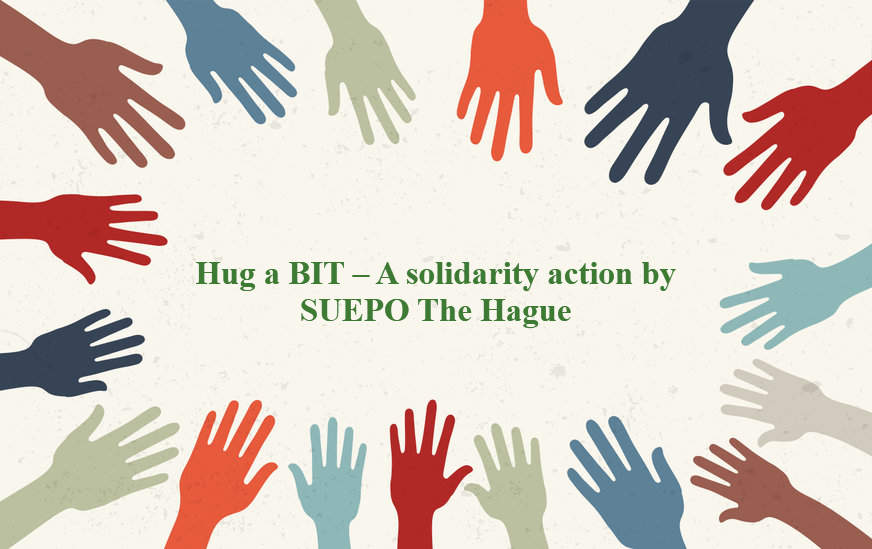 The people in the EPO's union (SUEPO) know "IT" far better than the people supposedly "managing" the EPO's systems and losing EPO data. They call for solidarity and sympathy for those who merely "follow orders" from the dictator (see the image on the right).
"Due to the mainframe decommissioning," SUEPO wrote the other day, "IT systems related to patent granting processes are likely to be either unavailable or unstable from the 18th to 25th February at least." So said staff representatives some days ago. That's affecting a lot of EPO workers. It is pretty bad so far this week and the long-term effect remains unknown. Tearing down or eliminations of things have historically resulted in damage [1, 2], as we saw in Battistelli's era (money down the drain; newer systems canned and nobody being held accountable for the graft).
Messages are already being sent to managers, bemoaning the latest change and its ramifications:
I could not perform my daily work [...] as usual, as I encountered severe issues trying to use needed data and working tools. This appears to be linked to the decommissioning of the mainframe, a project out of my influence and within the responsibility of higher management.

I hereby kindly request that those issues, such as the unavailability of needed data and working tools, to be fairly considered in my yearly performance.

I also inform you that trying to catch up is not an option, since it would go against the well-being, work-life balance, and non-discrimination principles the office is promoting.

Furthermore, I would like to draw your attention to the possible negative impact to my (mental) health that any pressure to compensate the lack of production and time lost due to the issues caused by the mainframe decommissioning may bring.

Kind regards,
Managers at the EPO probably received many messages such as these already. They've caused a great deal of stress to hard-working examiners.
10 months ago Thorsten Bausch (Hoffmann Eitle) said that the EPO's "PHOENIX Image Archive mainframe… apparently… "died"" (whatever that technically means, too vague). To quote: "My experience with such public consultations in the recent past has not been particularly encouraging. It seems to me that outside views are simply collected and then moved into a more or less inaccessible folder somewhere in the EPO's infamous "complex IT systems with its 'spaghetti structure'" consisting inter alia of an "outdated and unreliable data centre in The Hague" and a PHOENIX Image Archive mainframe that apparently recently "died". RIP. Perhaps you may think this must clearly be an exaggeration by this blogger…"
All this brought a funny reply back then:
This reminds me of something…

"But Mr Dent, the plans have been available in the local planning office for the last nine months."
"Oh yes, well as soon as I heard I went straight round to see them, yesterday afternoon. You hadn't exactly gone out of your way to call attention to them, had you? I mean, like actually telling anybody or anything."
"But the plans were on display …"
"On display? I eventually had to go down to the cellar to find them."
"That's the display department."
"With a flashlight."
"Ah, well the lights had probably gone."
"So had the stairs."
"But look, you found the notice didn't you?"
"Yes," said Arthur, "yes I did. It was on display in the bottom of a locked filing cabinet stuck in a disused lavatory with a sign on the door saying 'Beware of the Leopard'."
And another commenter said: "The odd thing is that they all come from the Iberian Peninsula or had relations with it. Whether the IT system should be on a cloud or in a mainframe is a managerial decision and a consultation is pointless. What the users inside and outside the EPO want, is a working system. This does not seem really guaranteed."
A Dutch person in our IRC network said that "apparently their mainframe died [and] it was so old that everyone who knew anything about it has retired [...] but whoever they bought or rented the mainframe from should have kept their systems up-to-date. IBM itself has been collapsing, though…"
"IBM only has $5B in revenue from mainframes anymore from what I read somewhere so how long are they going to keep the lights on?"
In the video above I discuss short publications from the union, SUEPO, which 15 days ago wrote:
6 February 2022
su22005hp

Keep calm! – A responsibility action by SUEPO TH

Dear SUEPO members, dear colleagues,

The mainframe will be decommissioned during the weekend of 19 and 20 February. This event will considerably impact the Patent Granting Procedure (PGP) and therefore staff has been informed beforehand on how to prepare for a possible bumpy start into the work week on 21 February.

Mainly DG1 colleagues will probably be affected in their daily work in case the decommissioning will not run smoothly.
Therefore, SUEPO recommends that you KEEP CALM! – The responsibility of the consequences of this project does not lie on your shoulders, but rather lies with upper management.

Consequently, in case you will encounter issues during your daily work, SUEPO advises you to inform your manager accordingly. Further, we advise you to keep a record of all "hickups" and their duration.

KEEP CALM! and remember with whom the responsibility lies!

SUEPO provides you with a template/ exemplary text that you can send to your manager.

Your SUEPO The Hague

SUEPO is here to listen to YOUR concerns – SUEPO is here to support YOU Please contact us at SUEPO The Hague
10 days later came this:
16 February 2022
su22004hp

Hug a BIT – A solidarity action by SUEPO The Hague

Solidarity and recognition message to colleagues working on the decommissioning of the mainframe

Dear SUEPO members, dear colleagues,

The mainframe will be decommissioned during the weekend of 19 and 20 February. This event will considerably impact the Patent Granting Procedure (PGP) and therefore staff has been informed beforehand on how to prepare for a possible bumpy start into the work week on 21 February.

Even though mainly DG1 colleagues will be affected in their daily work in case the decommissioning will not run smoothly, SUEPO would like to draw your attention to all the colleagues who since years are working hard on our tools to deliver the best possible outcome for the office.

Independently of the outcome of the mainframe decommissioning, all colleagues involved in this important project should have their efforts recognized.

SUEPO warmly thanks all colleagues involved in the decommissioning of the mainframe, especially colleagues in BIT who are doing a tremendous amount of work!

Your SUEPO The Hague

SUEPO is here to listen to YOUR concerns – SUEPO is here to support YOU Please contact us at SUEPO The Hague
So today is the first day of the post-mainframe chaos. We'd appreciate it if readers could let us know how that went and what exactly is going on. █
Permalink
Send this to a friend