GNU/Linux Distributions as "Appliances" and DRM Platforms (the Case of ChromeOS and SteamOS)
THE regular release cycle of new GNU/Linux (and BSD) distributions shows that user demand remains and maybe even be growing (despite mass adoption of "mobile"). Several decades ago Distrowatch kept track of hundreds of distributions, but many were just clones of something else with slightly different icon sets, wallpaper/s, default language and so on.
Those who say that "ChromeOS is [GNU/]Linux with Google's desktop environment" could also say that SteamOS is "Linux with Valve's DRM system" (and KDE on an Arch Linux "base"). As per some Steam statistics, Arch now makes up the majority of Steam users on GNU/Linux (almost 60%).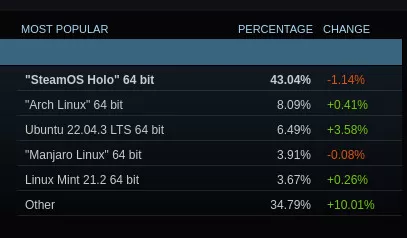 Remember what SteamOS and Manjaro are based on. Those above represents millions of GNU/Linux users.
The original data can be found in Steam Hardware & Software Survey: September 2023 (SteamPowered.com) and it suggests that GNU/Linux as an "appliance" (like handheld console) is still a growing phenomenon. Is this what we envisioned in the 1980s and 90s? █