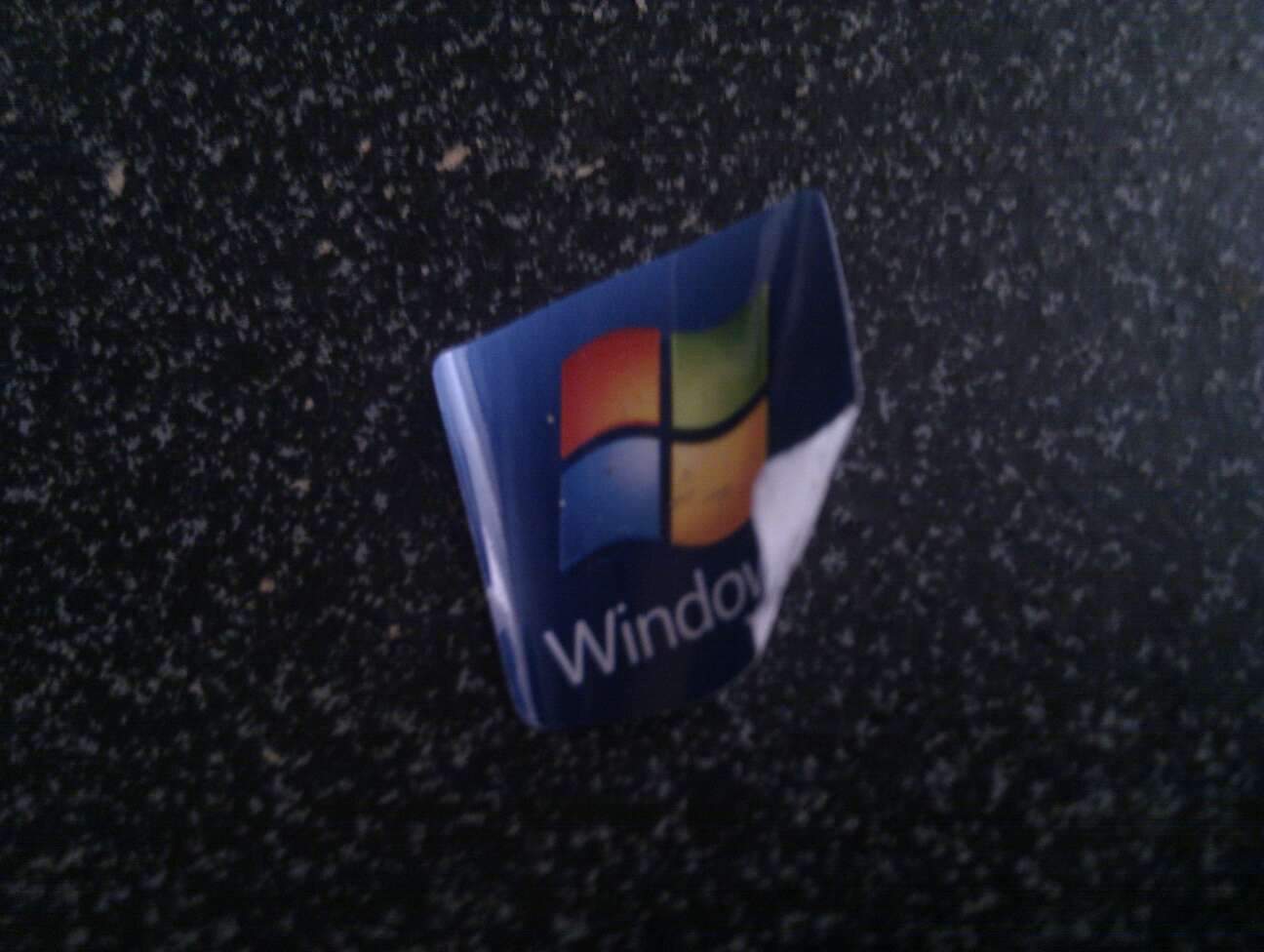 "The hardest thing about replacing Windows 7 with Linux is getting the damn sticker off," Tim wrote yesterday. (credit: OpenBytes)
Summary: Calling for everyone with an undesired Vista 7 [sic] licence to return it to the shop, claim a refund, and then post instructions for others to achieve the same thing
AN OLD talking point from Microsoft propagandists is that many people "choose" Windows and that Windows is "popular". The truth of the matter is that people choose a computer, they don't choose Windows (it just comes with it), so Windows is ubiquitous, not popular. To quote Intel exhibits, "There are simply too many folks at Intel who use/love the [Linux] stuff and want to improve it. We can *not* stop trying to win this project."
"The principal issue here is that Microsoft fights against choice and diversity."GNU/Linux is an exceptionally popular operating system. People who have actually used it for a considerable amount of time really like it. The same probably goes for Mac OS X, but that's another story. The principal issue here is that Microsoft fights against choice and diversity. It actively discriminates and it promotes monoculture. The OEMs are not the sole example (some would label them "accomplices"). Bear this in mind now that Microsoft exploits journalists who spread its "diversity" PR [1, 2, 3, 4], which is similar to "Imagine Cup" [1, 2, 3, 4] (Microsoft PR which is intended to make Microsoft look like a children's friend). To quote one new example:
Microsoft employees volunteer to work the camp, according to MaryLynn Hilton, account technology strategist. It's a fun three days for both employees and students, capped by a lively closing ceremony and goodie bags for the girls filled with Microsoft treats.
PR aside, Microsoft is one of the biggest offenders when it comes to diversity. See the
Polish incident
,
Microsoft homophobia
, and a variety of other recent examples. This leads us to
returning to the other day's discussion about Tim from Openbytes
. He is actively working to get a Vista 7 refund and he posts publicly about his progress. It's a tiring task. Here is
how the refund is coming along so far
. Microsoft and its partners give him a hard time, as expected. They don't honour the law and they tried to drive the caller/complainer into desperation (patience battles and expensive calls), at which points they can be left alone rather than open the floodgates to similar refund requestors in the UK.
My first port of call was Microsoft customer services for the UK. After one of the all too common automated lines, I discovered that on a Saturday I was not going to get any human customer service on this number (unless, apparently, I am a Onecare customer – presumably paying more money to Microsoft. What I did find amusing whilst looking for the customer services number was that Microsoft has a sponsored link that will answer your questions online. After getting no joy with the phone I was confident that my question could be answered quite simply, after all it was merely "How do I go about getting a refund on an unwanted Windows 7?". After entering the question I was told there were advisors waiting to answer my question….for a price. Typical. Whilst it was a 3rd party company offering this "service" I should have known – when it comes to Microsoft products, you can never spend enough money. [...] I won't delve into issues of Microsoft Tax. The subject has been covered enough. I feel rather resentful that I have to buy a product with no choice as to if Windows is pre-installed. If that in itself was not bad enough, the fact that it's not obvious on how you go about getting a refund. I wonder if Europe should have been looking into the OEM issue instead of messing around with browsers and ballot screens? Lets get our priorities right eh? I am unsure when/if I will get a refund, but I will continue this quest until I get an answer (and update in future articles). Should I be successful I will be donating the refund to the FSF and at least then it won't feel as if my great purchase has been slightly tainted by having to pay for unwanted Microsoft software.
One thing about the refund is, shovelware sometimes subsidises
Vista 7
, but it's a real nuisance. There is a true cost to shovelware and one blogger
calls for shovelware to be made illegal
right now:
There oughta be a law against shovelware on new PCs

It's been about three years since I've bought a pre-packaged PC. Normally, I build my own machines, switching out mobos, graphics cards, processors, and all the rest whenever I need. I also install my own clean OS, so what's running on any given machine is what I purposely put on the machine. But about every three years or so, it's time to buy a new laptop. In this case, I'm doing coding, and the laptop I bought three years ago won't accept any more RAM and I need a LOT more RAM (I'm running a bunch of simultaneous VMs, different browsers, local servers, IDEs, etc., and that all eats RAM like a stoner eats Cheetos). My current laptop is also making some bad fan clacking noises that imply something's about to break real-soon-now. So I bought and took delivery of a machine that can handle up to 16GB of RAM (yep, cool, eh?). The thing is, this is a pre-packaged machine — you know, the way the typical consumer gets his computer. After waiting forever for the new laptop to boot up for the first time, I finally had a desktop, a desktop filled with icons. Shovelware.
Without shovelware, Microsoft would quickly become irrelevant because GNU/Linux as a preinstalled option would be highly appealing. Microsoft too has its share of shovelware, such as Internet Explorer which it puts on all new PCs (that run Windows). "Microsoft is running a monopoly and abusing customers," says
this new article
.
For the last twelve years Microsoft has been running a monopoly and abusing customers. In their MSN email accounts they ask customers to verify their accounts by giving a mobile phone number even though some customers don't have a mobile phone. This is discrimination and a violation of freedom of speech against account holders and the monopoly they hold is responsible because when they don't have to compete they become abusive. [...] Microsoft lied by stating that the merging of Microsoft Windows and Internet Explorer was the result of innovation and competition. The prosecution should have expanded their case into other areas of Microsoft and they should have documented abuses against customers.
The European Commission has attempted to address Web browser bundling, but
why not operating system bundling
? If you paid for a Vista 7 licence that is not being used, do try to get a refund and make a fuss about it in public. People should be given that option, but precedence is needed to make that fast and simple for others to replicate by citing prior incidents.
⬆