Summary: GNU/Linux market share on the desktop approaching 5% in W3Schools.com
ACCORDING TO W3Schools.com [via Pogson], "GNU/Linux [desktop] rose from 4.2% to 4.9%, up 17% year over year" (these numbers are not precise, but any numbers derived from particular geographies will have biases).
Do not pay attention to the
Microsoft-funded Net Applications
. There's a lot of new propaganda derived from their numbers. They admit that their figures are bogus (mostly US-oriented), but it doesn't stop them from posting these over and over again, selling the illusion that GNU/Linux is a sub-percent operating system. Even Microsoft's CEO positions GNU/Linux higher than Mac OS X on the desktop: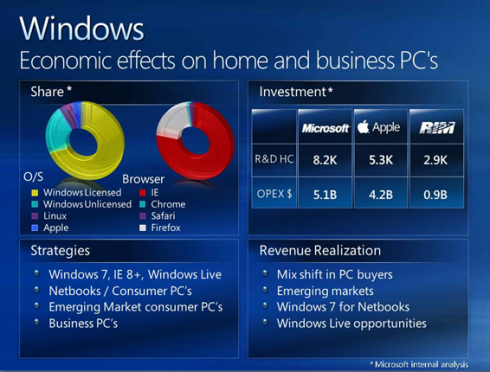 Steve Ballmer's presentation slide
from 2009 shows GNU/Linux as bigger than Apple on the desktop
Watch how Microsoft boosters try to insult those who deviate from the Big Lie, which they repeat over and over again, equipped and supported by some of the latest Microsoft-sponsored material. Pogson is one of the few bloggers who stubbornly fight against those lies, rather than take a passive approach.
Over the past few months we have noticed Pogson's blog coming under a great deal of trolling from Microsoft boosters/agents whose nicknames we recognise from other places that they sabotage. They attack people's character rather than the message a lot of the time, so watch out for that. When Microsoft employees were trolling
Techrights
the
same tactics were used
. We were left alone after we had filed complaints to the FTC about Microsoft AstroTurfers who admitted being paid by Microsoft.
Substituting some of the "M$" (it gives ammunition to trolls) in Pogson's
latest post
we have:
A stock analyst has written a good piece about the economic/market forces keeping Microsoft afloat.

e.g.

* When desktop PCs dominated, Microsoft had a virtual competitor in small businesses and individuals building their own PCs from parts and installing illegal copies of Microsoft's stuff. Now that notebooks dominate that is more difficult. There are still relatively few notebooks produced without that other OS, mostly netbooks. Except for the netbook this is a big up-side for Microsoft.

* That other OS is tricky to move from one PC to another so large deployments keep a few prototypes and do disc copying to install/update/repair systems. GNU/Linux loves to run on anything so this is a huge threat to Microsoft.

* The virtual machine makes it much easier to run other OS with the stability/reliability of MacOS on Apple and the low cost of GNU/Linux.

* GNU/Linux is more than ready for the desktop.
For those who are not reading Pogson's blog yet, consider it a place that does not drink Kool-Aid. It could use some help against the trolls.
⬆