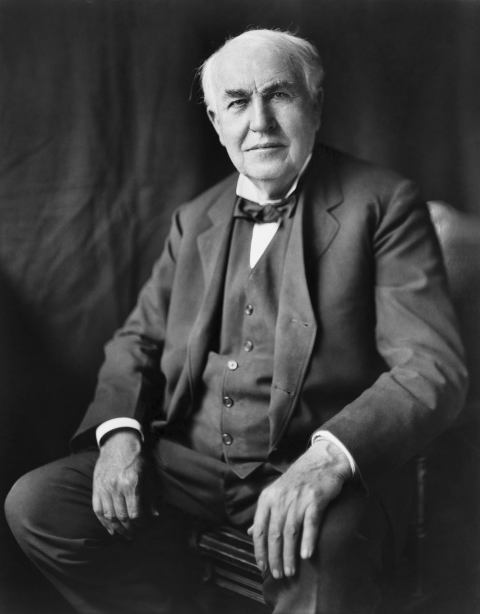 Summary: A look back at very abusive behaviour from a patent office icon; new critique of the patent process
WHEN most people hear the name Thomas Edison they think of a great scientist and inventor, not a ruthless businessman. Edison was somewhat of a raider, who became legendary for the number of patents he had amassed. Just how inventive was he really? Well, actually, he had the habit of taking other people's ideas and claiming credit/monopoly for them after slight modifications. Edison essentially hacked the patent office, just like some of today's patent trolls. This is a subject which we alluded to before [1, 2].
Edison probably deserves to be remembered as a shrewd businessman (like Bill Gates and
his publicity/taxation tricks
), not an icon of scientific ingenuity.
Ars Technica
has
this new article about Edison
and it's far from flattering.
Thomas Edison's plot to hijack the movie industry



[...]

But what ultimately did the Edison monopoly in was the assumption that its legal/technological dominance over the trade, and its moral stance, would trump the public's demand for ever more creative motion pictures. Unlike the independents, the MPCC system did not invest in its network. Consumers would simply have to watch Edison Trust fare, the monopoly's principals figured.

[...]

Thus the Edison Trust was sunk, even before a federal court agreed with prosecutors that the Patents Company and General Film had broken every antitrust principle in the book, "terrorizing exchanges and exhibitors" and driving away competitors by "arbitrary, oppressive, and high-handed methods."

The sage took his defeat like a good sport. He was, after all, still America's beloved inventor. At the end of the conflict, Edison dropped by to dedicate Universal's new all-electric movie studio, now located in a pleasant southern California town called Hollywood.

Take heed, tech giants of today. Some of your companies or services aren't much older than the Edison Trust was when it collapsed. How much of your current business strategy is based on offering new and original products, and how much of it is based on laws, courts, and the fact that you got there first?

"Show me a thoroughly satisfied man and I will show you a failure," Thomas Edison once warned. He ought to know.
Slashdot
has this new entry right now -- one that's titled "
A New Species of Patent Troll
" even though it covers
a differently titled piece
on a disturbing drama around patents and marking.
Patents have a life span of 17 or 20 years. To keep them valid, companies must pay maintenance fees every four years. Once they expire, the holder is expected to remove the numbers from products.
Why go through all this trouble? Is there truly an economic benefit to society
as a whole
? Similar questions ought to be asked about CIIs/software patents, which increasingly bring Edison-like abusers to the field of programming. The problem is, the lobbyists from the United States try to expand these to Europe, triggering reactions of many who saw and learned from the errors of the USPTO. Just days ago the president of the FFII spotted some
nice short propaganda
containing the word "technical" 45 times at a high level of density, e.g.:
However, it is often difficult to separate a claim into technical and non-technical features, and an invention may have technical aspects which are hidden in a largely non-technical context
"Technical" is one of those words that are used excessively by lawyers (another one is "invention") to justify their paperwork and outrageous fees that they extract from work of actual creators.
⬆