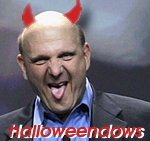 Summary: Steve Ballmer's dumping of many shares of the company he runs has raised many questions, including his abuse of the system with a lot of lobbying money
A YEAR ago, a Microsoft shareholder likened Steve Ballmer and Bill Gates to Bernard Madoff. He gave an interview to IDG. Now that Microsoft's CEO is selling billions in shares, people start talking about his future in the company (or the future of the company in general). Corporate press like Associated Press says nothing critical and Microsoft-sponsored sites like this one say that Ballmer has just contributed a huge sum of money to lobbying against tax for the rich (I-1098):
The stakes are getting higher in the battle over a proposed tax on high-income individuals and families in Washington state, and it turns out Steve Ballmer really doesn't want Initiative 1098 to pass. A new public disclosure statement (PDF) from the campaign to defeat the proposed income tax shows the Microsoft CEO contributing another $325,000 to the cause, bringing his total to $425,000.
What this Microsoft boosters' site will not tell readers is that Gates found a loophole and therefore does not pay tax while he
takes over more industries
and creates new monopolies. Instead, this silly site gives a platform to the Gates family (the senior one for example) and pretends it wants rich people to be taxed. This type of damaging spin oughtn't be forgiven for because it hurts the same citizens the site claims to be informing. A few weeks ago there was similar spin aided by Pelosi's Microsoft visit, which this site covered poorly. Microsoft is working against the US public, contrary to Pelosi's claims, and the explanation can be found
here
. Anyway, in another post from the same site they announce that
"I-1098 goes down in flames"
, having previously used it to unjustly praise the Gates family (which is exempted from tax).
Washington voters have decided that they don't want to tax the rich in order to raise funds for education. Initiative 1098, which would have imposed a state income tax on individuals making more than $200,000, was defeated Tuesday night, according to early returns from the Washington State Secretary of State's office.
Somebody a little sharper has submitted a summary to Slashdot in which s/he puts together the pieces and explains that when Ballmer sells his shares he profits a lot from all the lobbying (legalised bribery) he has just done to distort public policy.
"Income Tax Quashed, Ballmer To Cash In Billions"
says the headline:
Just three days after the measure went down in flames, Ballmer said in a statement that he plans to sell up to 75 million of his Microsoft shares by the end of the year to 'gain financial diversification and to assist in tax planning.' Based on Friday's closing price of $26.85, the 75M shares would be valued at approximately $2 billion. All of which might make a cynic question what was really important to Microsoft — public education, or a $2B state income tax-free payday for its CEO?
As a reminder,
Steve Ballmer and his wife Connie also paid $100,000 to Obama
(personal payments, not corporate payments). How many citizens of the United States can afford to do this type of stuff? This is not democratic.
Microsoft's booster Eric Savitz
shows that Gates too continues to sell his Microsoft shares
:
Microsoft (MSFT) CEO Steve Ballmer disclosed in an SEC filing Friday that he sold $1.34 billion worth of stock on November 3-5, at prices ranging from $26.74 to $27.18 a share. After the sales, which included 49.3 million shares, Ballmer continues to hold 358.9 million shares.
"Microsoft is like Enron in 2001," says
gnufreex
about this news. It was only about a week ago that
we mentioned a site saying
: "Enron was a cash maven too, till nearly the very end" and Microsoft's "moves are not a marker of a company with coffers full of cash." As a reminder,
Microsoft has growing debt
and just because rich people came out of Microsoft does not mean much for the company's own situation. "Ballmer's Worth Billions, and he's Cashing in his Stock"
reports
Maximum PC
:
Steve Ballmer might look like Joe Everyman on the outside, but under that sweat stained exterior is a billionaire in disguise, and according to Reuters he's cashing out. The CEO has apparently confirmed reports that he has sold 49.3 million shares of Microsoft stock worth an estimated $1.3 billion, a move that some feel might be motivated by the end of Bush-era tax cuts on capital gains.
One must not forget the Bush-era Microsoft pardon. The company was supposed to be forcibly split about a decade ago, after it had committed serious offences against many companies and thus harmed progress.
⬆
"Microsoft looks at new ideas, they don't evaluate whether the idea will move the industry forward, they ask, 'how will it help us sell more copies of Windows?'"
--Bill Gates, The Seattle Weekly, (April 30, 1998)