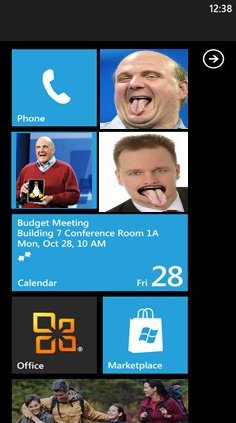 Summary: The Microsoft lobby carries on accompanying another extortion deal while Google is being portrayed as the malicious party
The Microsoft Agenda Machine which we consistently refer to as "Microsoft Florian" will keep mass-mailing journalists as part of those campaigns Florian Müller has been doing for years at the behest of clients. A lot of people know too well what he is up to and just looking at the past few hours alone we find this lobbyist, Microsoft Florian, chatting with Microsoft MVPs [1, 2] about those who "completely disregard others' IP". Yes, they are trying to paint Android as disrespectful of the law and borderline illegal, as we explained before. Suddenly it's Google -- not the racketeer (Microsoft) -- that's being portrayed as the bad guy. Only in Microsoft MVP land...
Moreover, just some hours ago Florian was linking to more Lodsys patent lawsuits against Android developers (and he advised developers to just pay the patent troll for this software patent
from Microsoft's former CTO
). When he is not boosting patent lawyers, as he regularly does (even hours ago, e.g. [
1
,
2
]), Florian is ducking questions about his current client. I exchanged about 50 tweets with him yesterday and he stubbornly avoided the simple question, as
he did a year ago too
.
"You're never a critic of false patents, praise these actions and other lobbyists, and refuse to disclosure your boss."
--Rui SeabraRui Seabra writes to Florian, "well, I see you still cheer for software patents."

Also he adds: "You're never a critic of false patents (#swpat), praise these actions and other lobbyists, and refuse to disclosure your boss."

Florian does not disclose his boss and his spin is not fooling anyone of relevance as he religiously avoids the question about Microsoft funding (he could just say "no" if it was the true answer). Instead, he is scaring Cisco (which makes Android tablets) by promoting the Microsoft patent deals as though they have merit [1, 2, 3, 4] (no patents disclosed). As we explained in this updated post, Microsoft signed a third deal with an obscure company that uses Android (hardly even known for its use of Android) because those companies have no reason whatsoever to take the dispute to court. Microsoft is like a patent troll hacking the legal system to get away with racketeering while Florian the spinner is mixing the patent lawsuits against Google with antitrust and many other Google-hostile articles, showing quite clearly the general bias. That's just what the lobbyist did in a few hours. Multiply this and extrapolate to days and weeks. Money well spent on lobbying? He wants people to think that Google -- not Microsoft -- is the "bad guy" here. Amazing. Only lobbyists (with paychecks) can get away with such dishonesty and sleep well at night. Meanwhile there is this satirical new article titled "Microsoft Stops Windows Phone Development, Launches Android Patent Troll Suite":


"I never understood Google's OS strategy," Ballmer laughed. "They are so confused. What's the point of Google ChromeOS when you have Android? They just don't know the game." They have been investing so much in their Android and don't even make a dime from it. That's not how businesses work. You have to answer to your investor. Those are the ones who take care of your company and not developers or users."

"While Google is wasting money on developing Android, we are monetizing on it. We make $5 every time an Android phone is sold. We are going after all Android companies, we have the legal force and money to scare the shit out of them. Imagine every Android company paying us $5 per unit! We can't even charge that much from a Windows Phone license," said Ballmer.

"Today we are launching this Microsoft Patent Troll Suite 1.0 (MPTS) and it is available to all Microsoft partners. The suite allows you to sniff all Android players and then work with our legal team to go after such companies,"

"We expect to make around $2 billion in revenues this year from Android alone," concluded Ballmer.
People who work for Microsoft should see this and recognise what has become of their employer. All it does is sue and lobby, in order to make money out of other people's products. It's a lot worse than the MPAA/RIAA.
⬆