Confirmed: Ben Edelman Paid by Microsoft, Attacks Google
Dr. Roy Schestowitz

2011-08-30 11:57:29 UTC
Modified: 2012-03-04 14:22:26 UTC
Academia-flavoured AstroTurf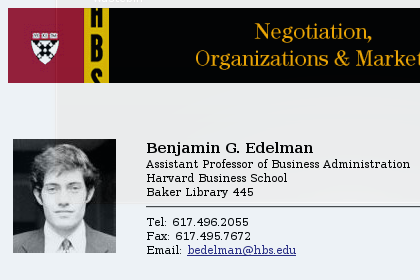 Summary: "I've worked with Microsoft on these kinds of matters," writes Ben Edelman, whose poison pen has one main target: Google
IT IS NOT just a theory that Microsoft hires AstroTurf professionals to attack Google. It is a well-confirmed truth and while more evidence remains to be found about the Edelman-connected Consumer Watchdog, we already know about LawMedia Group and Burson-Marsteller [1, 2, 3]. It has been proven many times before that Microsoft pays for people to smear Google and give the company antitrust trouble. See the older post "Attempt to Involve Me in Anti-Google 'Astroturf Lies' PR Campaign", it is not an isolated incident. So when Ben Edelman started attacking Google we wrote about it [EN | ES]; as we know from experience/history that companies or individuals attacking Microsoft rivals is often a sign that they are in Microsoft's pocket.
Well, based on the finding of our editorial team (from last night), Ben Edelman has just admitted being on Microsoft's payroll. He
wrote
:
Much of my work for Microsoft does indeed speak to advertising fraud. Microsoft must make sure Bing doesn't show ads for scams, that fraudsters don't use the Microsoft DRIVEpm ad network, that Windows Defender properly detects spyware/adware, etc. I've worked with Microsoft on these kinds of matters.
The headline he chose says "DOJ pharmacy investigation undermines Google credibility"; well, guess who else has just lost credibility? A self-potraying "academic" who works for Microsoft and attacks Google in the press. The best AstroTurf money can buy, eh? Over the years we have covered many examples where Microsoft hired acaemics to compose a bunch of spin, lies, and ammunition for lobbying. The
Gates Foundation
does the same thing.
⬆