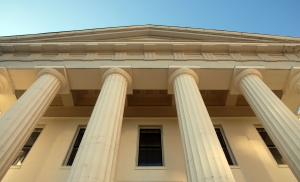 Summary: Apple benefits from ignorance of judges, to whom Apple's fabricated evidence seems compelling
JUDGE Koh is the latest thing for Apple to latch onto. As Pamela Jones put it, politely, "I think the judge may have been mistaken about what has to be on that phone's home page, or she just has negative ideas about Samsung. Or maybe everyone is feeling too much stress. I have three photographs to show you from doing a simple search on the Web, three of that very phone with no Google Search box and one with it. Apparently it varies. Nobody is doctoring anything. It's just a lack of tech fu in this picture."
What Apple is trying to do is essentially embargo Android/Linux, whereas
Microsoft signs extortion deals
like this latest one
by threatening litigation.
The Microsoft booster, just like
sneaky lobbyist
,
bolsters Apple's case against Android
because they both just cannot stand Linux/Android (Apple
loses its grip
). Apple and Microsoft are in the same camp when it comes to patents as
this new article
about
Kodak
shows. To quote: "In the auction, Apple has teamed up with Microsoft Corp. and patent aggregation firm Intellectual Ventures Management LLC" ("'patent aggregation' is a new euphemism for trolling,"
iophk
notes). We'll write about
Intellectual Ventures
in the next post. Bill Gates is involved in this too.
"Apple and Microsoft are in the same camp when it comes to patents..."Speaking of the lobbyist, here is what Google's Bray had to say about him: "There's this blog called FOSS PATENTS written by a Florian Mueller, and when a software-patent-related issue heats up, reporters often seek out his comments for their stories. I'm not sure this is a good idea, and I'd like to offer some evidence; articles he wrote on a currently-hot story back in October 2010 and November 2010. This is a small but representative sample of his (many) offerings on the subject.

"I'm not mad at Florian, who has every right to publish his opinions. I am a little irritated with the media for passing on those opinions so uncritically, and think the time for that has passed."

Apple presents fake evidence, whereas Microsoft presents none. As this report helps remind us, Apple is still manipulating and tampering with evidence. To quote: "Is Apple too fond of Photoshop? The company was accused of manipulating Galaxy Tab images in its German trial, and now once again the same issue has popped up in its legal battle with Samsung in the US.

""Samsung accused Apple of tampering with the icon layout of one of its phones to look more like the iPhone," reports The Verge. Apple presented an image of Epic Touch 4G which shows the icon layout to be similar to that of the iPhone. Samsung objected that the image doesn't represent the 'out-of-the-box' state of the phone. The company presented it's own photo of the phone which clearly demonstrated a completely different layout.

"The Judge Koh did not like that objection and instead asked the legitimation of Samsung's image. She raised questions like: "Why does your homescreen not show the Google search box when you're telling me the phone has the Google search box." She also pointed that while Samsung said the image was taken yesterday the screenshot shows a different date. She then overruled Samsung's objection."


"Apple presents fake evidence, whereas Microsoft presents none."So Koh should really just penalise Apple for contempt of the courtroom. Apple likes to pretend to be the victim, but Apple is simply the aggressor. Based on some reports, with more ridiculous patents (and perhaps Kodak's in the pipeline), Apple also wants an Android tax. As Jan Wildeboer explains, Apple wants to use the courts to tax and profit from Android. To quote: "So we know that Microsoft wants a $12-15 patent tax on Android devices and now we learn that Apple would like to have $30 per phone and $40 per tablet for some of its patents. Thus even the cheapest smartphone must make enough revenue to pay the $45 for the MSFT and Apple patents. This is ridiculous. And at the same time Apple and Microsoft do the sweet talk on FRAND licensing? Fair, Reasonable and Non-Discriminatory? Do they ever look in the mirror? Must stay calm. Want to smash some stuff. Very angry I am. ;-)" ⬆