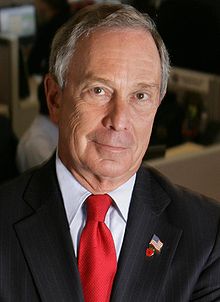 Net worth of $27 billion
Summary: 'Intellectual property' boosters like Bloomberg and proponents of the notion of "bad software patents" (implying some are "good") may still be rewriting the record while patents continue to limit competition, the real driver of innovation
The recent GAO study showed that Obama's patent reform is rather misguided. Bloomberg's press apparatus continues to misrepresent it. GAO speaks of "Software Patents", not "Questionable Software Patents" (which can mean a subset of them) and this is something that we see a lot of when it comes to sites that favour software patents. Here is how it's put in this case:
Questionable Software Patents Lead to More Lawsuits: GAO



Software patents are the biggest reason behind a rise in litigation over inventions, especially against companies that use the technology, the U.S. Government Accountability Office found.
So why the headline? It's clearly software patents that were blamed, so why rephrase it? Why not preserve the original message? Other lawyers too tried to paint the culprit as "bad patents", as we showed the other day. It is unlikely to be a coincidence, as some are funded by investors of trolls like
Vringo
.
Here is another new article from lawyers-friendy press. Citing an old ruling from
CAFC
, it once again tries to dismiss interpretations that said many software patents had died. The headline said that the
Federal court is 'foggy' on patent software issues
, even though -- as we showed at the time -- this is not quite the case. Patent lawyers' sites tried to control -- and successfully did so -- the corporate press. They made it seem like consensus said nothing had changed, even though a precedent was made that can invalidate hundreds of thousands of software patents, including
some of the latest spooky ideas from Google
(tracking users for 'security').
It is being noted right now that it is
becoming hard to enter the market
because of abundance of patents. As
Against Monopoly
put it:
The other day, the New York Times published instructions for aspiring inventors on how to take their inventions through the patent granting process and on to the retailers' shelves link here. The examples are a couple of aspiring inventors and describes the pitfalls, the costs, and a rough estimate of the likelihood of success.
Patent laws in the US -- like its Draconian copyright laws (see new example below) -- are certainly not helping the US economy. But it helps the ecosystem of lawyers, that's for sure. The problem is that they control the press on these matters and distort public opinion.
It is not unusual for patent law to be misrepresented by opportunists, exploiting ambiguity such as the phrase "as such" (in New Zealand and Europe) to make software patents possible while officially denying that's the case. Right now in India we see that happening, as a room for misinterpretation is left to legitimise
software patents in India
. Murdoch's press
makes it look like software patents are now possible in India
. To quote a new WSJ report (another billionaire's press):
Could the simple Latin phrase, per se, which translates as "in itself", lead to confusion in verifying whether a computer-related invention deserves a patent or not? Some members of the $108 billion Indian information technology industry, intellectual property (IP) law firms and anti-patent lobby groups say it can.

The inclusion of some terms that are not defined by local laws in the government's draft guidelines on patents for computer-related inventions (CRIs) leaves room for ambiguity and misinterpretation when examiners grant or reject such a patent, they say. The guidelines were released in early August.

The terms include 'per se', algorithm, hardware, firmware —and CRI itself.

CRI "has not been defined in any of the Indian statutes and is construed to mean, for the purpose of these guidelines, any invention which involves the use of computers, computer networks or other programmable apparatus and includes such inventions, one or more features of which are realized wholly or partially by means of a computer programme/programmes", the Indian Patent Office (IPO) acknowledged in the draft guidelines, and called for feedback from industry stakeholders by 8 August.
Actually, India has been very clear on this subject. Software patents are not allowed.
⬆
Related/contextual items from the news
:




If you read Techdirt, you're almost certainly familiar with Larry Lessig, the law professor at Harvard who (among many other things) has been an avid advocate for copyright reform and campaign finance reform, an author of many books about copyright and creativity, a well-known public speaker whose presentations are stunningly compelling, entertaining and informative, and the founder of some important organizations including Creative Commons. Of course, as an expert on copyright and creativity, and someone who's actually been involved in some of the key copyright legal fights over the past decade (tragically, on the losing side), you might think that a record label would think twice before issuing a clearly bogus threat to sue him over copyright infringement. Well, apparently Liberation Music was either unaware of Lessig's reputation and knowledge, or just didn't care.