Tim Berners-Lee is Wrong, DRM in HTML is a Very Big Deal
Dr. Roy Schestowitz

2013-10-14 14:29:45 UTC
Modified: 2013-10-14 14:29:45 UTC
Time to fork HTML?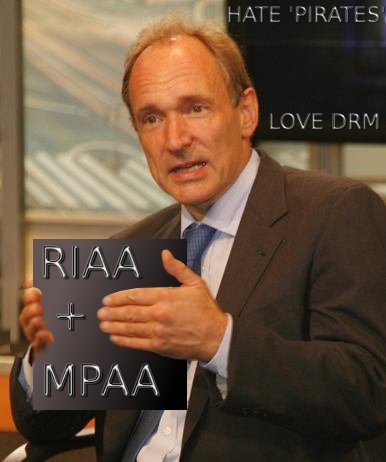 Source: Original from John S. and James L. Knight Foundation, modified by Techrights
Summary: The Web's founder, Tim Berners-Lee, now actively defends the copyright cartel, only to find loud opposition even from his biggest and more prominent fans
Tim Berners-Lee is quickly losing credibility and he has nobody else to blame. He actively echoes Hollywood talking points or at least Hollywood's apologists, to whom a copyright monopoly or cartel is perfectly acceptable if not essential.
"It's that time of the year again," writes
iopkh
." Time to remind the media that there are no such things as Nobel prizes in astrology, professional wrestling or economics." Here is
Cory Doctorow speaking out his mind again
, urging
Mozilla to tackle DRM like it already tackles Flash
, namely:
Mozilla's Shumway project, an attempt to create a replacement Flash plug-in that uses HTML5, might ever so slightly placate those barracking for the latter. Previously Shumway has only been available as a separate extension, but it recently made its way into Firefox's nightly builds, hinting at the prospect of mainline inclusion somewhere down the line.
Glyn Moody, a vocal fan of Tim Berners-Lee, has become
quite a notable opposer of his stance of DRM in HTML5
. He raises some very good points:
Tim Berners-Lee on Why HTML5 "Needs" DRM



[...]

That's an extremely odd comment, since it divides up the online world up into active creators and passive consumers. That's precisely the framing that the copyright industry adopts in an attempt to minimise the rights of Internet users, and to belittle their role.

[...]

Putting users first is great, but this sets up a false dichotomy between those who "like to watch big-budget movies at home" and those who want an open Web, as if the former must lose if the latter win. But it's ridiculous to suggest that companies like Netflix will stop streaming video over the Internet if the Web does not include DRM. It may do it with proprietary Web plugins, or it might even insist that people use standalone code, but that's not a problem - it is exactly how it's been done in the past.

Moreover, the open Web will exist and thrive even if some people choose to use proprietary code, just as open source thrives despite the existence of some closed-source applications. The only people who might conceivably lose out if DRM isn't included in HTML is the W3C, who won't be able to control exactly how those non-Web parts operate. But that's true now, anyway, and I can't believe that the W3C is so power crazed that it wants to sacrifice the open Web solely to extend its empire a little further.
The longer this goes on for, the worse Tim Berners-Lee's reputation will get. He hopefully understands this by now. The NSA already threatens forking of the Web. Tim Berners-Lee might do the same with his stance. If not a fork, then an alternative might be put forth. There were several Web-like prototypes preceding Tim Berners-Lee's. Although some were better, they never quite caught on. Tim Berners-Lee and the W3C may feel like they have no competition, so they think that they can get away with DRM.
⬆