Battistelli is the EPO's own Recep Tayyip ErdoÄŸan, exploiting emergencies for further crackdowns against 'his' people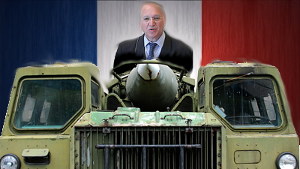 Summary: The EPO expresses solidarity regarding (mostly) French people but does so only in English as the real purpose is to manipulate the media and justify the EPO's sheer abuses and unprecedented oppression against staff


It sometimes feels as though amid EPO crises Benoît Battistelli awaits external crises like terror attacks. This has become a hallmark of Battistelli. He breaks his own rules, he breaks laws, and the only justification he brings up is that there's a major crisis which makes it necessary. He is like ErdoÄŸan, who now tries to bring back the death penalty (following a failed coup attempt). At the EPO Mr. Battistelli needs a perception of terror (other than his own) to help justify millions of Euros (per term) spent on personal bodyguards. How much more inane can it get?
We keep seeing scorn regarding this
claim that
the "EPO believes in an open and inclusive society based on fundamental principles of freedom, equality and justice," based on its own
crazy statement, signed by Benoît Battistelli
the day after the attack in Nice. "If EPO believes so much in "equality" principle, maybe it should not discriminate people who do not speak FR/NL/DE,"
Benjamin Henrion wrote about it
and
another person
remarked about inclusivity by stating: "Statement not available in French. Shame. And somehow strange."
"Battistelli is delusional, paranoid, abusive, arrogant, monomaniacal, high-tempered, clueless, thuggish, and a chronic liar."Well, that statement wasn't for the victims or for the French people. It was for the media (published under "news"). Battistelli likes to pretend to be a victim, so he exploits every terror attack and makes it seem like he's the savior. It's a cheap political stunt (attempt at unification at times of crisis and fear) and since Battistelli is inherently a politician (he doesn't grok technical things) this kind of tasteless exploitation must come naturally to him. Battistelli is delusional, paranoid, abusive, arrogant, monomaniacal, high-tempered, clueless, thuggish, and a chronic liar. A little more of these things can't do much more harm than his reputation (of which he has none, he has 0% approval rating among staff). This latest statement of his already got the attention of some at IP Kat, who also mock it. ⬆