Breaking what's clearly not broken to build something new which doesn't work for anything or anyone but billionaires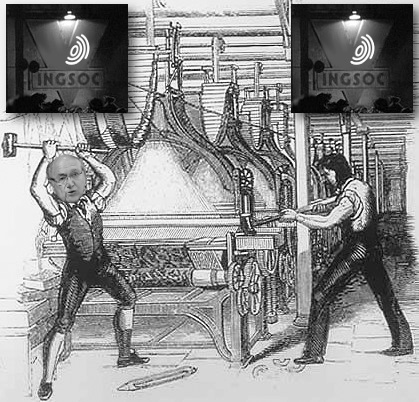 When all else fails Battistelli characteristically uses a hammer
Summary: The latest overt pushes for the Unitary Patent, courtesy of biased (self-serving) media and the EPO's Michael Fröhlich, who joins Margot Fröhlinger with her Unified Patent Court (UPC) advocacy that conveniently waves off Brexit
THIS new article from Managing IP (MIP), a proponent of the UPC, is very optimistic about the UPC. It's hardly surprising given the site's track record. Even though recruitment of UPC judges has been called off the site speaks of the UPC as though it's some unstoppable gravy train which is also desirable. It's neither; the public does not want it (at least the few who understand what it does) and it seems to have been derailed -- quite fatally in fact -- following Britain's vote for Brexit.
"How can a continent with so many languages get along with the UPC? And now that the only large English-speaking member state may be out, why even have hearings and patents in English?""UK Prime Minister Theresa May rules out influence of the CJEU and authority of EU law in a post-Brexit Britain," MIP wrote, but "Labour party MPs demand answers from government regarding UK participation in the UPC and EPO" (we rebutted this spin before). MIP says "five more EU member states including Italy and Slovenia [are] expected to ratify the UPC Agreement early next year," but without Britain and especially with lingering uncertainty about its status in the EU the UPC won't get anywhere any time soon. Its death might not be "official" for several years to come, but it's not too hard to see where this is going. How can a continent with so many languages get along with the UPC? And now that the only large English-speaking member state may be out, why even have hearings and patents in English? How would Spain feel about it? Battistelli may think (as he's a clueless nontechnical thug) that patent examination and accurate translations can be attained using algorithms, but he's wrong beyond words. Fools who think that automated translations are an excuse that can make patents go global (applicable everywhere) would have us believe that even patents in Mandarin (new MIP article about notoriously crappy patents from SIPO) would be legible in Latin/Greek-derived languages. At this stage we're actually entering the twilight zone, wherein totally idiotic people like Battistelli make big decisions that can undermine the whole of Europe. According to another new article from MIP and from IP watch [1, 2], there is a new AIPLA President and he is one who used to be involved in software patents and ITC cases (embargo at the behest of large corporations). WIPR, in the mean time, writes about AIPLA 2016 and quotes the EPO's Michael Fröhlich (another Battistelli and UPC "yes man", not to be confused with Margot Fröhlinger [1, 2, 3, 4]) who will say just about anything -- even lie -- in an effort to make the UPC seem inevitable. From the report:


The Unified Patent Court (UPC) and unitary patent will become a reality, with or without the UK, according to a senior official at the European Patent Office (EPO).

Michael Fröhlich, director of international legal affairs at the EPO, was speaking in a personal capacity at the American Intellectual Property Law Association's (AIPLA) 2016 Annual Meeting in Washington, DC.

He said: "The issue of the Brexit vote is the last hurdle in what has been a hurdle chase since the beginning. There have been hurdles that have been higher than what Brexit has posed … and this last one will be taken successfully."

Slovenia is about to become the 12th country to ratify the UPC Agreement in the coming days, with Italy expected to become the 13th, according to Fröhlich, speaking on Friday, October 28.

He added that Germany plans to finish the parliamentary ratification process by the end of year.
They have been saying this for a long time, yet it never actually happened. Last year Battistelli said that UPC would happen this year and it's already near December/Christmas. Progress made? Nothing. Even worse -- the UPC has gone backwards/in reverse, owing primarily to the UK. Always remember that the EPO's management is now living in (and accepting) Battistelli's fantasy land. The man is deluded, maybe clinically damaged. He will say anything to get his way,
even breaking his very own rules
, then look for scapegoats (especially when he does not get his way). Recall what
he's rumoured to have attempted to do even to Roland Grossenbacher (behind his back)
. Nobody is safe from the paranoia and vengeance of Battistelli, not even old allies/friends like Grossenbacher. Battistelli turned the EPO's management into a dangerous cult.
"Always remember that the EPO's management is now living in (and accepting) Battistelli's fantasy land."Be wary and sceptical of all the UPC propaganda that's still abound. Here we have WIPR asking its choir (mostly patent law firms) about things that the choir would profit from. Nothing is said about the number of respondents and their nature, but this was used to generate misleading headlines about UPC, as usual ("Readers confident in UPC despite Brexit vote").

WIPR did the same thing regarding software patents in the US about a week ago. As we said at the time, that's like conducting a poll in Fox News about Donald Trump's chance of becoming President. They're asking an already self-selecting and biased population to reinforce an echo chamber's mentality/mindset (self-deluding/self-misleading, disconnected from reality). ⬆