The race to the bottom of patent quality continues...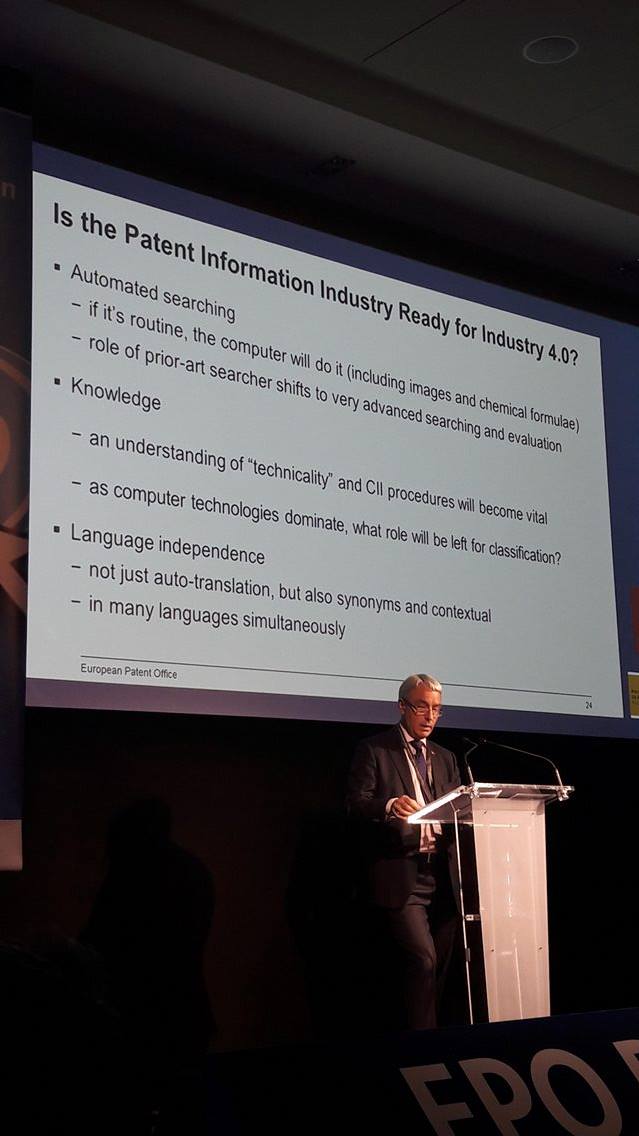 Photo credit: EPO Patent Information Conference 2016
Summary: European events that strive to expand the scope of patents so as to grant ever more patents, essentially by lowering patent quality, broadening range of applicability, and 'automating' translations
THERE ARE MANY PATENT events in Europe and some of them, as we mentioned last month, promote software patents in Europe, regardless of the Parliament's opposition.
Some of the proponents of software patents are
Team UPC
, and despite Brexit, which effectively killed the UPC (it's in a limbo now and cannot proceed), these bunch of people live in a fantasy land. There is no sign of the UK ratifying the UPC any time soon (or ever!), but the patent microcosm never gives up and it has just published
yet another piece on the subject
. Folks, get over it. Move on, the UPC is dead.
"Sadly, a growing number of EPO events and UPC events promote the software patents agenda and put at tremendous risk the frugal software industry, not to mention invite patent trolls to attack European programmers."More relevant to today's focus, however, is Grant Philpott, one of the (growing number of) people who came from the military and now work for Battistelli (we covered examples other than this).

People can see in the above photo (source) that much/just as we predicted (based on the abstract), he was talking about software patents using the misleading term "CII". There are more photos in [ 1, 2] and while we don't have the transcripts we can imagine what he said, based on the abstract which we remarked on before (there are more EPO events that interject this cheeky terminology). Last year we wrote several articles about his software patents agenda and at the end of last year we were threatened to remove an article with an E-mail from Philpott -- one in which he urged his colleagues to grant patents to Microsoft faster (not all applicants are equal).

Sadly, a growing number of EPO events and UPC events promote the software patents agenda and put at tremendous risk the frugal software industry, not to mention invite patent trolls to attack European programmers. That includes yours truly. Later this month we can expect these people to congregate again and attempt to push the Trojan horse of software patents right through the gates of Europe. Someone sent us the following message earlier today, showing us that people like Winfried Tilmann (covered here many times before) will take somewhat of a lead:


Subject: Finalising the Unitary Patent Package - 30 Nov, Brussels



Finalizing the Unitary Patent Package:

Challenges and Ways Forward Manos Hotel Premier Wednesday 30th November 2016

Willem A. Hoyng, Partner, Hoyng Rokh Monegier

Pierre Véron, Lawyer, Member of the Paris Bar Véron & Associés

Frank Van Coppenolle Head of High-Tech Patent Team, Gevers European Intellectual Property Architects

Bruno van Pottelsberghe Economist, Solvay Chair of Technological Innovation ULB

Prof. Dr. Winfried Tilmann, Of Counsel Hogan Lovells, Düsseldorf

Darren Smyth Partner, Patent and Design Attorney, London, EIP Europe LLP Author for The IPKat & IP Alchemist Member of the Editorial team for the Journal of Intellectual Property Law & Practice

On December 2012, after a 40 year long quest, the European Parliament and the European Council finally reached a formal agreement on two EU regulations, making the European Patent with Unitary Effect (EPUE) an achievable prospect. With almost all EU member states - except for Spain and Croatia - participating in the enhanced cooperation, the legislation is supposed to come into force by the end of the year 2016/beginning 2017.

Experts, however, argue about the intended cost saving factor as well as the theoretical simplicity the EPUE package will bring, being mostly concerned about the patchwork nature of the system. Also, with the recent Brexit vote, additional straits are adding up, making the future of the Unitary Patent unclear.

This timely Symposium will offer an opportunity to inform and find out more about the current developments and challenges regarding the Unitary Patent and the Unitary Patent Court. The conference will evaluate advantages and disadvantages, build strategies for businesses on how to proceed and support the exchange of information and best practices with experts, practitioners and policymakers at EU level.

Delegates will also:

Identify the latest developments regarding UP & UPC Qualify various issues, opportunities and challenges regarding UP Prepare for any eventuality and develop a successful transition strategy Analyse ways forward and challenges for the industry in Europe Examine practical issues such as the recruitment of judges, court procedures, fees and logistics Find out more about methods to prevent UPC bifurcation, infringement and revocation Develop strategies for protection and new portfolio creation under the new system Discuss the potential impact of the Brexit vote on the future of the EPUE package

For further details, please refer to the enclosed event abstract and programme. Do feel free to circulate this information to relevant colleagues within your organisation.

In the meantime, to ensure your organisation is represented, please book online or complete and return the registration form at your earliest convenience in order to secure your delegate place(s).

Kind regards,

Conference Team Public Policy Exchange Tel: +44 (0) 20 3137 8630 Fax: +44 (0) 20 3137 1459


It's stuff like this which motivates us to work even harder against the menace of patent maximalism -- that same misguided plan which threatens to undermine not only the EPO but the whole of Europe. And for what? Foreign multinational corporations and their patent law firms (like the above people)?
⬆