Concerns Over 'Terror' Patent Office: New Article From Dutch Media (Telegraaf)
Dr. Roy Schestowitz

2016-11-18 20:18:31 UTC
Modified: 2016-11-18 20:18:31 UTC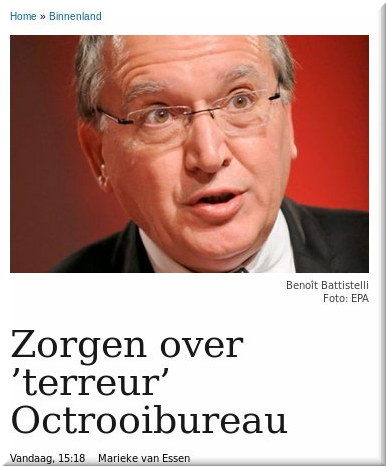 Summary: A new report from the Dutch media reveals plans to discuss removal of the EPO's immunity and yet more lies from the EPO's management (this time through Jana Mittermaier)
PETRA KRAMER, a Dutch speaker, has just supplied us with the following article translation, having notified us of this week's parliamentary intervention. Highlighted below in yellow are important and/or new bits of information, such as Jana Mittermaier's utter lies (does she even hear herself? Lying has truly become the norm at the EPO, implicating not just the PR team but also Minnoye).
Concerns over 'terror' Patent Office



RIJSWIJK - The government and the House are very concerned about the three thousand employees of the European Patent Office in Rijswijk. All political parties want a debate now that, according to the union, "terror will continue in the workplace and this week has again claimed a victim."

The international organisation with seven thousand employees, three thousand of whom live and work in The Hague region, is led with an iron fist by the Frenchman Benoît Battistelli. According to the union SUEPO, the staff is "systematically suppressed and silenced."

The President directed the arrows at directors of the union, says lawyer Liesbeth Zegveld. ,,After two fired executives in Munich were fired earlier this year, the secretary, Laurent Prunier, is now also fired while he was sick at home,"said Zegveld. ,,The union is undermined in this way. Workers are ruined for life. There are cases of people who are removed from their offices unannounced and after speaking with the leadership left the building in a wheelchair."

Zegveld, who has filed a lawsuit on behalf of the union at the European Patent Office, calls the upcoming parliamentary debate and the involvement of the Dutch government "encouraging" and "a turning point". ,,The largest problem so far is that the organization enjoys immunity, so that the Netherlands can not intervene on its own territory," said the lawyer.

The Ministry of Economic Affairs indicated Friday that the Netherlands supports plans to modernize the internal organisation, but that the implementation can and must be careful. ,,We will continue to push hard on this issue, because in our opinion it's not going well," said a spokesman.

The EPO rejects any accusation that the office would have targetted prominent trade unionists. ,,This is completely unfounded," said Jana Mittermaier, spokeswoman for the EPO. ,,There is harassment and intimidation by employees towards others. Therefore, there are disciplinary actions taken wholly according to the rules of the EPO. The procedure which has been followed meets the highest international standards, as determined by independent experts."

The EPO was in disrepute for the first time in 2014. While Prime Minister Mark Rutte gave the starting signal for the new building, it became known a strikingly high number of workers have committed suicide. Several countries of a total of 28 member States, which have reappointed Battistelli until 2018, have been critical of working conditions.


Source
:
Zorgen over 'terreur' Octrooiburea
⬆