EPO, Lufthansa, and the German Government - Part VI: The Complaint to Merkel
Dr. Roy Schestowitz

2017-08-07 10:16:57 UTC
Modified: 2017-08-07 10:16:57 UTC

Summary: A look at what was involved in passage of a Croatian trademark to Lufthansa as explained several years ago
THE EPO may be in the midst of a serious scandal. It may, in fact, be a facilitator of that scandal. For the uninitiated, here are previous parts in this series:


Now start the parts about the 'monkey business'.
---

As already mentioned, the suspected criminal duo Topić - Matijević unlawfully colluded to change the entry for the internationally protected trademark of Air Plus in the official state register on March 3, 2009 (as shown by the annexed document #8). This was done by a preliminary administrative decision of the DZIV. After the first media reports, a complaint relating to the alleged offences was filed with the DORH (Croatian Public Prosecutor's Office) and out of fear of prosecution, the duo Topić - Matijević reversed the unlawful change of the trademark in the state register. This action was revealed by an inspection on 30 July 2009 in the official register of DZIV (as shown by the annexed document #9).

For all the above reasons, and also because of the evident criminal activity having an international dimension, the owner of the Air Plus trademark wrote to the German Chancellor, Angela Merkel, via the German embassy in Zagreb (annexed document #10).


---
Wie bereits angeführt, hat das kriminelle Duo Topić – Matijević gesetzwidrig das offizielle Staatsregister des international geschützten Markenzeichens von Air Plus am 3. März 2009 geändert (#8. Nachweis in der Beilage des Textes). Dies geschah durch einen nicht rechtskräftigen Bescheid des DZIV. Nach ersten Veröffentlichungen in Medien, erhobener Klage wegen der Straftat bei DORH RH (Staatsanwaltschaft der Republik Kroatien) und aus Angst vor Strafverfolgung, hat das Duo Topić - Matijević die gesetzwidrige Änderung des Markenzeichens im Staatsregister in den Urzustand gebracht. Erkennbar wurde dieser Vorgang durch eine am 30. Juli 2009 vorgenommene Einsichtnahme ins offizielle Register von DZIV (#9. Nachweis in der Beilage des Textes).

Aus allen genannten Gründen und auch wegen der offensichtlichen Kriminaltat von internationaler Größe, hat sich der Inhaber des Markenzeichens Air Plus über die deutsche Botschaft in Zagreb an die deutsche Bundeskanzlerin Frau Angela Merkel gewendet (#10. Schreiben im Anhang). ⬆


---
Document #8
(
full version
)
Document #9
(
full version
)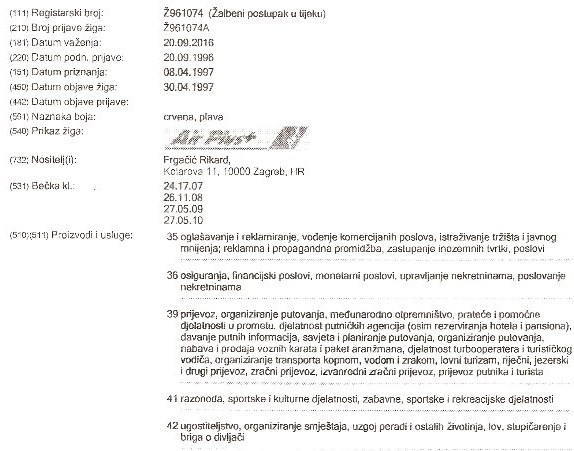 Document #10
(
full version
)