Summary: Vice-Presidents of DG1, DG4 and DG5 are being replaced just over a week after the Campinos tenure began (decisions actually made last week); Might this suggest the imminent implosion of so-called 'Team Battistelli'?
T
HE
EPO scandals
aren't over;
yesterday we wrote that actions
from
António Campinos
were needed, not just words.
"What is going on? There is definitely something going on, but the public — stakeholders included — isn't being informed."A few weeks ago some lady said that the EPO had halted recruitment of ongoing applicants (job applications), even successful ones. HR scandal? Some sources told us that there are internal messages to that effect, insinuating if not reaffirming a long-rumoured hiring freeze which may or may not signal potential layoffs to come (15% is the number we've heard).

What is going on? There is definitely something going on, but the public -- stakeholders included -- isn't being informed. Not fully and properly anyway...

Is the new EPO President, Mr. Campinos, deleting comments? See comment #3 here. To quote:


A couple of days ago, I posted a congratulatory and encouraging message to the comments box of the EPO President's blog. Till now though, the Blog continues to report "No comments".

Can anybody here give me any reassurance, that my message will one day appear?

Readers, what do you think? Am I wasting my time, posting comments to the Campinos Blog? Perhaps comments to it, that are not obsequious enough for the blog-keepers, struggle to get through to publication? Perhaps to comment you anyway have to be an EPO employee?

Who knows? Other than (of course) Mr Campinos and his innermost circle? Meanwhile, what's the point of engaging, I ask myself?
As of 8AM today, still "No comments". Here: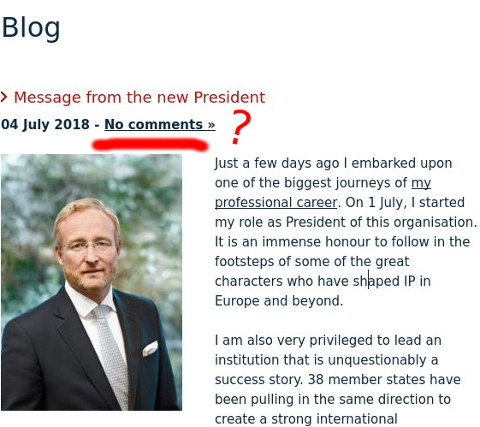 As per Kluwer Patent Blog's new policy (albeit it seems too quick), no more comments are allowed there either.
"Interested outsider" then
wrote
the last comment (before Kluwer Patent Blog closed the form). It said this: "Do EPO insiders think that yesterday's job adverts for new VPs for DG1, DG4 and DG5 are a hopeful start to the new president signalling a change of approach? Has there been any news internally about similar changes at the top of the HR function?"
They refer to the spouse, Bergot.
So we looked at the Jobs sections of the EPO's Web site and immediately found the news (screenshot below). Hope at last?
Some people believe that Ernst will pursue Lutz's position, with
old comments
like this: "Grandeur et décadence at EPO and this thanks to the active support of Dr C. Ernst (the rumour has it he will soon go after VP5's position. Faites vos jeux)."
Or this: "many insiders say, [Ernst] will run for the position of VP5 which will soon be vacant?"
The DG1 vacancy was actually
advertised (initially) 5 days
ago; it's a 5-year tenture/position. Alberto Casado
has occupied this position for only one year
(
warning
:
epo.org
link) and we last mentioned him yesterday in relation to the UPC and UIMP (which
had made his 'master', Battistelli, a 'fake doctor'
).
⬆