Instead of Stopping Software Patent Grants the USPTO Actively 'Advertises' Such Patents, e.g. Patents on Cryptocurrencies
Dr. Roy Schestowitz

2018-08-28 08:48:47 UTC
Modified: 2018-08-28 08:48:47 UTC
The USPTO isn't being impartial or compliant with respect to SCOTUS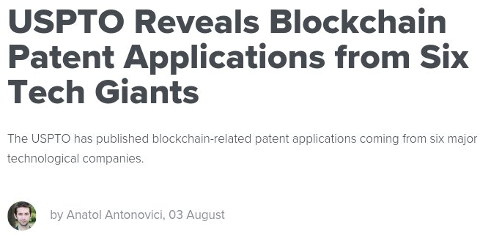 Summary: Patent applications on blockchains/cryptocurrencies should be tossed out based on 35 U.S.C. ۤ 101, but the numbers-driven US patent office continues to demonstrate its reluctance to reject such software patents (same at the EPO)
The Patent Trial and Appeal Board (PTAB) definitely needs to step in, possibly joined by courts like the Federal Circuit, and tackle (e.g. by inter partes reviews (IPRs)) the plague of "blockchain"-themed patents that the U.S. Patent and Trademark Office (USPTO) keeps granting and even promoting in spite of 35 U.S.C. ۤ 101/Alice. Cryptocurrencies are gaining a foothold/traction in a lot of places. This poses a threat/risk to today's large banks and financial institutions because it weakens their monopoly/oligopoly. Bank of America is still trying to trip up its competitors using bogus software patents, as we mentioned on Monday (early morning). All the usual suspects (Intuit, Wells Fargo, IBM, and Bank of America) want their competition terrified of patents even if they're invalid/bunk abstract/software patents that would be rejected by courts. To quote one new report:
The Bank of America is the succeeding largest United States bank regarding its total assets. The bank has filed a manifest with the U.S. Patent and Trademark Office that published on 23 August. This development is similar to the patents that are awarded, or functioned, by many multinational establishments such as Intuit, Wells Fargo, and IBM.
Bank of America simply wraps patent barbwire around cryptocurrencies [
1
,
2
,
3
,
4
,
5
]. It's all over the news this week (not just towards the weekend).
"They're not machinery or chemistry or whatever."Why are such patents being filed and often granted? Because of hype? Cryptocurrencies are a relatively new concept and the same can be said about blockchain, but they're still abstract concepts. They're not machinery or chemistry or whatever.

This problem goes well beyond finance. VoIP-Pal.com v Twitter was mentioned here before (e.g. earlier this month) in relation to venue shifting, which invokes TC Heartland. VoIP-Pal.com has already been going after other companies and it faces legal challenges, e.g. with IPRs filed against its patents. These tactless attempts to drag patent litigation to totally irrelevant (to the defendant) states was mentioned yesterday by Patent Docs. To quote:


Last month, in VoIP-Pal.com, Inc. v. Twitter, Inc., District Judge Richard F. Boulware, II of the U.S. District Court for the District of Nevada issued an Order granting a Motion to Change Venue filed by Defendant Twitter, Inc. The dispute between the parties began when Plaintiff VoIP-Pal.com, Inc. filed suit against Twitter, asserting infringement of U.S. Patent Nos. 8,542,815 and 9,179,005. Following a stay of the case due to pending proceedings before the Patent Trial and Appeal Board, Twitter filed its Motion to Change Venue, VoIP-Pal.com filed a response to Twitter's Motion, and Twitter filed a Reply to VoIP-Pal.com's response. Prior to issuing its Order, the District Court held a hearing on the matter and ordered Twitter to file a Supplemental Declaration to address whether it had any physical equipment or leased any space in Nevada, including space for data storage, or other support equipment or hardware.

The District Court began by noting that for the purposes of determining venue under the patent venue statute, the location where a defendant corporation "resides" is limited to the corporation's State of incorporation, citing TC Heartland LLC v. Kraft Foods Grp. Brands LLC, 137 S. Ct. 1514, 1517 (2017). The District Court also noted that in view of TC Heartland, the Federal Circuit addressed the question of where a defendant corporation has a "regular and established place of business" under the patent venue statute in In re Cray Inc., 871 F.3d 1355 (Fed. Cir. 2017). In Cray, the Federal Circuit set forth three requirements to establish the second prong of the ۤ 1400(b) venue test: "(1) there must be a physical place in the district; (2) it must be a regular and established place of business; and (3) it must be the place of the defendant" (In re Cray, 871 F.3d at 1360), all three of which must be satisfied for venue to be proper.
These abstract software patents would likely be voided by PTAB, but in the meantime we assume that VoIP-Pal.com hopes for a quick settlement (over these dubious patents). Therein lies the great danger associated with the USPTO granting software patents in the first place.
⬆