Pen One Acquisition Group is a Patent Troll Indirectly Connected to Microsoft and There's No Simple Solution to Such Problems
Dr. Roy Schestowitz

2018-08-28 07:54:06 UTC
Modified: 2018-08-28 08:53:46 UTC
Dominion Harbor too is connected to Microsoft and it's hiding behind lots of shells in Texas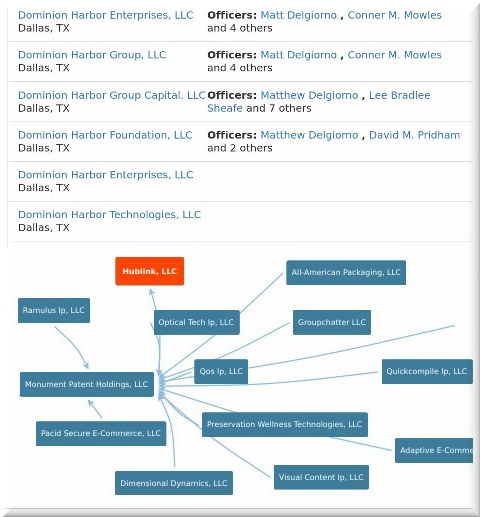 Summary: The latest example of patent trolls that receive their patents from Microsoft's troll, Intellectual Ventures, and the urgent need for a permanent solution which isn't just Microsoft's 'protection' racket [1, 2, 3, 4, 5, 6, 7, 8, 9, 10, 11, 12, 13, 14, 15, 16, 17, 18, 19, 20]
THE USPTO has facilitated patent trolling by saturating the 'market' with lots of low-quality patents -- something which the EPO too is nowadays doing. Cleaning up this mess can take decades. Some trolls have as many as thousands of proxies, e.g. Intellectual Ventures. These proxies, in turn, use their own proxies too, e.g. Dominion Harbor. It's far from trivial tracking who controls who because they register a lot of shells so as to obscure things (see the above diagram which relates to Dominion Harbor's 'enforcers').
"Limiting patent scope (a la Alice) and actively voiding patents accordingly would be ideal."A patent troll tackled by a Patent Trial and Appeal Board (PTAB) inter partes review (IPR) is called "Pen One Acquisition Group," which according to Robert Jain (Unified Patents) is merely a 'proxy' of Equitable, which is led by Dean Becker and remains closely connected to Intellectual Ventures (in turn heavily connected to Microsoft). Here is what Jain wrote this week about something which had happened on Friday:


On August 24, 2018, Unified Patents and Pen One Acquisition Group (an Equitable IP subsidiary and NPE) filed a joint motion to terminate the previously instituted IPR2017-02167 pursuant to settlement. U.S. Patent 7,281,135, the subject of the IPR petition, is directed to an identity verification system.
Sounds like a software patent.
Meanwhile, LOT Network's Seddon was speaking to Watchtroll (he had spoken to
IP Watch
a couple of years ago
). It's what we dubbed "a Wolf in Sheep's Clothing"
back in May
because it's "in effect a reinforcer of the status quo." They market themselves as the answer/solution to trolling
and now they claim to have enlisted almost 300 members
. From yesterday's article:
Ken Seddon, the CEO and president of LOT Network, told IPWatchdog that members sign the exact same 10-page agreement, which attaches a non-exclusive conditional license to that company's patents. This license protects other members in the event that one of the patents to which the license is attached ever becomes owned by a patent assertion entity (PAE), thereby preventing the PAE from asserting the patent against LOT Network members.
As we explained at the start of the summer, LOT Network is not the solution to the problem (the same can be said about OIN); the trolls need to actually lose their patents and PTAB is one way for achieving this. Having said that, there are far too many patents out there which trolls actively (but covertly) use for blackmail. Limiting patent scope (
a la Alice
) and actively voiding patents accordingly would be ideal.
⬆