Even after his financial crimes and other serious abuses Battistelli hopes to become 'king' of courts (UPC)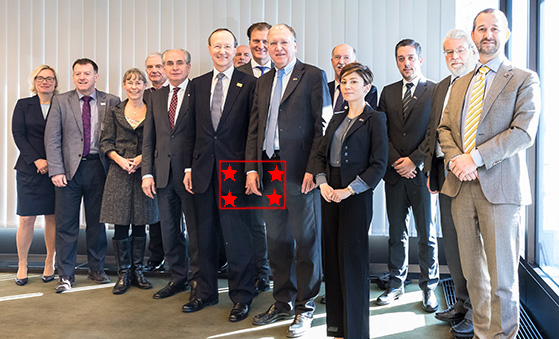 Summary: The man who destroyed the EPO, Benoît Battistelli, is brought back by the International Trademark Association and Mr. Trademarks António Campinos (former banker), who swapped a seat with him at CEIPI, has done absolutely nothing to repair the damage caused by Battistelli (he just lives on 'borrowed time' or 'grace period', to borrow the financial term)
THE European Patent Office (EPO) has been covered here for a dozen years (since 2007). But it was only in recent years, more so since 2014, that it really caught our attention. We used to believe that the EPO was only misguided when it came to patents on life (pigs, plants etc.) and algorithms, but then we saw a lot of corruption inside the institution. These two issues are closely connected, albeit separable.
"Over the past couple of days we saw several press releases and articles in which the expected (since December) protests became public."IP Kat's Rose Hughes has just published this article about drawing requirements in patents; she conveniently ignores all the major EPO scandals (as usual) and finds some minor detail. Paul Kemp's response to this requirement (hiring artists to apply for patent monopolies) was more noteworthy than the article. There's a whole 'industry' surrounding spurious patents and in some cases it's spurious itself (the drawing). "YES," he said, "apart from the weighty points raised above in relation mainly to non-mechanical inventions, many if not most mechanical "drawings" are now produced at first instance as 3D models. These commonly represent much greater detail than can be presented as 2D views, and in many cases are capable of animation. 3D PDF formats enable such views to be presented without specialist software (CAD). In preparing specifications I am commonly presented with the 3D model and have to select 2D views which illustrate what I am trying to communicate. Nearly all mechanical inventions move, often in complex ways. This either requires a lot of description, which is not easy to understand (and I have seen more than a few descriptions which are simply wrong) or multiple cartoon animation views.

"Even 2D PDF views accepted by the current filing software are of limited resolution, which removes a lot of detail from large scale drawings. Not a few of my engineering clients regard this as quaint at best (the at worst comments are not reproducible). This goes nowhere to enhance the credibility of the patent system generally."

This is why, as even some EPO insiders suggest, patents are better off in the form of a wiki page with attached videos (animations) -- something that traditional patents cannot capture. Moreover, that would tackle the editing, correction, and evolution of physical inventions. What sort of novelty does the EPO have to offer?

Well, in the EPO's own words, it's about buzzwords now, not substance. "Searching for artificial intelligence and machine learning applications is challenging. We'll be presenting some strategies here," the EPO wrote in Twitter just before the weekend. They're mixing two things and in both cases they allude to mathematics, which is obviously not patentable.

A couple of days ago Ibinex News helped the EPO promote some more software patents. After the EPO had written about blockchains ("Watch this video to learn how the EPO deals with #blockchain patents") Kathleen Rhea, who is "a news writer based on New York [...] passionate about the world of cryptocurrencies, technology and public use cases of the blockchain," wrote this article that would be more suitably titled "European Patent Office Persuades Organizations to File Patents for Software While Just Calling These Blockchain to Bypass the Ban" (her title is close to that). Those are illegal (to grant) software patents, but the EPO under the leadership of António Campinos is widely known to be operating outside the rule of law. Even EPO insiders overwhelmingly agree on this. It's just another Battistelli sans the PR gaffes. To quote Rhea:


As the new facets of the blockchain technology unfold, many of the professionals working in the field of intellectual property (IP) are encouraging the innovators/organizations to patent their innovations to further stimulate the development of blockchain technology process. As it is clear from statistics, the number of applications filed for patenting blockchain during 2013⎯17 was 2900. Out of these 2900 applications, 55.4% belonged to China with the US coming a close second in the list. The industry has witnessed an astronomical 280% increase in the blockchain investment during 2017⎯18 and accordingly, the filing of a number of patents is expected to rise further. From the patents already filed, it is clear that obtaining the core technology patent in the field of blockchain is quite a difficult task because of the high level of competition. However, we have witnessed more and more companies applying for patents in the diverse fields of blockchain applications pertaining to the sectors like food tracking, medical records, and drug tagging. In the coming years too, these sectors are expected to witness more growth in the patent filing number.
A lot of things with databases and linked lists in them are being rebranded "blockchain" and in the same vein a lot of algorithms (with "if" and "else" conditional statements) can be spun as "AI". The net effect is, today's EPO is still granting abstract patents and it is also
granting bogus patents on life and nature
(
not inventions
).
Over the past couple of days we saw several press releases and articles in which the expected (since December) protests became public. "The member organisations of NO PATENTS ON SEEDS! are concerned about the increasing number of patents on plants, seeds and farm animals and their impact on farmers, breeders, innovation and biodiversity," said one such coalition, having just published
this statement in EUbusiness
. Campinos himself is also under fire for granting patents on life and nature -- a practice he never publicly commented on (he turned a blind eye to that). To quote:
The president, who is Portuguese, is being asked to halt all pending patent applications on plants and animals derived from conventional breeding. These patents cover vegetables, including broccoli and tomatoes. Companies such as Bayer and Syngenta want to monopolise the breeding of the plants and food derived thereof through the misuse of patents. In December 2018 the EPO declared that these patents could be allowed, contrary to a decision made in 2017 by the governments of its 38 contracting states saying that they were prohibited.

Within the last few years, the EPO has granted around 200 patents on food plants such as tomatoes, broccoli, peppers and lettuce derived from conventional breeding and not genetically engineered. After public protests such patents were prohibited in a decision made by the 38 contracting states of the EPO; this decision was also supported by EU Commission and EU Parliament. Now, this decision has been called into question after Syngenta – surprisingly – was successful in a hearing on a patent covering pepper plants in December 2018.
It didn't take long for IPPro Magazine to
publish
"Industry groups call on Campinos to stop patents on plants and animals"
:
More than 40 organisations have appealed to European Patent Office (EPO) president António Campinos calling for an end to all patents on plants and animals derived from conventional breeding.

The organisations, mostly based around plants and seeds, wrote to EPO president António Campinos calling for all pending patent applications on plants and animals derived from conventional breeding to not be granted.

The patents concerning the group include broccoli, tomatoes, and various other vegetables. The patents belong to companies like Bayer and Syngenta. Patents that cover the process of conventional breeding, as well as on plants an animals derived are prohibited by rule 28(2) for the interpretation of the European Patent Convention (EPC).

In early December, the Board of Appeal for the EPO ruled that a Syngenta pepper plant patent was patentable, causing outrage, with the No Patents on Seeds pressure group accusing the ruling of putting the office into conflict with its 38 member states".
IPPro Magazine has also
just noted
that INTA invited corrupt Battistelli to speak at its event. Now that he no longer enjoys diplomatic immunity will he risk arrest? Highly doubtful because he is well connected. As the article put it:
Several key intellectual property leaders including Kate O'Rourke and Benoît Battistelli will be speaking at the International Trademark Association (INTA)'s Europe Conference.

Former Chartered Institute of Trade Mark Attorneys president O'Rourke, and former European Patent Office president Battistelli will speak at the conference, which takes place on the 18 to 19 February in Paris.

O'Rourke will be giving a speech on Brexit, while Battistelli, who is currently President of Conseil d'administration du Centre d'études internationales de la propriété intellectuelle (CEIPI), will be interviewed by INTA's new president David Lossignol on the future of IP.
Sources of ours have long believed that Battistelli just 'parked' himself at CEIPI in anticipation of the UPC -- a system in which he hopes to participate in if not lead. Just before the weekend we saw
this article
from Tai W Nahm (Miller Thomson LLP) and
another
from Graham Burnett-Hall (Marks & Clerk). It contains the typical UPC propaganda, perpetuating the idea that UPCA still stands a chance. Stephen Blake (also from Marks & Clerk) then
promoted software patents like computer vision patents by using the buzzwords created and promoted by the EPO
:
With investment announcements coming thick and fast, and testing taking place on ever more roads, might 2019 be the year of the self-driving vehicle (SDV)?

A recent statistical release from the European Patent Office (EPO) might suggest so, or at the very least suggest that momentum is building in this important sector. In 2017, the last year in which figures are available, the EPO saw nearly 4000 patent applications related to self-driving vehicles – up from 922 applications in 2011.

This is a staggering 330% increase in just 6 years! To put it into context, filing in this area has grown more than 20 times as fast as patent applications generally at the EPO.
They're just reclassifying old stuff and courts would very likely reject these patents, citing national laws and the EPC.
It's worrying to see that the EPO is just granting loads of low-quality European Patents, hoping that by means of some miracle or magic it can bypass justice (the courts) with a crooked UPC, possibly led by corrupt Battistelli. Yesterday we gave an example of several European Patents being thrown out, including one that was assessed by the highest court in the UK.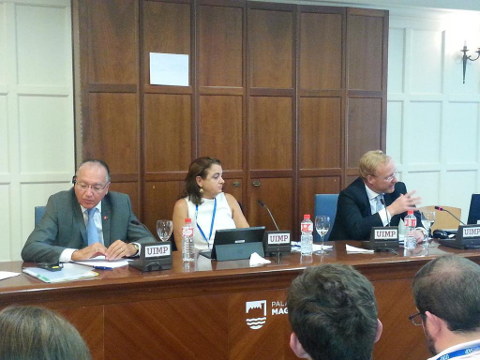 Yesterday, judging by
new evidence
,
Florian Müller
wrote about a couple more invalidated European Patents; the EPO basically admitted it had granted fake patents to a patent bully with billions of dollars on the line. To quote:
Preliminary opinion of European Patent Office sides with Apple and Intel: two Qualcomm patents invalid



[...]

While the Ninth Circuit's decision to let Qualcomm appeal the certification of a 250-million consumer class and Judge Koh's related announcement to stay the $5 billion class action (which builds upon the FTC case, but not the other way round) pending the appeal is good news for Qualcomm, Kerrisdale Capital's opinion that Qualcomm's stock may lose half its value and a whopping number of 21 (twenty-one!) inter partes reviews (post-grant proceedings that may result in the invalidation of patents) instituted over the last eight days by the Patent Trial and Appeal Board (PTAB) of the United States Patent & Trademark Office (USPTO) against Qualcomm are significant setbacks.

Now there's bad news from Munich, the very city in which a regional court (comparable to a U.S. district court, though only the nation's top courts are federal courts) recently granted Qualcomm a pair of injunctions over a chip patent against Apple that Qualcomm is enforcing despite an ongoing appeal after posting bonds over more than $1.5 billion--but without getting any serious leverage over Apple as the enjoined products (iPhone 7 and 8) remain widely available through carriers and retailers. Qualcomm has obtained a preliminary injunction barring Apple from telling it like it is, so Apple must not issue press releases or give answers to journalists according to which those devices are available at more than 4,000 points-of-sale. But that preliminary injunction, which according to media reports is based on misleading promotional statements, just puts the next symbolical victory on top of another without representing actual leverage.

I asked the Munich I Regional Court, but the court declined to comment. I also asked the Munich Higher Regional Court about the status of Apple's appeal of the injunctions, but received no new information. The last thing I heard was that Qualcomm still had time to respond to Apple's motion to stay the enforcement of those injunctions.
In this particular case, the ramification of hasty or sloppy examination is easy to see; entire product lines are being removed from the market and what if this is done based on a false patent grant? What if this impacted companies a lot smaller than the above? They would suffer the most, at times risking bankruptcy/collapse.
⬆