Surrounded by wolves and hyenas. Watch David Kappos at the side.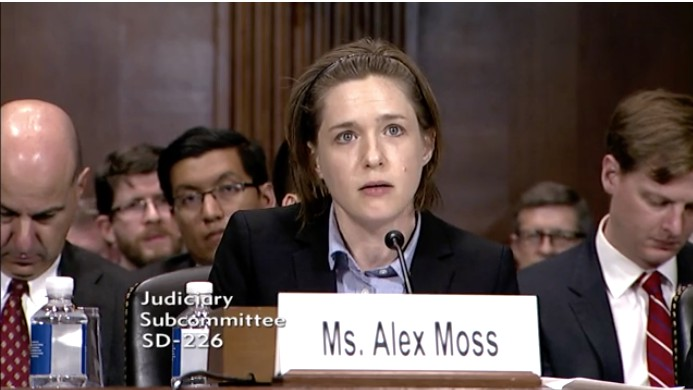 Summary: With few exceptions like the EFF (that's Alex Moss above), Senate hears testimonies from stacked panels (full of lobbyists and think tanks), set up for the sole purpose of misleading Senate and helping them buy a law
T
he US Senate hearings that patent maximalists allude to are subjective beyond belief; it is pretty astounding just to what degree billionaires and their lawyers can infiltrate politics and even subvert the legal process (i.e. change courts' outcomes). They keep trying to virtually
buy
laws, in effect convincing already-bribed politicians while presenting them with a parade of lobbyists.
"Here is Mossoff's employer flaunting a law firms-bribed politician in a Watchtroll forum. It's all connected."At the back of our mind we can already envision those who say, "it was always this way!" or "that's just typical politics!" But that does not mean there's no point highlighting the issue, pointing out what's going on.

So-called 'hearings' (whose hearings? Well, it's full of think tanks, Koch-funded 'scholars', lobbyists like Kappos and so on) are just about finished by now (or this week). Benjamin Henrion wrote: "Senate swpat hearing; when you invite only the patent community, no software developer invited "most of whom are arguing in favor of statutory reform that would tighten-up the law of eligibility." https://patentlyo.com/patent/2019/06/hearings-continue-before.html … [...] Senate hearing 3rd part next Tuesday: IBM; Qualcomm, Nokia, Interdigital = 4 patent trolls, no space for freedom of programming https://www.judiciary.senate.gov/meetings/the-state-of-patent-eligibility-in-america-part-iii …"

That's like the European Patent Office (EPO) only minding the views/interests of those with loads of patents, as we noted last month. The above hearing is also consistent with other such hearings, which we criticised for the same reasons.

"EFF staff attorney @alexhmoss is explaining to the Senate IP Subcommittee on IP why the proposed reform to Section 101 of the Patent Act would be a disaster for software developers, small businesses, and the public," the EFF tweeted this week with a photo (we've mentioned this EFF role earlier this week). It's part of a long series of chained/clustered tweets about 35 U.S.C. § 101/Alice.

Where are programmers? None invited to this hearing? Patent maximalists (not examiners) from the U.S. Patent and Trademark Office (USPTO) are there.

Speaking of the EPO's narrow-minded view, why has there been no President there with a scientific background for over a decade now? Battistelli has no qualifications other than background in a notorious sociopaths factory, ENA. He didn't even work in the area of patents until his mid-fifties. He thinks that patent office "success" means as many patents as possible, including illegal European software patents. Yesterday Henrion posted a photo of European protests and said: "Software Patents back in the US, time to reprint the yellow tshirts..."

They're not back. Some people are attempting to bring them back.

It is worth noting, as per Henrion and a Red Hat employee (former activist against software patents), that Koch-funded liars dedicated to the domain of patents block their critics [1, 2]; some of them apparently reported me to Twitter (misreporting) in an effort to silence me after I had merely mentioned them. It's not just Mossoff by the way; there are several of them in these hearings who are Koch funded.

Another critic noted that the CCIA "tweeted regarding the accuracy of his [Mossoff's] work earlier this week..."

Here is what was said by the CCIA about Mossoff [1, 2, 3, 4, 5, 6]: "I see that @AdamMossoff of @cpipgmu has been added to the witness list for the first 101 hearing. Given that, I figured I'd resurface a couple older threads, explaining the fundamentally flawed nature of the data he worked with, flaws he has neither acknowledged nor corrected. https://twitter.com/PatentJosh/status/1007729695293673472 … [...] More @AdamMossoff failures. the '200 application overcame its 101 rejection and was later abandoned. Under Mossoff's logic, this abandonment was caused by 101. Yeah, I don't get it either. https://twitter.com/PatentJosh/status/1007322592267685889 … [...] Here's an example of @AdamMossoff bad data: 14/118458 received a 101 rejection—but not an Alice/Mayo-type patentable subject matter rejection. That's because it's a cold fusion patent. Cold fusion and perpetual motion are basically the only kinds of usefulness rejection we see. https://twitter.com/PatentJosh/status/1007392368516108288 … [...] Some more @AdamMossoff greatest hits. Reviewing 100 applications from his dataset (which was supposed to contain applications that were abandoned due to 101), I found that *11%* had never received a 101 PSM rejection. https://twitter.com/PatentJosh/status/1007471451673382912 … [...] If the last thing you want to do is kill software, this bill is the worst way to achieve your goals. [...] While we are moving towards majority of enforcement by innovator companies, majority of patent suits is still NPE-based." (NPE means patent troll)

Here is Mossoff's employer flaunting a law firms-bribed politician in a Watchtroll forum. It's all connected.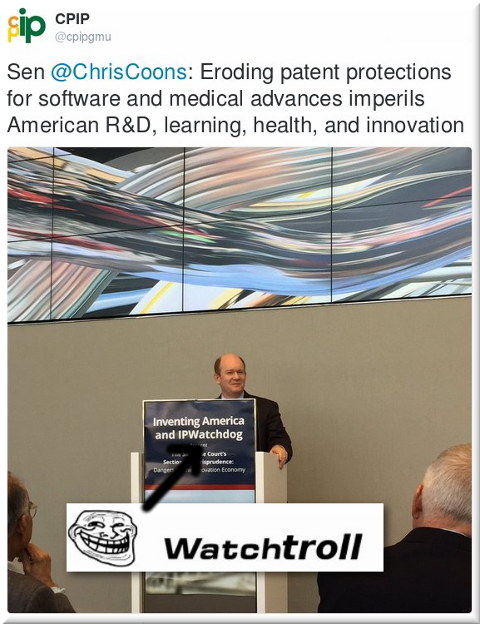 Mossoff is part of a network of Koch-funded lies. Billionaire oil tycoons are buying US laws and 'sponsoring' supposed 'intellectuals'. The EPO advertises a
similar kind of program
almost every day in Twitter.
A Dunch business
wrote
about
António Campinos
:
Wasn't that the same guy who loudly campaigned before the Administrative Council a year ago that he was going to reduce litigation? Well, the truth is, the opposite seems to be true!
We've meanwhile noticed that James Nurton (now at Watchtroll) is the latest to do a Christian Archambeau puff piece; he used to do Battistelli puff pieces and now he does the same for the
EUIPO
(the EPO and EUIPO
have been almost inseparable lately
).
⬆