How to Tell the German Ministry of Justice and Consumer Protection ("BMJV") That Violating the Constitution is Not Acceptable
Guest Editorial Team

2020-06-20 05:11:35 UTC
Modified: 2020-06-20 05:11:35 UTC
Related
:
Self-Harming Acts: Germany's Federal Ministry of Justice and Consumer Protection Cares Neither About Justice Nor Consumers (or German SMEs)
|
FFII Takes Stance Against the German Federal Ministry of Justice for Breaking the Law to Appease Team UPC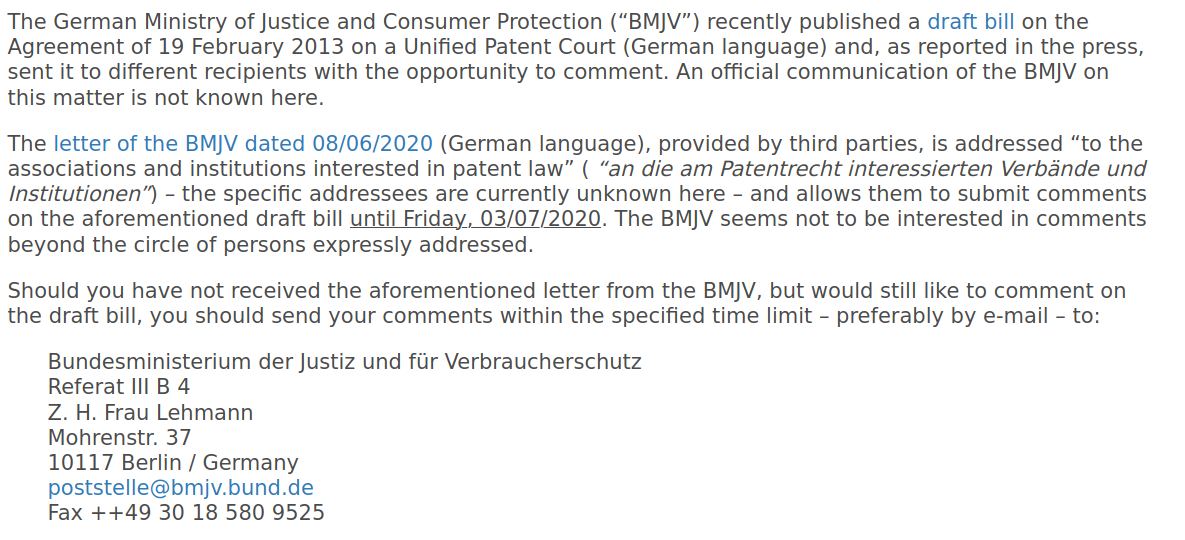 Summary: Techrights urges European readers to write to BMJV officials, reminding the BMJV that a constitution exists and bypassing it for a bunch of litigation zealots is totally unacceptable (it's also an embarrassment to Germany and -- by extension -- to the EU)
"There is a public consultation by the German Government on their new UPC Bill," a reader has alerted us. We expect European Patent Office (EPO) officials like António Campinos and maybe even CEIPI/Benoît Battistelli to play a role in such a 'consultation', aside from Team UPC of course...
"This won't end well. It's a constitutional crisis.""Relevant links are included in a recent post on Ingve's website," the reader told us, implicitly urging us to do something. "The BMJV seems not to be interested in comments beyond the circle of persons expressly addressed," Ingve notes. Well, maybe the public ought to surprise them with a wake-up call; the BMJV is supposed to work for justice, for consumers, for the public, not a cabal of litigation firms, patent trolls and foreign monopolists. Remember that UPC is designed to partly bypass the restriction/ban on software patents in Europe.

Here's Ingve's text:


The German Ministry of Justice and Consumer Protection ("BMJV") recently published a draft bill on the Agreement of 19 February 2013 on a Unified Patent Court (German language) and, as reported in the press, sent it to different recipients with the opportunity to comment. An official communication of the BMJV on this matter is not known here.

The letter of the BMJV dated 08/06/2020 (German language), provided by third parties, is addressed "to the associations and institutions interested in patent law" ( "an die am Patentrecht interessierten Verbände und Institutionen") – the specific addressees are currently unknown here – and allows them to submit comments on the aforementioned draft bill until Friday, 03/07/2020. The BMJV seems not to be interested in comments beyond the circle of persons expressly addressed.

Should you have not received the aforementioned letter from the BMJV, but would still like to comment on the draft bill, you should send your comments within the specified time limit – preferably by e-mail – to:

Bundesministerium der Justiz und für Verbraucherschutz Referat III B 4 Z. H. Frau Lehmann Mohrenstr. 37 10117 Berlin / Germany poststelle@bmjv.bund.de Fax ++49 30 18 580 9525

If you wish, you can send me a copy of your statement to info@stjerna.de.
The BMJV is said to have been 'infiltrated' by the Team UPC types; that's the only explanation some people (who comment on the Web) have for its ridiculous behaviour. It's pure 'lobbyism', not law. BMJV isn't even interested in what the German (or European) public has to say. This won't end well. It's a
constitutional crisis
.
⬆