ZDNet Keeps Promoting Software Patents Agenda in Its 'Linux' Section
Dr. Roy Schestowitz

2020-10-13 09:18:29 UTC
Modified: 2020-10-13 09:18:29 UTC
As if 35 U.S.C. § 101/Alice does not exist (6.5 years after the SCOTUS ruling, which has been repeatedly secured many dozens of times)...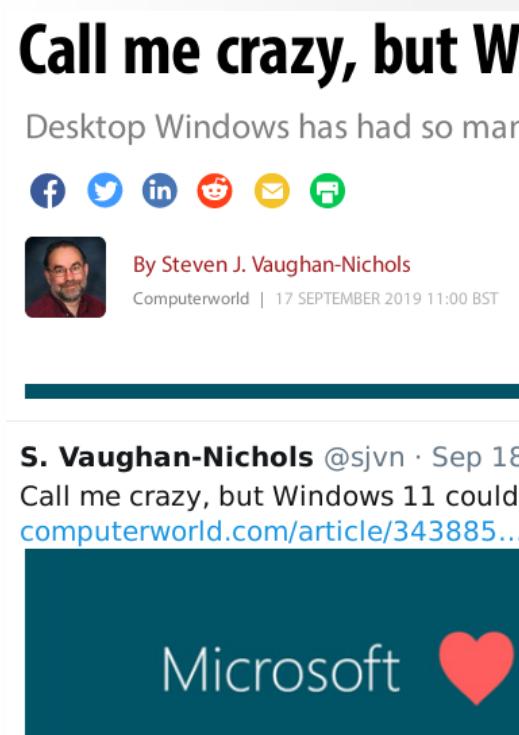 Summary: The crazy idea that Linux should adapt to Microsoft and should embrace Microsoft's non-standards is promoted in ZDNet this morning, in yet another OIN puff piece that overlooks Microsoft patent lawsuits over Linux


THAT ZDNet is a mouthpiece for OIN and LOT (there are overlaps) isn't exactly news. These people see nothing wrong with software patents. They are, after all, Microsoft apologists as well. It's a corporate site which exists to serve monopolists (its biggest clients). Many of the articles there are puff pieces for the Linux Foundation, i.e. monopolists looking for openwashing.
"It was never about Linux (kernel) in the first place, or hasn't been the case for well over a decade. So that statement is patently false."It's hardly surprising that a few hours ago Steven J. Vaughan-Nichols (SJVN) was acting almost like a spokesperson for OIN. He's still in denial about ongoing Microsoft patent extortion, which even happened recently against Linux (he justified this for Microsoft by attacking the victim, as if it's OK for Microsoft to sue Foxconn because SJVN dislikes Foxconn). I asked him about it and it turned out he was totally in denial about simple facts (instead he cited this totally irrelevant and unrelated affair to me), which were right there in the docket. His latest piece has this summary: "Open source's main patent protection organization is expanding its reach far beyond just Linux." It was never about Linux (kernel) in the first place, or hasn't been the case for well over a decade. So that statement is patently false. Maybe clickbait too...

More from this article:


For years, the Open Invention Network (OIN), the largest patent non-aggression ever, has protected Linux from patent attacks and patent trolls. Now, on October 13, 2020, it expanded its scope from core Linux programs and adjacent open-source code by expanding its Linux System Definition. In particular, that means patents relating to the Android Open Source Project (AOSP) 10 and the Extended File Allocation Table exFAT file system are now protected.

That's important because for those of you with long memories Microsoft used to make billions from Android and exFAT-related patent licenses. Those days are long over, and this buries them for good.

[...]

Today, exFAT remains an important file system and, thanks to the OIN and Microsoft's efforts, it's now royalty-free for OIN members. With over 3,000 members, that means essentially anyone who wants to can now legally use exFAT for free.
Bruce Perens (OSI co-founder)
recently spoke about the problem with OIN
(around 10 minutes from the start of the video below). SJVN is acting like little but a PR agent of OIN (
run by former patent trolls
and patent cartel people), getting companies to join this software patents-approving cartel of companies like IBM. It's helping to spread Microsoft stuff instead of better solutions. It's about making things adapt to Microsoft rather than the other way around. We
said the same thing
when
Microsoft brought exFAT to Linux
,
comparing it to OOXML
.
⬆