Christmastime Extortion Shows That IBM Has Not Changed Since Buying Red Hat and It's Still a Patent Bully
Dr. Roy Schestowitz

2020-12-28 12:48:10 UTC
Modified: 2020-12-28 12:48:10 UTC
Video download link
With due credit to original jokers
Summary: IBM still has a long, long 'naughty list' (a growing list of companies it's looking to blackmail for money -- or tax -- using loads of software patents), just like Microsoft's 'naughty list' (Microsoft's patent blackmail has not stopped; media's attention to that has stopped, e.g. last year's shakedowns against Linux/Android/ChromeOS)
WEEKS after IBM sealed a terrible (pandemic, Trump etc.) year with a big "F U!" to all CentOS users around the world (individuals and businesses/executives who must now migrate under difficult conditions or shell out money they don't even have) it reminds us that its OIN PR charade is just that -- a charade. It doesn't protect Free software from software patents, it's just misleading the Free software community (a real community) about software patents.
Red Hat operatives still try to mislead us all about CentOS and the motivations behind what happened to it (those attempts are shallow or deeply self-contradictory; they're truly and profoundly disingenuous, so they do more harm than good); one of the persons who proposed this now works at a senior position for Microsoft. A side perk of IBM choosing to pretend to have not abandoned CentOS (just "Stream") is that they subvert justifications for giving up the trademark in the same way Oracle/Apache did OpenOffice (this limited the appeal of LibreOffice, causing frustration).
Promises to Red Hat are out the window and Red Hat's software patents (with their so-called 'promise') are now in IBM's
war chest
(patent portfolio as cash cow).
IBM -- like Microsoft -- thinks like a government-connected/sanctioned monopoly and does not wish to really innovate, just amass an endless pile of worthless software patents instead, with help from the legal department (even the same people, e.g. Marshall Phelps), then sue and extort those who actually innovate and make products people
actually
want.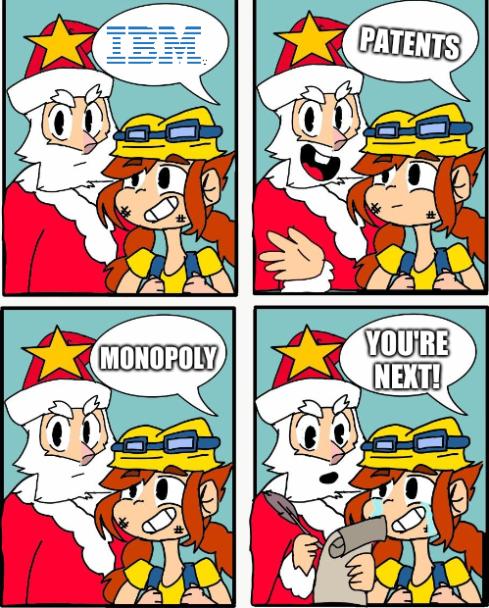 We don't want to say a lot about the whole history/track record which we covered here before, but IBM is no ally of Free software (or not anymore). It's just milking volunteers for corporate profits, monopolised using complexity (e.g. systemd), vendor lock-in (Wayland etc.) and software patents. Watch what slipped under the radar on Christmas Eve! (Below we've put a screenshot)

Even after buying Red Hat (years ago) IBM continues to act a lot like a patent troll, shaking down every company imaginable. Settlement announced when nobody will notice (PR reasons likely)? ⬆