Concern-trolling or sheer opportunism?
Summary: The GNU General Public License (GPL) is a thorn in the side of monopolies and monopolists; can groups funded by monopolisers and run by professional vilifiers do enough damage at the behest of their corporate masters? The video above offers some additional background
T
HE GPL has long been attacked by proxies and concern trolls like
Black Duck
(Microsoft-connected) and it has not exactly worked. The GPL is still
hugely
popular, no matter what firms say based on GitHub data (i.e. based only on what's controlled by Microsoft's proprietary software trap). Even recently we saw high-profile examples of defections to the GPL and
even AGPL
.
Google, IBM, Microsoft and other such firms aren't happy about this. They work with the GPL where they have no other choice, e.g. the kernel (Linux is GPLv2). It is predicable and we should very much expect attacks on messengers or public faces of the GPL, notably the FSF and its founder, Richard Stallman. It's the concepts -- the ideas to put it another way -- that are under attack. They conveniently
personify
the issues. Never forget that...
It's not Dr. Stallman himself that the monopolies fear; it's the things he created, the ideas and his licences in particular...
"They'll surely be coming back with another sneaky attempt, be it a bigger "cancel mob" or some attempt to override software freedom with buzzwords and catchphrases (like "hey hi" and "ethical")."The same people slandering the FSF's founder and blackmailing FSF board members into mothballing the whole thing (yes, canning the FSF by means of abandoning the Board of Directors altogether) also receive money from those very same monopolies. Take SFC for instance. Not only did it lobby the FSF to oust Stallman (both from within and outside the FSF), it's continuing with a trend of disturbing statements while racking up money from Microsoft and Google. Bradley Kuhn from the SFC was pushed out of the FSF's Board for a conflict of interest (looking to promote the agenda of the SFC, which he chose over the FSF when he left the Board). The SFC has become in some sense richer (as a funnel of funds) than the FSF, as they hire more people and they're bringing in millions of dollars to the SFC (only two salaries are being paid as of 2 years ago).

Working for OSI, a force of corporate occupation and a coup, some people went out of their way to attack the very existence of the FSF. Some of these people work partly for Microsoft.

A reader recently pointed out to us various problematic things that she had observed. She wished to share her findings, as she suspects people who cannot code (and never coded anything) basically take over the movement, not for the betterment of freedom but for their selfish agenda funded at least partly by monopolies.

"We will first discuss the principles of digital autonomy," one recent presentation says, with Google and Amazon logos next to it (see slides/cover). As if listening devices and CCTV inside our homes gives us "digital autonomy"...

This whole "digital autonomy" thing is mostly being promoted by Bully de Blanc. "Digital Autonomy push by bad actors," according to our reader, should be a cause for concern. "I wanted to mention something of a slight concern," she said, "last year and must mention to someone. Molly and Karen are pushing digital autonomy."

Those slides are self-discrediting because of the sponsors.

"Then," she added, "they spoke at Hope."

Well, all this "autonomy" thing seems like another attempt to redefine Free Software, as the "ethical source" people do. They try to build and shield some new identity for themselves, just like a group of developers now hijack the acronym/name "GNU"...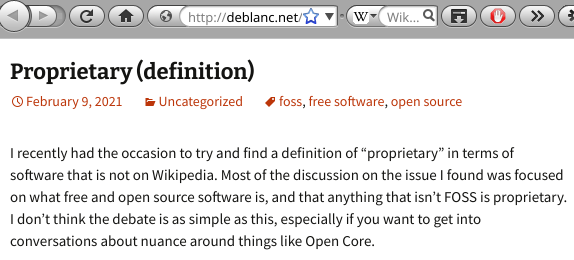 The OSI is in this too by the way. The OSI together with the GNOME Foundation try to redefine Free Software and Open Source. They collaborate on this, just like they did on the hate letter.

"Open Source" was having a go at creating a "parallel movement", seeking to replace the original (Free software) by co-opting the followers, distracting from the real thing, and in turn diluting the message, celebrating openwashing instead of things that completely comply with the seminal definitions.

"Then," our reader noted, "for this Gnome conference - during the presentation, they [had it] mentioned... previously presented at Hope and Debconf. Using the previous presentations for credibility. [...] Presentation does not equal endorsement..."

They're basically chaining past 'credentials' to make up for lack of skills and experience. This is a very Bully de Blanc 'thing'. Then, consider which corporations fund this pair of presenters.

I was then made aware by our reader that "recently Karen [Sandler] and [Bradley] Kuhn [of SFC] gave a keynote for an ethics and AI session."

"Hey hi" (AI) is basically a stupid buzzword, whereas ethics are a broader concept (even Microsoft claims to stand for ethics!), so we'll see their next step. "Karen," our reader sighed, "giving a talk about ethics."

But I don't have anything like real piece of evidence to suggest she is not ethical. So let's leave her out of this and focus on Mr. Kuhn instead. As far as we know, Karen Sandler did make some rather problematic statements about Stallman, but that's nowhere as bad as what Kuhn did.



I managed to convince our reader that Sandler isn't the problem, though she may be led by sponsors and colleagues with another agenda. "I agree," she said, that "there is no valid, verified evidence - and, she is a lawyer. However, she seemed to be Free software. Maybe she was at that time. She is the SFC director, and they did have a Microsoft-sponsored event."

"Anyway," our reader said, "I have serious concerns... although I can never really figure out the endgame. Do not even know where the digital autonomy push is going... or if it even will continue after all this. One thing I noticed is there are people who jump on fashionable topics, and perpetrate their expertise on the matter. Some are convincing. I don't really believe Molly is the mastermind or puppetbully... Of course, I have no evidence. Maybe someday!"

In any event, we need to watch out for those things because the above-mentioned people played a role in the anti-FSF coup attempt, both two years ago and last month. They'll surely be coming back with another sneaky attempt, be it a bigger "cancel mob" or some attempt to override software freedom with buzzwords and catchphrases (like "hey hi" and "ethical"). It would be unwise to overlook the possibility. ⬆