Spamnil is Spamming Linux.com
Dr. Roy Schestowitz

2021-10-29 11:41:36 UTC
Modified: 2021-10-29 11:45:20 UTC
If at first you fail...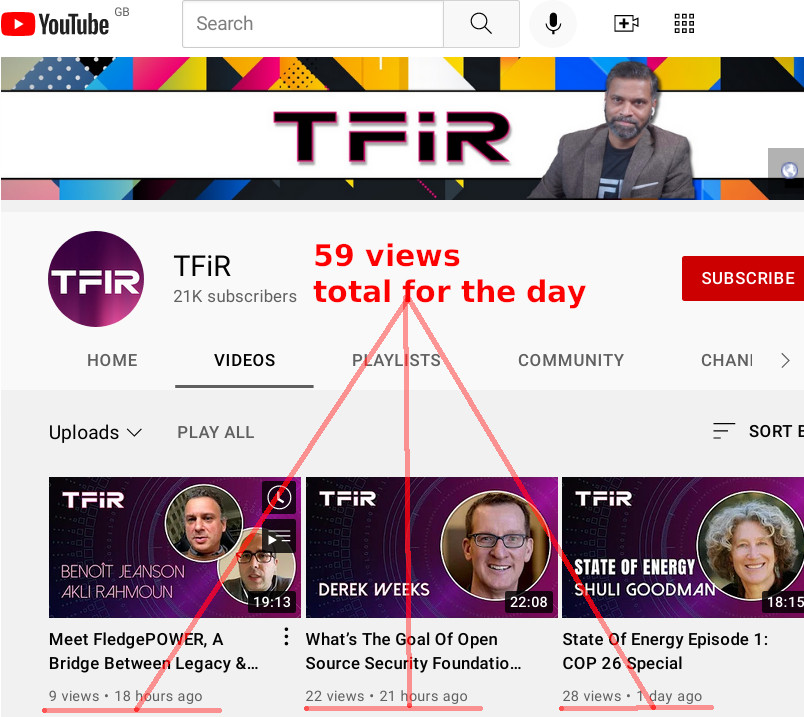 Look for bailout...
Summary: Swapnil 'Spamnil' Bhartiya is turning the authoritative site Linux.com into a self-promotional 'spam farm'. His YouTube channel is failing (see above), so now he's just wiping the floor with Linux.com, a domain that hundreds of people poured their lives into for two decades (until the Linux Foundation (LF) suddenly fired everybody in 2019); this is part of a pattern wherein Zemlin et al. help people from the Foundation create their private companies, externally, and then funnel LF funds to them (for peripheral PR services, sometimes for Microsoft) despite it being an immoral practice which jeopardises the LF's IRS status and tarnishes the "Linux" brand.
Recent Techrights' Posts
This coming week we'll publish many articles about GNU/Linux and technical means of/for user empowerment
It merely gives an illusion of volume and instead of giving readers more stuff to read it wastes people's time
yesterday's posts
GNU/Linux, at its roots, was all about Software Freedom
Links for the day
IRC logs for Monday, October 02, 2023
Today we finish testing IRC logs and their upload to Gemini, not just to IPFS
Links for the day
We'll probably get back to regularly writing about the EPO in the near future
For those who want videos and podcasts, here are today's latest additions from other sites
M.J.G. tried hard to take our Web site offline, based on lies and repeated threats

The GNU/Linux Revolution Ain't Here. Look at Brazil, Russia, India, China, and South Africa (BRICS) Instead.

The revolution won't be televised

Chaffbot Effect: Microsoft Bing Falls to Lowest Share in Two Years (Amid Loads of Bing Layoffs This Year)

Press outlets mostly failed to report that Bing is collapsing
KATE is great
No, not Android. KDE.
Is this what we envisioned in the 1980s and 90s?
We remain devoted to the aforementioned goal of posting more original material
2 days' worth
LLMs aren't truly intelligent and cannot quite grasp what they spew out

GulagTube is a Burning Platform (Exit YouTube, Invidious Won't Save Us From Google/Alphabet in the Long Run)

Alphabet Agency (Google) sees the future of video as a "skinnerbox" (running Android) that indoctrinates you like TikTok does
It should be noted that Microsoft is, in general, no longer prominent or dominant in news headlines
At the end we'll end up with something a lot better than before and latency should be massively reduced
Links for the day
IRC logs for Sunday, October 01, 2023
Links for the day
half a dozen links
Reprinted with permission from Ryan Farmer
There are 3523 capsules

Richard Stallman Gave a Talk Yesterday, Will Give Another Talk Today, and Will Give Two More Talks in Germany Later This Week

Those cover at least 2 different topics
We won't forgive and forget
IRC logs for Saturday, September 30, 2023
There's a tendency to think that only graphical interfaces were made to simplify usage, and any declarative interface is by design raw, inherently unfit for usage
GNU/Linux users do not want this, with very rare exceptions
The media should focus on culling Windows, not making a huge fuss over minor things wrongly attributed to "Linux"