Clare Daly (GUE/NGL) Does What Every Public Official in Europe Should Have Done About EPO Shenanigans
Dr. Roy Schestowitz

2021-12-07 23:13:52 UTC
Modified: 2021-12-07 23:28:36 UTC
Written question recently submitted to the EU Council of Ministers (see date at the bottom)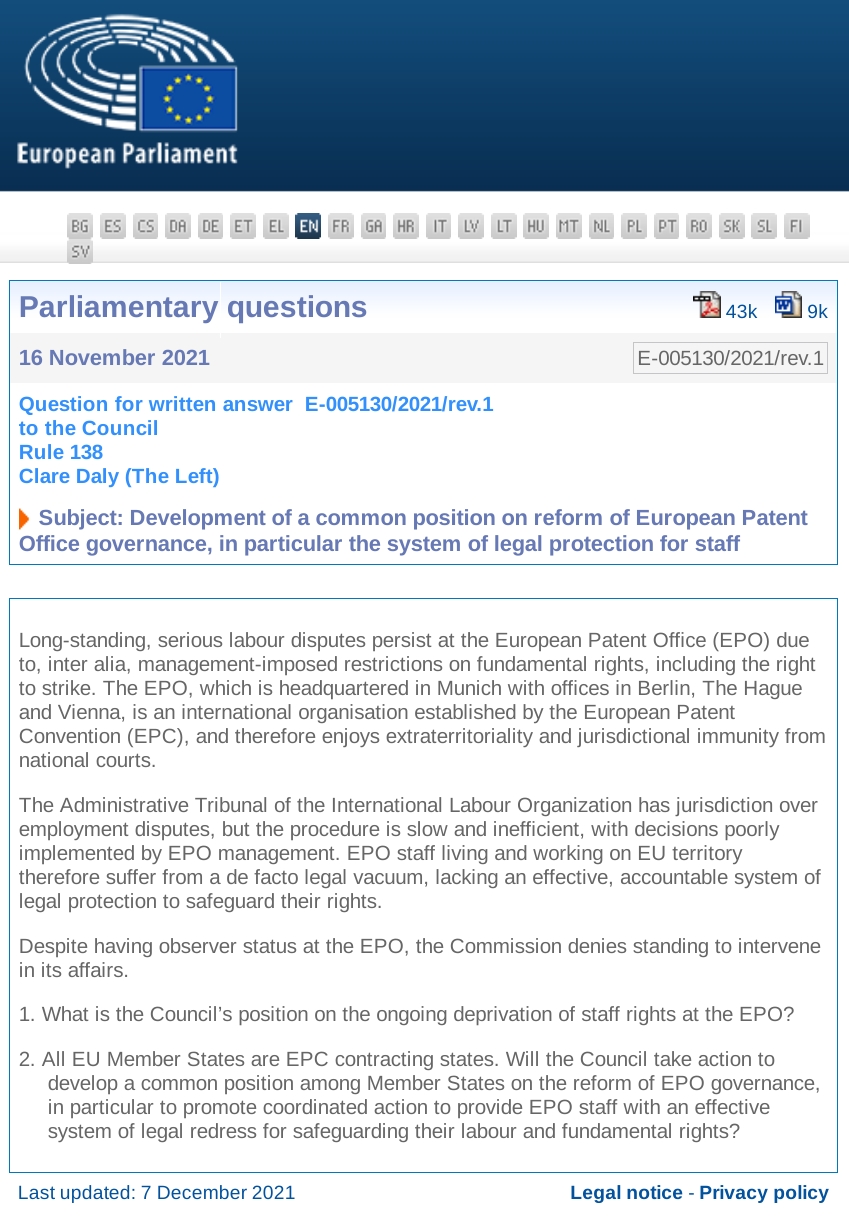 Summary: There's another (new) push to hold the EPO accountable, seeing that the overseers clearly do not do their job and instead cover up the abuses
I
N THE NEXT batch of Daily Links (due in about an hour) we'll include the latest criticisms of the
EPO
and
the lies from the EPO
(
hard to keep track of it all anymore
) will be mentioned. German politicians
don't seem to care
. Or maybe if they
do
care, they're not 'supposed' to talk about it. There's a lack of journalism, there's virtually no oversight and public interest in politics, but Clare Daly (GUE/NGL) should be commended for the effort she has put into holding the EPO accountable, as we
noted here before
(
she was obstructed
by friends and allies of
Benoît Battistelli
, who had taken over positions of power in the EU). Even the EPO itself is still governed by
Battistelli in absentia
. It's grotesque and it must be stopped.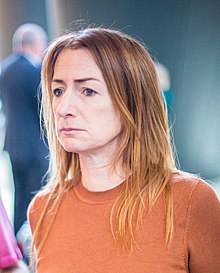 Here's the latest, dated today (for the update or the listing):


Parliamentary questions

16 November 2021

E-005130/2021/rev.1 Question for written answer E-005130/2021/rev.1 to the Council Rule 138 Clare Daly (The Left)

Subject: Development of a common position on reform of European Patent Office governance, in particular the system of legal protection for staff

Long-standing, serious labour disputes persist at the European Patent Office (EPO) due to, inter alia, management‑imposed restrictions on fundamental rights, including the right to strike. The EPO, which is headquartered in Munich with offices in Berlin, The Hague and Vienna, is an international organisation established by the European Patent Convention (EPC), and therefore enjoys extraterritoriality and jurisdictional immunity from national courts.

The Administrative Tribunal of the International Labour Organization has jurisdiction over employment disputes, but the procedure is slow and inefficient, with decisions poorly implemented by EPO management. EPO staff living and working on EU territory therefore suffer from a de facto legal vacuum, lacking an effective, accountable system of legal protection to safeguard their rights.

Despite having observer status at the EPO, the Commission denies standing to intervene in its affairs.

1. What is the Council's position on the ongoing deprivation of staff rights at the EPO?

2. All EU Member States are EPC contracting states. Will the Council take action to develop a common position among Member States on the reform of EPO governance, in particular to promote coordinated action to provide EPO staff with an effective system of legal redress for safeguarding their labour and fundamental rights?

Last updated: 7 December 2021
It's going to be interesting to see 1)
who
answer/s this and 2) what they say. As we saw before, there's a collusion among the overseer and those whom the overseer is supposed to oversee. It is the hallmark of the world's worst 'banana republics'.
⬆