Microsoft's Mass Layoffs Are Killing Many Microsoft Peripherals and Flagship Products
Dr. Roy Schestowitz

2023-05-02 16:56:10 UTC
Modified: 2023-05-02 16:56:10 UTC
Days ago it was revealed that peripherals from Microsoft would end;
the "official" spin from Microsoft-friendly sites was that those would "continue" under the "Surface" brand
. Oh, well... about that one: (
one hour ago
from a Microsoft site)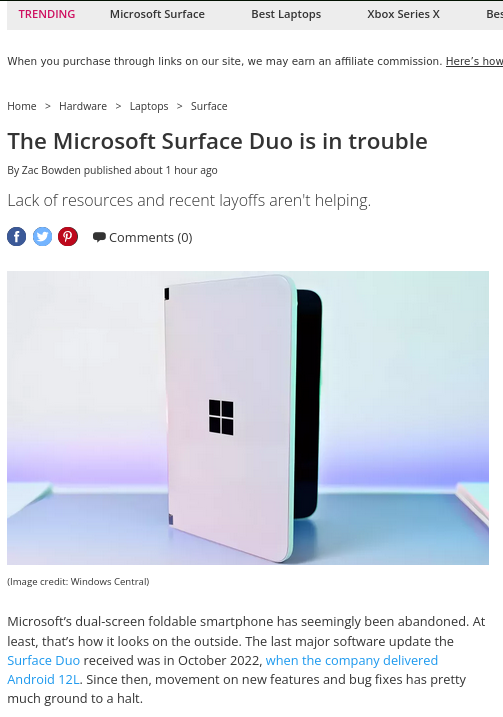 "Surface" was named among the mass layoffs and discontinued products; so what would Surface-branded peripherals be? Vapourware? Distraction?
Summary: Microsoft likes to claim that dead products aren't dead (e.g. Silverlight, Microsoft Stores*, spinning layoffs as "replaced by AI" or "going online" or "working from home"); but the evidence keeps piling up that things aren't rosy and now there are rumours about additional Microsoft layoffs in Latin America
________
*
There were many additional dead things besides Silverlight and Microsoft Stores (
we tracked them over a decade ago
when there were far too many to exhaustively keep abreast of). It is worth recalling
Christian Einfeldt's observations of monopoly rents
(which is where Microsoft made its money, not really software) and the tipping point was already approached back then -- something to the effect that at around 85% (for Windows/Office) we could see the inflection point, below which there is no return for Microsoft. Some of our more recent articles suggest that Microsoft's market share is
far
below 85% in enough places for it to matter even in the face of
the recent US government bailouts
.