Summary: Revisiting what we wrote last week, we find no activity since then (in sites that typically publish several times per day)
A
MERICANS do not celebrate any holiday today. So what's going on?
Did OpenSource.com get killed by ICBM
(
IBM
has been somewhat of a destructive missile/rocket in recent years
*
)? Just like Linux.com was killed by
Sheela Microsoft
and
James Zemlin
from the
anti-Linux Foundation
in 2019? Not a single article this Monday.
Highly
unusual. Let's wait and see though. Time will tell. Notice last month's frequency (2 posts per day):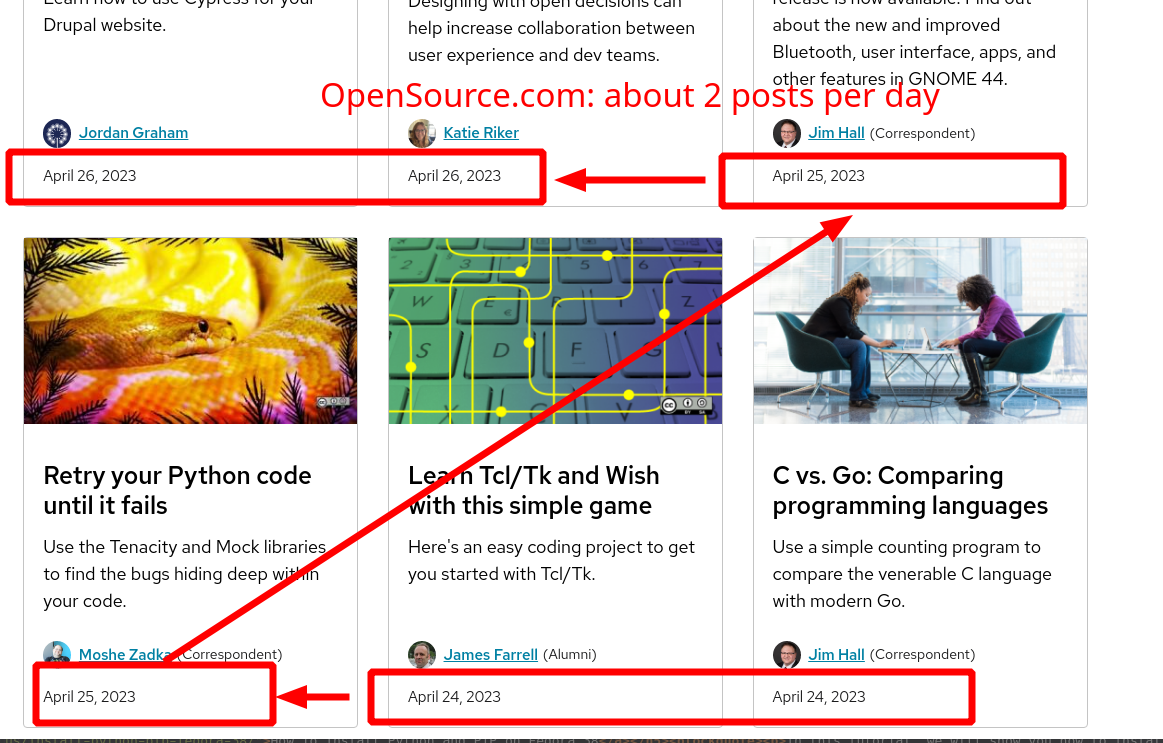 That was
pre
-layoffs levels, unlike now: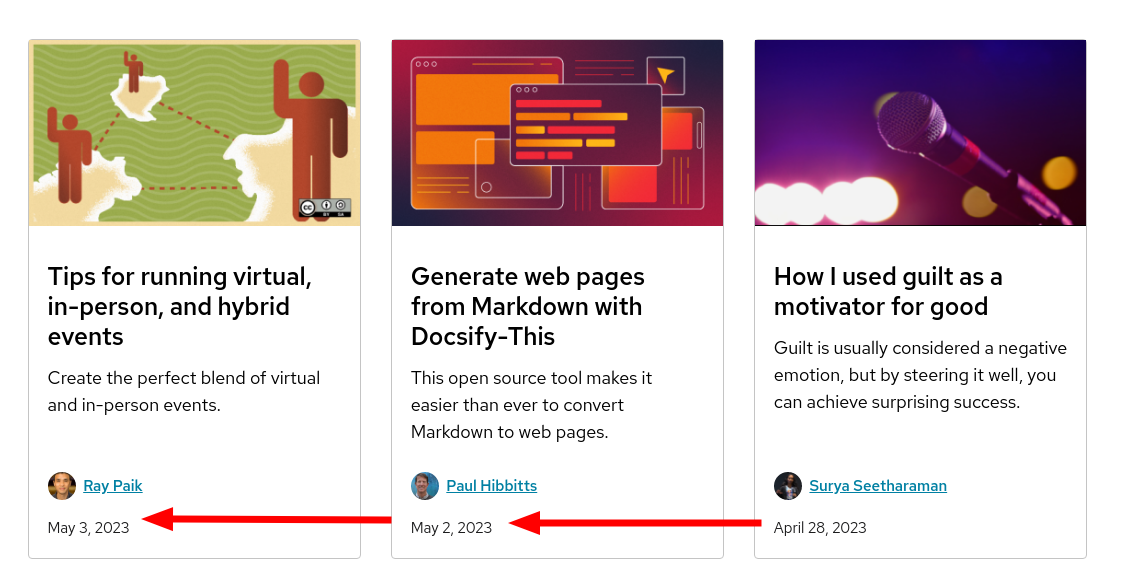 Other Red Hat sites also seem to have been quiet/inactive since the layoffs. Before the layoffs: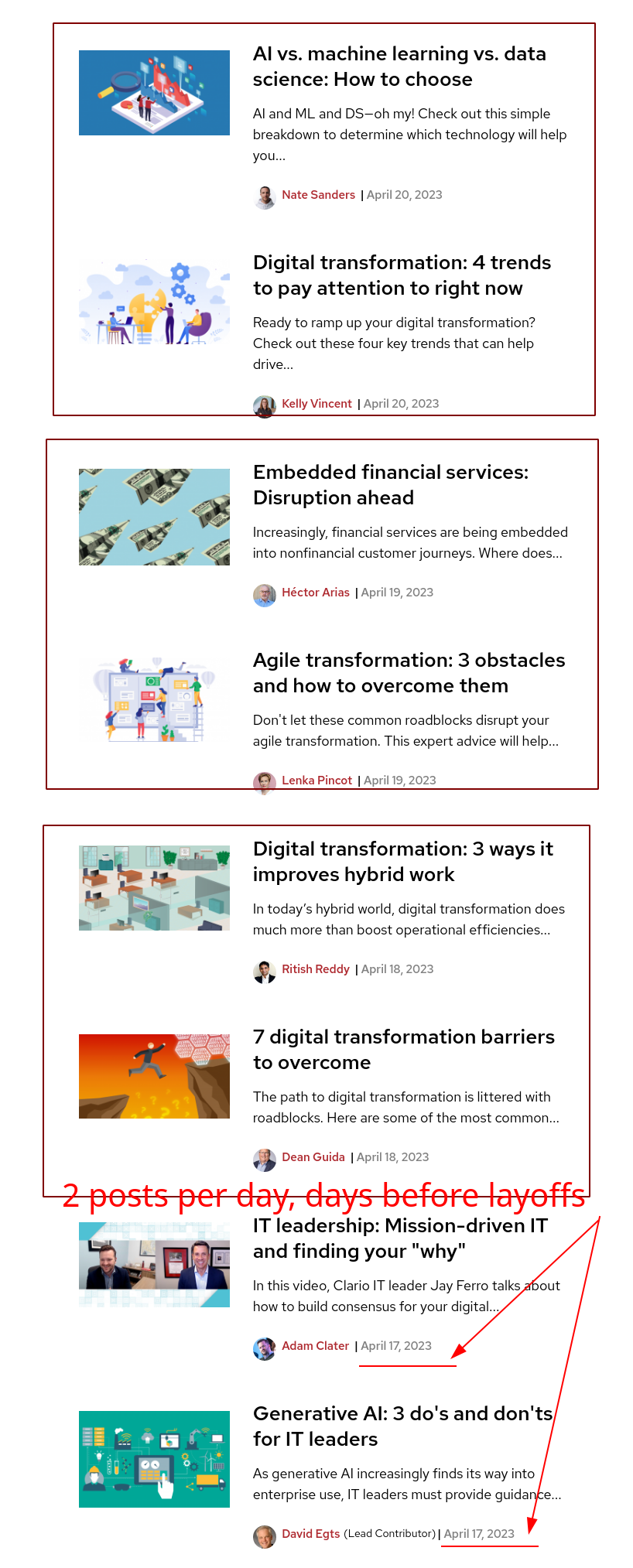 After (today):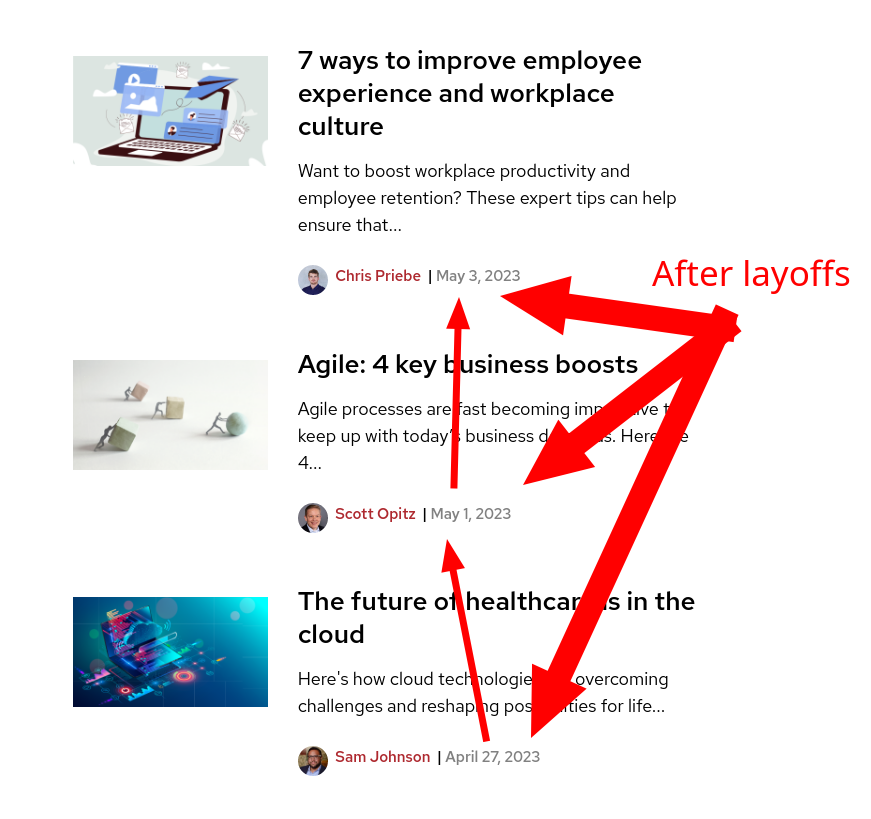 My wife wondered aloud today, what happened to Don Watkins, David Both, Phil Shapiro, Rikki Endsley, and Ben Cotton? Some seem to have done relocations (moving to another part of the company to survive in it). Can someone enlighten us about internal affairs?
⬆
______
*
ICBM cannot be
genuinely
trusted with Free software and barely with "Open Source" either. ICBM never profited from offering freedom to people, to companies and so on. Sadly, we're seeing the same across the board. The OSI, for instance, takes bribes from companies like Salesforce and Microsoft, proprietary giants that also work for ICE, then engages in openwashing PR. Today's OSI (not the same as before!) exists to harm the brand Open Source, showering the worst offenders with all the "open" badges. OSI is obsolete. It needs to dissolve. It sold out when Patrick left. Its co-founder Bruce Perens explained what had happened [
1
,
2
,
3
]. As for the so-called 'Linux' Foundation, it has basically been milking the "Linux" brand into oblivion (their biggest conference is
not
Linux-related). OSI does the same with "Open Source". When the milking is done nothing will be left. Some people, like James (Jim Zemlin) and Stefano, will have a higher bank balance. Stefano has failed to justify this to me when I had lengthy correspondences with him. We might as well refer to today's OSI as the "Microsoft lobbying group called OSI". It is still trying to legitimise Microsoft's attack on the GPL, helping Microsoft in a class action lawsuit that helps GitHub's proprietary entrapment agenda. OSI is the enemy of its own (original) mission.