12.03.07
Gemini version available ♊︎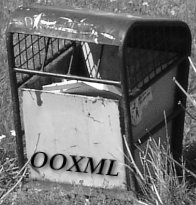 A couple of weeks ago we wrote about irregularities in Portugal where Microsoft's latest 'felony' was having a fox watch the henhouse. Analogies aside, Microsoft does everything it can to ensure that its own people are those who vote on its own specification (ECMA standard). There is a long track record of this and as disturbing as it is, rarely does anyone seem to intervene and put an end to it.
At the moment, in Ireland, it appears as though the nation's representative is — wait for it — a Microsoft employee! Once again, just like in Portugal, they get away with this, so No OOXML gives its readers a phone number for people to call and protest against the decision.
There are rumors circulating in Ireland that Microsoft's Stephen McGibbon might be part of the Irish delegation to attend the BRM in Geneva. Microsoft is already controlling the Portuguese delegation, you can expect that they will control half of the table at Geneva. O'MyGod!
In other OOXML news, Andy Updegrove makes progress on his eBook which covers the confrontation involving OOXML and ODF. Here is a fragment of text.
Microsoft came late in the game to the server marketplace, but unlike some markets it tried to penetrate with limited success, the competitive landscape for servers was very different. This was because most Microsoft's PC customers also used servers, and these customers could gain technical advantages by buying products from the same vendor that would need to work together. They could also expect favorable bundled pricing as well, and that pricing could be very attractive indeed as Microsoft first entered the market for server operating system software. In addition, the dominant operating system in the server marketplace, called UNIX, was already losing ground to new competing products.

Still, fourteen years after introducing its first version of Windows usable on servers, Microsoft has today not a 90% market share, but a rising [42%] position, sharing the server niche with declining sales of UNIX systems, which continue to be offered in various proprietary flavors by vendors such as IBM, Sun Microsystems and Hewlett-Packard, and also with an "open source" operating system called Linux, which is dominant in applications such as Web hosting, and enjoys a roughly equal market share with Microsoft overall.
A long post from the weekend covers plenty of those manipulation games as well. This is just a recurring, ever-lasting pattern, and it is unlikely to end until people stand up and demand change. █
Permalink

Send this to a friend